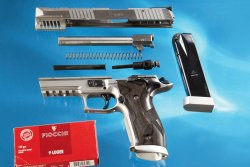 The gun now to be introduced has as much to do with a simple police service pistol as a purebred racing motorcycle has with your uncle's old scooter. A glance at the SIG Sauer P226 X-Six Skeleton exterior featuring a stainless steel construction with grey-black plywood grips already shows this: the artistic milling on the slide not only characterizes the unmistakable look of this gun, which is therefore named "Skeleton", but also does its best to give you a glimpse of the barrel and the recoil spring from the outside. 
In addition, these ported parts provide for some weight savings and an optimized heat balance of the corresponding assemblies – and for the fact that you'll have to spend a little more effort in intensive use when cleaning, as dirt is supposed to get out of all the cutouts.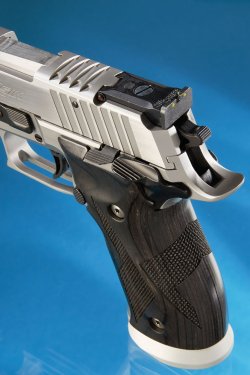 The P226 X-Six Skeleton in detail 

By the way, the X-Six Skeleton is the longest of three versions – from the series with the characteristically cut-out slide there is also an X-Five with 5" / 127 mm long barrel and an X-Short with 4.4" / 112 mm barrel. Technically, they all differ from the original P226 in their trigger mechanism – no more the usual double and single mixed action, there's single action only here. Inside, a locking system with the barrel that locks into the ejection port and featuring a feed ramp. Once you have reassembled the gun after looking inside and you peer over the sights, the eye catches pure luxury: a front sight with a green fiber optic rod and a fully adjustable, beautifully low target rear sight with a grooved target blade in which two small fiber optic rods are also inserted. By the way, these bonus features are only to be found with the long Skeleton version, but not with the two shorter ones. Luxury also with the Mec-Gar magazines: coated, marked control holes and silver-colored aluminum magazine bottoms.
SIG Sauer Skeleton P226: technical data

| | |
| --- | --- |
| Model: | SIG Sauer P 226 X-Six Skeleton |
| Price: | 3739 euro (price in your country may vary due to VAT and import duties) |
| Caliber: | 9 Luger (9x19 mm) |
| Magazine capacity: | 19 + 1 rounds |
| Barrel length: | 6" / 152 mm |
| Dimensions (L x W x H): | 99 x 14.5 x 59.4 in / 251 x 37 x 151 mm |
| Trigger pull weight: | 52.9 oz / 1.500 g |
| Weight: | 45.1 oz / 1280 g |
| Notes: | all-metal pistol with single-action trigger and external hammer, modified Browning locking system, target fiber-optic sights. |
How the SIG Sauer X-Six Skeleton came out

Luxury product or not, disrespectful as we are, all4shooters forced this noble gun to the shooting range. Here it delivered the best result of a 37 mm group (-4 points), fired from the sandbag. Malfunctions? None (-0 p.). The fully adjustable trigger captivated even during the security check and the first dry-fire by working impeccably – and that's exactly how it behaved in practice: a low pull weight, an almost scratch-free travel and a crystal-clear break point leave nothing to be desired (-1 P.). The hand position was also outstanding, even though the stylish pattern of the texture did not offer the most firm hold and the wooden handle grips moved during fire – but both problems were so minimal, however, that testers only deducted one point (-1 P.). The controls were easy to reach and operate, but the raised magazine button and the slide stop lever were only on the left (-2 p.). The lavishly equipped and fully adjustable sights with a first-class target picture – one of the testers described it as "textbook correct" – were beyond reproach (-0 p.). Processing did not quite come close, as the small but not negligible slide play showed (-1 p.).
SIG Sauer X-Six Skeleton test results

| | |
| --- | --- |
| Rating  | Points |
| Accuracy (max. 50 points)  | 46 points |
| Cycling/safety (max. 10 p.)  | 10 points |
| Trigger characteristics (max. 10 p.) | 9 points |
| Grip design (max. 5 p.)  | 4 points |
| Controls (max. 10 p.)  | 8 points |
| Sights (max. 5 p.)  | 5 points |
| Fit and finish (max. 10 p.)  | 9 points |
| Total points (max. 100 p.)  | 91 points |
| Test result  | Excellent |
| Rating  | 6 out of 6 |
The 9 mm Skeleton: wrap-up

Equipment: case, spare magazine, tools, target, gun fat tube. And have we already said that the gun just looks great? Instead of a summary, we can simply conclude that all you need is money. The test results say it all.