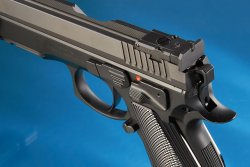 Actually, Taipans only exists in Australia and Papua New Guinea, where these poisonous snakes wind their way through the rain-laden coastal forests. But since the reptile's name also sounds good on a pistol, Frankonia borrowed it for a semi-auto pistol intended for target shooting – the result is called Pro Tuning Taipan. As a starting point for the gun, the German company used parts of one of the most famous European designs. We are talking about the CZ 75, conceived by the Czech construction geniuses František and Josef Koucký

The CZ 75 Taipan – a look at its inner values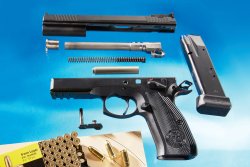 The typical features of their pistols can also be found here, i.e. the barrel tilting operated by means of a linkless cam and the locking by means of a pair of lugs on top of the barrel, which has been familiar since Browning's design for the Colt M1911. However, with the Taipan Frankonia deviates from the CZ 75 archetype: this is a 6" long slide version with a 153 mm barrel and a 7.9" / 20 cm sight radius, fully adjustable sights and single-action trigger – exactly what you need for 25 m target shooting. The easily reversible controls, the front and rear slide serrations, the desirably heavy long dust cover and the extended, pleasantly upward curved beavertail also fits in well. The military-style Picatinny accessory rail makes a splash on the outside of a match gun, too. Last but not least, the aluminum grips are worth mentioning. They contribute a lot to the high-tech touch of the Pro Tuning Taipan and their checkering is quite effective - it offers sufficient grip when firing without scraping the inside of the hand.

Pro Tuning – CZ 75: technical data and price

| | |
| --- | --- |
| Model: | CZ 75 Frankonia Pro Tuning Taipan |
| Price: | 1999 euro (price may vary in your country due to VAT and import duties) |
| Caliber: | 9 Luger (9 x 19 mm) |
| Magazine capacity: | 19 + 1 rounds |
| Barrel length: | 6" / 153 mm |
| Dimensions (L x W x H): |  9.72 x 1.37 x 6.41 in (247 x 35 x 163 mm) |
| Trigger pull weight: | 46.38 oz / 1315 g |
| Weight: | 44.72 oz /1268 g |
| Notes: | all-metal semi-automatic pistol with single-action trigger, external hammer, aluminum grips, LPA-TRT rear sight, front post sight. |
Frankonia – CZ 75, a detailed test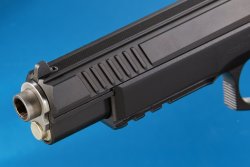 How did the Taipan – in keeping with the snake theme – wind its way through the test? In terms of cycling/safety there was just as little to complain about (-0 points) as with the first-class grip design, which has improved the already very good grip of the CZ 75 even further and clearly contributes to the good balance feeling (-0 P.). Full satisfaction also with the sights. Although the front sight screwed from above was not even drift-adjustable, the rear sight, coupled with a large ribbed rectangular blade, was adjustable in all desired directions and the two together offered a crystal clear sight picture (-0 P.). Also when checking components and materials, finish, fits as well as overall stability, the gun received an admiring nod from the testers (-0 P.) Which does not mean that the Pro Tuning Taipan aced everything else: the trigger presented itself as more and more sports shooters like it, i.e. without a clear break point. But a slight creeping was to be registered (-1 P.). The pistol then dropped two evaluation points in the controls area since only the thumb safety could be operated from the right as well as from the left (-2 P.). As for the shooting results, the best group circle was 52 mm (-9 P.). However, it should be noted that this is a gun that requires hand-loaded ammo – beyond this test there is certainly room for improvement, which any halfway experimental reloader might want to explore.

Frankonia – CZ 75 test results

| | |
| --- | --- |
| Rating  | Points |
| Accuracy (max. 50 points)  | 41 points |
| Cycling/safety (max. 10 p.)  | 10 points |
| Trigger characteristic (max. 10 p.) | 9 points |
| Grip design (max. 5 p.)  | 5 points |
| Controls (max. 10 p.)  | 8 points |
| Sights (max. 5 p.)  | 5 points |
| Fit and finish (max. 10 p.)  | 10 points |
| Total points (max. 100 p.)  | 88 points |
| Test result  | Very good |
| Rating | 5 out of  6 |
CZ 75 Pro Tuning Taipan by Frankonia: wrap-up
The Frankonia Pro Tuning Taipan proved to be a fully target-tuned and aesthetically pleasing long slide model. The price-performance ratio is good , especially since the well-crafted gun is not alone in its plastic case - pistol accessories of the constantly growing CZ 75 family include three 19-round magazines, two gun sight adjustment devices, two cleaning brushes and a test target.
---
You can find more information about CZ guns on the manufacturer's website . More details about the pistol presented here can be found on Frankonia website .
all4shooters.com already published tests of the following pistols: