Sturm, Ruger & Co. is currently represented in the sector of polymer-framed pistols with 3 different series besides the .380 ACP models. The EC9 and LC9 series cover the market for small and slim concealed-carry pistols, while the American Pistol series comes in several sizes, but always with a double-stack magazine. The third party in this league, which is the subject of this test, is called Ruger Security 9.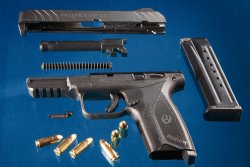 Ruger Security 9 in detail

The basic concept of the Security 9 is reminiscent of Ruger's small 380 LCP pistol, but here in the usual service size and featuring a double-stack magazine. In this particularly cheap model Ruger combines the standard John M. Browning's locking system with an aluminum chassis within a plastic frame. In the slide, a concealed, spurless hammer ensures a safe and reliable ignition. To the finger, the trigger system feels like a hybrid between a partially pre-loaded system and a double-action only trigger. Despite the low price, modern details such as the Picatinny rail or the slide serrations on the slide front are part of the equipment here. The Security 9 comes in a cardboard box, but at least a spare magazine is part of its contents.

Ruger Security 9 at a glance: specs and price

| | |
| --- | --- |
| Model: | RUGER Security 9 |
| Price: | 495 Euro (price may vary due to VAT and import duties) |
| Caliber:  | 9 mm Luger |
| Magazine capacity: | 15 + 1 cartridges |
| Barrel lenght: | 3.8" / 98 mm |
| Dimensions (L x W x H): | 7 x 1.3 x 5 in. (180 x 33 x 128 mm) |
| Trigger pull weight: | 105.8 oz. / 3.000 g |
| Weight: | 23,8 oz. / 675 g |
| Notes: | Browning locking system, internal hammer, quick action trigger, polymer frame with aluminum insert, matt blued slide. |
With the 9mm Ruger Security 9 on the shooting range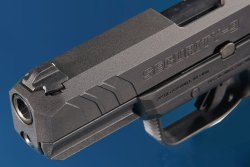 Ruger has not saved money on the shooting performance of the Security 9: the best grouping of 1.6" / 41 mm (PPU 115 grs JHP), despite the coarse combat sights and the trigger safety, leaves nothing to be desired (-5 points). In spite of the favorable price, no savings were made on functional reliability either, and the test gun cycled flawlessly with cartridges with light 95-gr semi-jacketet bullets just as well as with gentle sports loads, up to the kick of a 154-gr GECO (-0 P.) The trigger could be smoother – a crisper breaking point and a shorter travel would also not be bad (-3 P.). But from a safety point of view, like many other triggers, it does a good job from the first shot to the last with the same resistance without accuracy having to suffer unduly from safety concerns.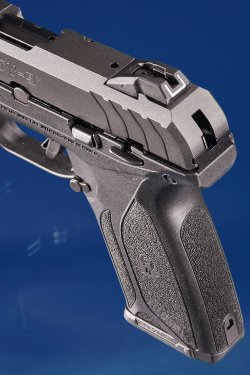 The grip design and also the grip angle with its fine but non-slip surface texture seemed good to all testers, even considering the relatively low overall height of the Security 9. If you don't have medium-sized male hands, you might think otherwise. And nothing can be adjusted or replaced here (-2 P.). Supposedly, the concept was to use strong springs for manipulation (-6 p.). All controls with the exception of the reversible magazine release have been designed by Ruger exclusively for right-handed users. The Security 9 can only be disassembled using a tool to pry loose the takedown pin and, once removed, the latter is a small part that could be lost. The thumb safety was so small, unergonomic and stiff that it was better to leave it alone. You may forgive this in a micro-.380 on the scale of the tiny Beretta Pico, but with a full-grown service pistol it does not correspond to the state of the art, and with the American Pistol model there are no such problems. The rear and front sights offer a GLOCK style sight picture, are made of plastic and the rear sight can be slightly drift-adjusted by loosening a screw (-2 P.). Workmanship was not bad at all regardless of the price – a certain excess of slide play and a not optimally smoothed-out seam on the frame are also common in more expensive polymer pistols. However, the slide bluing is no longer up-to-date for a pistol intended for carry, and this also applies to the blued metal magazines (-4 pcs). But the saving on the price must come from somewhere.
Ruger Security 9 review

| | |
| --- | --- |
| Rating | Points |
| Accuracy (max. 50 points)  | 45 points |
| Cycling/safety (max. 10 P.)  | 10 points |
| Trigger characteristic (max. 10 P.) | 7 points |
| Grip design (max. 5 P.)  | 3  points |
| Controls (max. 10 P.)  | 4  points |
| Sights (max. 5 P.)  | 3  points |
| Fit and finish (max. 10 P.)  | 6  points |
| Total points (max. 100 P.)  | 78  points |
| Test result | good |
| Rating | 4 out of 6 |
What this Ruger pistol in 9x19 can do: wrap-up

At 495 euro (price may vary in your country) Ruger's Security 9 is one of the cheapest pistols on the market and performed flawlessly on the shooting range. This 9mm pistol is therefore the perfect firearm for young shooters. Because even if some parts are not perfectly processed, the handgun was able to secure a full score for cycling reliability and safety and this is particularly important.

---
More information about the Ruger Secutity 9 can be found on the manufacturer's website.

all4shooters.com already published tests of the following pistols: