The SFP9 usually comes completely in matte black, albeit in assorted sizes. In addition to the standard model with a 15-round magazine, a longer version with a skeletonized slide for sport shooters is also available, while the compact SFP9 SK with a 10-round magazine is recommended for concealed carry. For the sub-compact version of the Striker Fired Pistol from Oberndorf, larger 13- and 15-round magazines are of course available, as well as various magazine floor plates with finger rest or magazine covers to extend the grip area.
The technology of the HK SFP9 SD (RAL8000)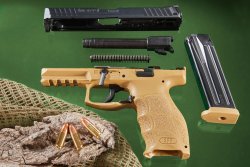 Technically, the SFP9 inherited many details of the Heckler & Koch P30 – except for the now hammerless system – which in turn was the most modern series of the Universal Self Loading Pistol USP from the 1990s, introduced in the German Armed Forces as the P8. There are, for example, the magazine and the textured grip with finger grooves. It can be excellently adapted to the shooter's hand both by different backstraps and grip shells in several thicknesses. All controls can be found on both sides of the frame, as usual only with the exception of the disassembly lever. Speaking of disassembly: in case of simple field stripping by operating the disassembly lever, you'll have only 4 components and you don't have to pull the trigger. If you don't like the ergonomically and safety-wise well engineered, but unconventional "paddle" magazine release in the trigger guard, you can also get the gun with the internationally popular push button. The usual safety system with a medium trigger travel does not require a manual safety, but the SFP9 can also be manufactured with a safety lever on both sides.
HK SFP9 SD in 9 mm Luger specs

| | |
| --- | --- |
| Model: | Heckler & Koch SFP9 SD |
| Price: | 749 euro (price may vary in your country due to VAT and import duties) |
| Caliber: | 9 Luger (9 x 19mm) |
| Magazine capacity: | 15 + 1 rounds |
| Barrel length: | 4.7" / 119 mm |
| Dimensions (L x W x H): | 7.95 x 1.3 x 5.4 (202 x 33 x 137 mm) |
| Trigger pull weight: | 84.65 oz / 2.400 g |
| Weight: | 25 oz / 710 g |
| Notes: | polymer frame, nitrided surfaces, modified Browning locking system, adjustable sight with luminescent dots, extended threaded barrel. |
Heckler & Koch SFP9 SD: test details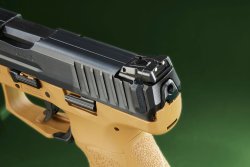 The best accuracy among the ammo types used was achieved by the Sellier & Bellot semi-jacketed cartridges with a 51 mm (-9 points) group, shooting with the gun supported. Malfunctions or misfires were unknown to the test gun – not even with the Sellier & Bellot soft point cartridges or with hollow point ammo (-0 P.). The trigger broke at 84.65 oz / 2400 g and was relatively crisp. Coupled with the wide and only slightly curved blade, HK strikes a practical balance between shooting comfort and operating safety. The medium-length trigger reset can't be criticized for a service or defense gun; on the contrary, ultrashort resets are considered an unpopular feature in some government or military tenders. The second stage trigger travel may be somewhat longer than absolutely necessary (-1 P.), but overall the Oberndorf-based manufacturer offers an excellent combat trigger for the SFP9, either with a pull weight of more than 70.5 oz / 2 kg (Special Forces), or more than 105.8 oz / 3 kg according to the technical guideline of the German police, depending on the version. The grip design currently represents the yardstick for what can be achieved with a polymer pistol in terms of ergonomics and individual adaptability (-0 P.): more options are only offered by models in which the entire plastic grip can be changed as a module.
Heckler & Koch SFP9 SD test results

| | |
| --- | --- |
| Rating  | Points |
| Accuracy (max. 50 points)  | 41 points |
| Cycling/safety (max. 10 p.)  | 10 points |
| Trigger characteristics (max. 10 p.) | 9 points |
| Grip design (max. 5 p.)  | 5 points |
| Controls (max. 10 p.)  | 10 points |
| Sights (max. 5 p.)  | 5 points |
| Fit and finish (max. 10 p.)  | 9 points |
| Total points (max. 100 p.)  | 89 points |
| Test result  | Very good |
| Rating  | 5 out of 6 |
Heckler & Koch SFP9 SD: wrap-up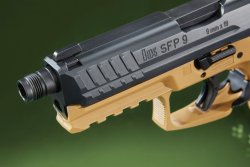 The front sight and the light bars of the SFP9 SD appear a bit finer than today's combat pistols, but the iron sights offer full adjustability in elevation and windage, a high-contrast siight picture and luminescent night dots (-0 P.). The play between slide and frame was audible when shaking (-1 P.). 
But overall the plastic and steel workmanship of the SD model was exemplary both inside and out.

---

More information about the SFP9 SD gun can be found on the Heckler & Koch website.
all4shooters.com already published tests of the following pistols: