The XDS series is characterized by its slim design, as HS Produkt is content with single stack magazines . The Croatian company also produces this 9mm (a.k.a. 9 Para or 9 Luger)model in a completely in matte black version with a Melonite-finished, tempered steel slide instead of stainless steel. Alternatively, the handgun is also available in .45 ACP, whereby the .45s require a larger polymer frame and are slightly larger in size and weight than the XDS-9.

HS Produkt XDS-9: key data

| | |
| --- | --- |
| Model: | HS Produkt XDS-9 |
| Price: | 729 euro (price may vary in your country due to VAT and import duties) |
| Caliber:  | 9 mm Luger |
| Magazine capacity: | 7/9 + 1 rounds |
| Barrel length: | 3.3" / 84 mm |
| Dimensions (L x W x H): | 6.3 x 1.02 x 4.4 in (160 x 26 x 112 mm)  |
| Trigger pull weight: | 100.5 oz / 2.850 g |
| Weight: | 25.2 oz / 715 g |
| Notes: | Browning locking system, polymer frame, stainless slide, SA trigger with trigger safety, steel rear sight, fiberglass front sight, grip safety. |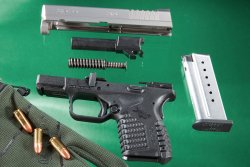 The XDS-9 polymer pistol in detail
The XDS differs from the larger models of the XDM series almost exclusively in its dimensions and the single-stack magazines with a capacity of 6 and 9 cartridges. Otherwise, the design offers the usual standard for HS products: a striker-fired gun with consistent trigger pull and medium travel, a grip safety in addition to trigger safety and automatic firing pin safety, and a Parabellum-style tactile and visible loaded chamber indicator. What the XDS lacks is a cocking indicator pin protruding from the slide end-cap when the slide is locked and the possibility to disassemble the cocked pistol without exerting pressure on the trigger. With the latter feature, the pistol is in good company with similar handguns of this class.

The 9mm XDS-9 on the shooting range

At a range of 15 meters, the XDS-9 produced decent results for a sub-compact gun. The best group diameter was 1.8" / 46 mm using Magtech hollow point ammunition with 115 gr bullets (-7 points). The HS Produkt's compact gun proved quick and effective at short ranges. Case ejection could be a little more peppy, but the test pistol did not land any body hits with the hot brass and worked with all sorts of ammo without any grumbling, even with an extra weak grip. Due to the fact that you have to pull the trigger for disassembly, however, there was still a point deduction in the cycling/safety (-1 P.) test area. The trigger characteristics, with a medium length travel and a relatively long reset, were ok for a service gun, but a crisper trigger would be just as desirable as a slightly lighter pull weight (-3 p.). The grip didn't seem to be one hundred percent non-slip with wet hands. In addition, the grip with the short magazine seemed slightly too long to comfortably place the little finger under the magazine bottom (-2 p.).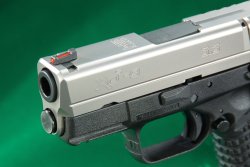 The long magazine with matching grip extension eliminates the latter problem, but the XDS loses its status as a sub-compact pocket pistol. The operating levers and their accessibility correspond to the current state of the art for pocket pistols: all controls are small, but functionally designed –  left-handed users also find a double-sided magazine release button. The resistance of the dual recoil spring, which is very pronounced for a 9 mm Luger, isn't really pleasing (-1 P.). The iron sights with the fiber optic front sight basically made a valuable and practical impression, but due to the narrow notch, the sight picture looked as if the combination of rear sight and front sight originally came from a larger pistol model (-1 P.). Workmanship was very appealing, except for the slide play and the rough grip pattern on the outside and inside (-2 P.).

HS Produkt XDS-9 at a glance

| | |
| --- | --- |
| Rating  | Points |
| Accuracy (max. 50 points)  | 43 points |
| Cycling/safety (max. 10 p.)  | 9 points |
| Trigger characteristics (max. 10 p.) | 7 points |
| Grip design (max. 5 p.)  | 3 points |
| Controls (max. 10 p.)  | 9 points |
| Sights (max. 5 p.)  | 4 points |
| Fit and finish (max. 10 p.)  | 8 points |
| Total points (max. 100 p.)  | 83 points |
| Test result  | Very good |
| Rating  | 5 out of 6 |
HS Produkt 9mm XDS-9: wrap-up

Handy, but not tiny, the XDS-9 is ideal for concealed carrying if you place more value on slim pistols than on maximum firepower. In price and performance, the sub-compact Croatian gun doesn't need to hide from direct competition from Western Europe and the USA, but it can't stand out from the competition in function, design or price. The plastic case comes with 2 magazines of different lengths, matching grip-contoured magazine extensions, two backstraps and the English manual. Completely in black with Melonite coating, the XDS-9 is around 30 euro cheaper.

---
More information on HS Produkt guns can be found at the manufacturer's website .

all4shooters.com already published tests of the following pistols: