Igel in German means hedgehog, but this name also sounds as a tongue-in-cheek play on words since it's pronounced the same as the English "Eagle". The Igel pistols are available in the Aristo and BoMar versions, both names deriving from the sights manufacturer (Aristo stands for Aristocrat Products).

The Igel 6.0 LWD test gun in detail

The test version comes with a hard chrome plating on the dust cover and the slide, whereby the frame and slide feature a blasted matte finish, but the slide sides are polished. The 2011 Type aluminum grip holds a double-stack magazine, has a loading-friendly jet funnel, is matt black, smooth and designed from the outset to allow the attachment of rubber inserts, skateboard tape and similar items that the user may consider most useful in terms of grip. Designed for target shooting sports, the gun features a 6-inch (152 mm) barrel with a full-length dust cover and a Colt M1911-style Browning locking system featuring two lugs and link. But since the barrel is bull type, there is no bushing, with a 2-piece spring guide rod. The hammer of the type Pro Ultra, designed by US shooter ace Doug Koenig, is holed and milled, crosswise and lengthwise. This minimizes the weight in favor of lighter springs. The straight skeletonized sports trigger has a trigger stop screw. Prommersberger explains: "The trigger blade is interchangeable and screwed onto the trigger lever and what you see as the second screw is a counter screw. We have straight and curved trigger blades in long and short versions, and a non-skeletonized blank one." The equipment includes five Allen wrenches, an oil bottle, a piece of grip tape, a manual, all in a STP red plastic case.
STP Igel 6.0 LWD: technical data and price

| | |
| --- | --- |
| Model: | STP Igel 6.0 LWD |
| Price: | 2950 euro (price may vary due to VAT and import duty) |
| Caliber:  | 9 mm Luger |
| Magazine capacity: | 18 + 1 cartridges |
| Barrel length: | 6"/ 152 mm |
| Dimensions (L x W x H): | 9.72 x 1.5 x 5.9 in (247 x 38 x 150 mm) |
| Trigger pull weight: | 34.39 oz / 975 g |
| Weight: | 48.9 oz /1388 g |
| Notes: | semi-auto pistol with single action trigger, slightly modified Browning locking system, external hammer, double-stack magazine, all-metal construction. |
The Igel by Prommersberger on the shooting range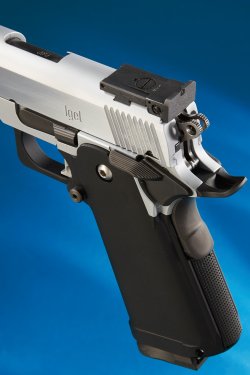 Of course even the chic Igel, that despite the name ("hedgehog" in German) is not prickly at all, had to go to the fire line. First impression: this 1388 g heavy thing – which, thanks to the long dust cover, is also quite front-heavy – with its outstanding workmanship and the top fit & finish (-0 points) made the firing of the test loads quite sweet. The first-class trigger characteristics with a low pull weight (-0 P.) and the equally good sights (fully adjustable BoMar rear sight, drift-adjustable Prommersberger front sight, -0 P.) were just right for static shooting.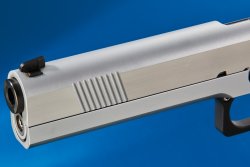 When shooting from the sandbag, the testers' heads were in the way of some cases flying out, but the Igel behaved exemplary in standing position (-1 P.). Since the smooth finish on the aluminum part of the grip is designed in such a way that the shooter can retrofit it as desired and a piece of tape is included in the accessories, nothing can be criticized – but a tester was clearly disturbed by the bulky grip per se (-1 p.). The gun lost further point because of the single-sided slide stop lever and magazine release (-2 P.). And in the accuracy test the best group diameter was 44 mm - which was rewarded with 44 points. (-6 P.).
STP Igel 6.0 LWD review
| | |
| --- | --- |
| Rating  | Points |
| Accuracy (max. 50 points)  | 44 points |
| Cycling/safety (max. 10 p.)  | 9 points |
| Trigger characteristics (max. 10 p.) | 10 points |
| Grip design (max. 5 p.)  | 4 points |
| Controls (max. 10 p.)  | 8 points |
| Sights (max. 5 p.)  | 5 points |
| Fit and finish (max. 10 p.)  | 10 points |
| Total points (max. 100 p.)  | 90 points |
| Test result  | Excellent |
| Rating   | 6 out of 6 |
STP Igel 6.0 LWD: wrap-up
The bottom line was that the STP Igel by Prommersberger proved to be a very well equipped, high quality and very attractively manufactured sports pistol. This model shows what you can still obtain from the old 1911 platform. The gun is fully worth its admittedly proud price. This far, the sober test stocktaking. In a less dry, more empathetic and also much shorter way, the verdict is: Wow!
---

More information about the Igel high-quality match pistol can be found on the STP website. 
all4shooters.com already published tests of the following pistol: