Gone are the days when Ruger was mainly known as a manufacturer of small caliber guns, hunting rifles and revolvers. Today, the US firearms manufacturer is highly active in the field of guns construction in every sector suitable for mass production. Of course, this also includes 1911 pistols from Ruger's factory in Prescott, Arizona, which are constantly increasing in model variety, including lightweight and compact models.

This is  Ruger's SR1911 Target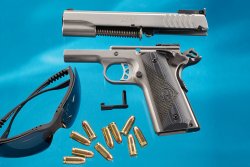 This model represents Ruger's competition version, based on the good old Colt Government service pistol. Technically, the SR1911 in the target version offers a special feature: the full length spring guide rod under a bulky ramped barrel, which is mounted directly in the slide with no bushing. The BoMar-style match rear sight is also part of the Target's basic equipment in calibers such as .45 ACP and 10mm Auto, and the micrometer sight, along with the extended thumb safety, is one of the main differences between match and standard models. The aluminum trigger, the skeletonized hammer, the oversized beavertail grip safety, as well as blued small parts also in stainless models, are typical of the manufacturer, whereby the barrel is black-nitrided. The internal extractor still comes in this form from the more than 100-year-old Colt's design, whereby a light titanium firing pin provides additional safety against drop fire in Ruger's 1911 models.

Ruger SR1911 Target - price and technical data:
| | |
| --- | --- |
| Model: | RUGER SR 1911 Target |
| Price: | 1210 euro (sales price in your country may vary due to importers and VAT) |
| Caliber:  | 9mm Luger (also available in .45 ACP and 10mm Auto) |
| Magazine capacity: | 9 + 1 cartridges |
| Barrel length: | 5" / 125 mm |
| Dimensions (L x W x H): | 8.66 x 1.45 x 5.43 in (220 x 37 x 138 mm) |
| Trigger pull weight: | 68.78 oz / 1,950 g |
| Weight: | 42 oz / 1,190 g |
| Notes: | Browning system with swinging link, nitrided bull barrel, double-sided safety lever, stainless steel, micrometer rear sight, spare magazine. |
What Ruger 1911s can do - our impressions on the shooting range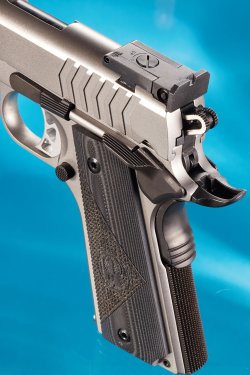 The SR1911 Target preferred FMJ (115 grs) bullets by S&B on the shooting range. When clamped in a Ransom rest, the best grouping with five shots was 48 mm (-7 points). Thanks to its heavy weight, the gun recoils as softly as butter and was also to function properly out of the box with all types of ammunition. The only reason for a point deduction was that the pistol liked to partially strip the top cartridge from the magazine when cycling, so it was possible to have malfunctions by simply changing the magazine during the firing series (-2 P.). The trigger was pleasantly crisp and the trigger stop reliably limited overtravel. At 1,950 g, however, the trigger was too stiff for a match pistol (-3 P.), but even a simple modification or a spring change should bring relief. The testers took two point off for the grip because the mostly plain scales are unusually smooth and thick and do not cover the front strap.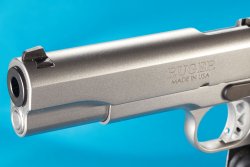 A checkering on the frontstrap was also lacking (-2 P.). There was nothing to complain about functionality as well as ergonomics of the two-sided safety. Apart from that, in the classic Government design, left-handed shooters reach into the void (-2 P.) with regard to the magazine release and slide stop. The side-inserted ramp front sight is suitable for both the shooting range and holster service. In conjunction with the BoMar-style micrometer back sight low on the slide, the SR1911 Target achieves a full five points for sighs (-0 P.). Basically, the matte bead glass-blasted pistol finish, together with the carefully fitted barrel, made a great impression. However, this was reduced in detail by some weaknesses (-3 P.): Ruger makes all engravings and markings only by laser. The slide play was clearly perceptible, although not badly wobbly. In addition, the Prescott-based company made little effort to make the slide edges and extractor flush with the frame at the rear, and protruding edges on the right side of the magazine release button also disturbed the look.

Test results: Ruger SR1911 Target
| | |
| --- | --- |
| Rating  | Points |
| Accuracy (max. 50 points)  | 43 points |
| Cycling/safety (max. 10 P.)  | 8 points |
| Trigger characteristics (max. 10 P.)  | 7 points |
| Grip design (max. 5 p.)  | 3 points |
| Controls (max. 10 P.)  | 8 points |
| Sights (max. 5 p.) | 5 points |
| Fit and finish (max. 10 p.)  | 7 points |
| Total points (max. 100 p.)  | 81 points |
| Test result  | very good |
| Rating  | 5 of 6 |
Ruger SR1911 Target: wrap-up
All in all, the Ruger SR1911 Target pistol in 9mm Luger seems to be a heavy, well usable all-steel target gun at a competitive price. Weak points such as the grip and the trigger pull weight would be easy to correct here. It is also nice that Ruger atypically encloses two magazines with its 1911 version. 

---
For more information please visit Ruger website.
all4shooters.com already published tests of the following pistols: