In 2017 Ruger added to its American Pistol series (released in 2016) a compact version available in 9 mm Luger as well as in .45 ACP. In comparison to the original version, it's visibly trimmed – with an overall length of 6.65" / 169 mm against 7.5" / 191 mm. Technically, the Duty and Compact versions are the same. Both feature the almost ubiquitous Browning-Petter-SIG locking system that can be found in polymer pistols all over the world; the barrel is cold hammered, the slide matte black nitrided. 
Ruger American Pistol Compact: details
| | |
| --- | --- |
| Model: | RUGER American Pistol Compact |
| Price: | 770 euro (price in your country may vary due to VAT and import duties) |
| Caliber: | 9 Luger (9 x 19 mm) |
| Magazine capacity: | 12/17 + 1 cartridges |
| Barrel length: | 3.54" / 90 mm |
| Dimensions (L x W x H): | 6.65 x 1.34 x 5.12 in (169 x 34 x 130 mm) |
| Trigger pull weight: | 89.94 oz / 2.550 g |
| Weight: | 28.29 oz / 802 g |
| Notes: | striker fired, polymer framed pistol, single-action trigger, modified Browning locking system, steel sights with three-dot inserts. |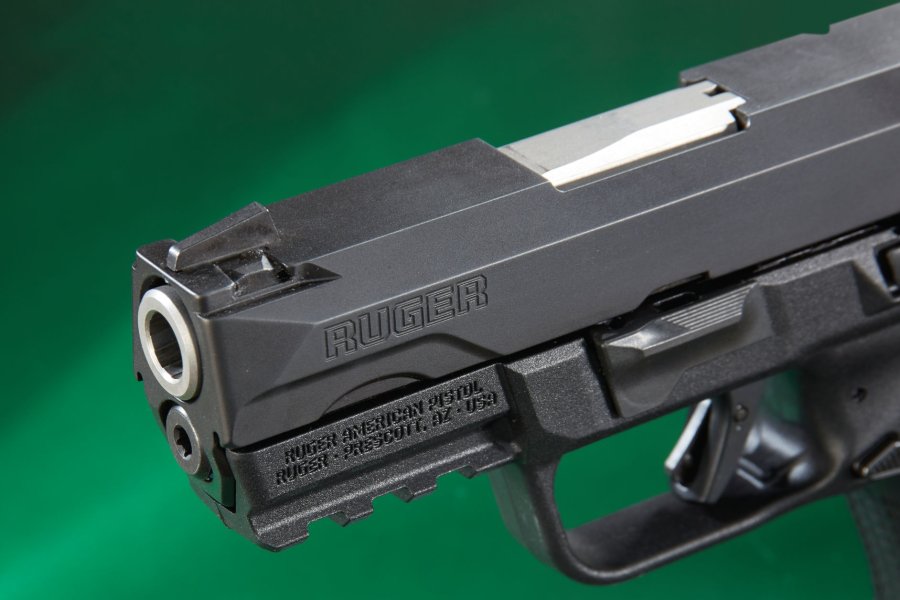 American Pistol Compact in 9mm: the test results in detail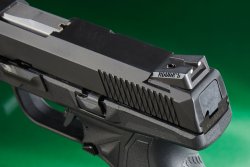 The best grouping with the Ruger American Pistol Compact was 2.87" / 73 mm, achieved with 115 gr GECO JHP ammo. However, this was not so much due to the accuracy of the compact pistol itself as to the shooting range distance of 25 m – but since the results achieved form the yardstick here, the gun scored 34 (-16 points). This result is fully at the usual level for compact pistols of this type, anyway. The fact that the American Pistol Compact performed cleanly was proven by the fact that it passed the test without malfunctions, stove pipes or other problems (-0 P.). The grip design can also be seen in light of the compact pistol's intended use. The fact that the little finger lands on the spur of the short standard magazine is inherent to the gun's construction and cannot be blamed on the pistol as a shortcoming: the grip is first-class for a pocket gun of this type (-0 P.). The fact that the magazine release and the slide stop lever are located on both sides of the pistol is very good too.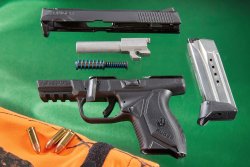 Only the disassembly lever (which is not needed every day) is found on one side (-0 P.). Wayne Novak's drift adjustable three-point sights did please with a clear target picture, but it was the usual American standard type without any extra such as luminescent dots (-1 P.). What we didn't like at all, however, was the trigger – it was much better than what Ruger's customers could expect in the past (the keyword here is SR9), but being really good is another thing entirely: the trigger creeps and "rattles" when pulled, it's heavy at 89.94 oz / 2550 g and seemed quite rough to all testers, since the actual break point is not consistent (-6 p.). The testers deducted 3 points for fit and finish, because the slide rattled back and forth on the frame, the barrel showed a noticeable play at the muzzle and there were some machining traces inside (-3 p.). Anyway, Ruger equipped the gun with stainless steel magazines and not with merely blued – and thus, rust-prone – ones.
9mm Ruger American Pistol Compact test results

| | |
| --- | --- |
| Rating  | Points |
| Accuracy (max. 50 points)  | 34 points |
| Cycling/safety (max. 10 p.)  | 10 points |
| Trigger characteristics (max. 10 p.) | 4 points |
| Grip design (max. 5 p.)  | 5 points |
| Controls (max. 10 p.)  | 10 points |
| Sights (max. 5 .)  | 4 points |
| Fit and finish (max. 10 p.)  | 7 points |
| Total points (max. 100 p.)  | 76 points |
| Test result  | good |
| Rating  | 4 out of 6 |
Ruger's polymer gun: equipment and wrap-up

As for the equipment: because the second, longer 17-round magazine protrudes quite a bit from the grip, accessories include an intermediate piece to be placed over the magazine to close this gap. Also included in the case are two interchangeable grip modules, an Allen key, a gun lock, an English only operating manual and 2 stickers. The bottom line is that the Ruger American Pistol Compact turned out to be a gun that delivered a shooting performance commensurate with its class and worked reliably. It offered decent sights, albeit not completely satisfactory in terms of equipment, but also rattling fits and a trigger whose characteristics – to put it nicely – do not turn out as would be desirable with this functional element.