Tanfoglio also manufactures polymer-framed pistols, but today the company owes its reputation to its all-steel sports pistols. The Browning locking system with a tilting barrel is operated here by an enclosed cam track, with barrel locking lugs mating with slide recesses in front of the chamber. The frame guides extend to the front edge of the dust cover and point inwards, similar to CZs or SIG P 210s. Add to this features such as the drilled and tapped side holes, the magazine funnel and aluminum grips, as well as an extra-long beavertail, which improves the hand position and at the same time protects against hammer bites by the skeletonized hammer.
The Tanfoglio test pistol in detail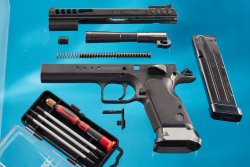 The hallmark of the T97 Limited Custom Total Black is the coating instead of a bluing or hard chrome plating as is usual for Tanfoglio. The front ported portion of the slide provides a view of the cone-shaped barrel and can also be used for press checks. The Tanfoglio Limited Custom replaces back slide serrations with checkered circles, which are not inferior to normal slide serrations. In addition to a second coated magazine, the contents of the fire-red combination lock case also include a cleaning kit, a test target and recoil springs of different strength to optimize cycling and recoil behavior with particularly weak or strong ammunition loads.
Tanfoglio T97 Custom Total Black: technical data and price

| | |
| --- | --- |
| Model: | Tanfoglio T97 Custom Total Black |
| Price: | 2.106 euro (price may vary in your contry due to VAT and custom duties) |
| Caliber:  | 9 mm Luger |
| Magazine capacity: | 17 + 1 rounds |
| Barrel length: | 5" / 127 mm |
| Dimensions (L x W x H): | 8.8 x 1.3 x5.8" (225 x 34 x 149 mm) |
| Trigger pull weight: | 77.6 oz / 2.200 g |
| Weight: | 47 oz / 1.335 g |
| Notes: | All steel with extended dust cover, milled slide, black coated, cone-shaped barrel, micrometer sight, single-action trigger, aluminum grips. |
With the Tanfoglio pistol on the shooting range
The best results with the test gun were achieved with 147-gr full metal jacket Remington cartridges (47 mm group, -7 points). The pistol featuring a Bull Barrel and full-length dust cover was praised for its extremely mild firing behavior, but there are no extra points for this. No feed or ejection malfunctions were registered on this pistol, but there were several ignition failures with GECO ammunition (-2 P.). The ammunition lot was so far inconspicuous using guns by various manufacturers. And normally Tanfoglios with external hammer are not known for ignition failures, especially not with a relatively heavy trigger with correspondingly strong main spring.
The crisp SA trigger offers the best characteristics for a top competition trigger and will be tuned accordingly. The enormous  trigger backtravel out of the box is not uncommon for Tanfoglios and can be easily adjusted using the trigger stop screw. However, a 77.6 oz / 2.2 kg pull weight is too much for a sports pistol (-4 p.). The design of the trigger and grip section was very effective, the flat and checkered aluminium grips making the grip also suitable for small hands (-0 p.). In addition, a non-slip checkering on the back and front straps provides a secure purchase and the magazine funnel facilitates quick reloading without changing the hand position. The enlarged magazine release button offers some advantages in sports and the safety lever is easy to operate. In addition, its shape allows the thumb of the right hand to rest securely on it without accidentally disturbing the cycling movement of the slide. The slide stop, which can only be operated from the left side, does not seem to bother CZ/Tanfoglio fans or 1911 lovers, but in the model shown Tanfoglio does not offer the second safety lever on the right side for left-handers, in contrast to other series (-2 P.).
The low-sitting rear sight in combination with the black, waist-shaped front sight (to avoid annoying light glares), offers a magnificent sight picture for ambitious sports shooters (-0 P.). The slide play for a Tanfoglio match gun looked unusually noticeable and was already audible when shaking the pistol, and the markings under the very even velvet black coating were very fine and, depending on light conditions, hardly recognizable (-2 P.).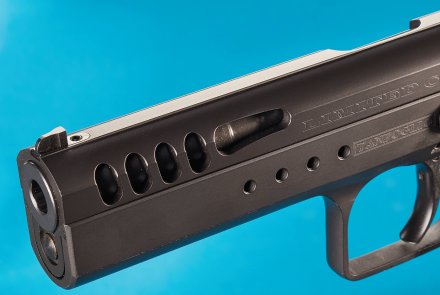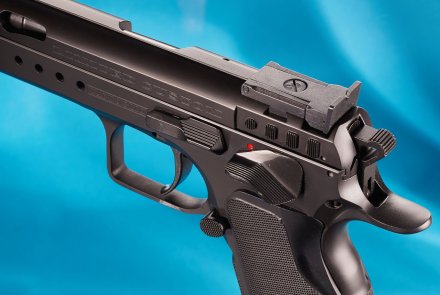 Tanfoglio T97 Custom Total Black in 9 mm Luger review

| | |
| --- | --- |
| Rating | Points |
| Accuracy (max. 50 points)  | 43 points |
| Cycling/safety (max. 10 P.)  | 8 points |
| Trigger characteristics (max. 10 P.) | 6 points |
| Grip design (max. 5 P.)  | 5 points |
| Controls (max. 10 P.)  | 8 points |
| Sights (max. 5 P.)  | 5 points |
| Fit and finish (max. 10 P.)  | 8 points |
| Total points (max. 100 P.)  | 83 points |
| Test result | Very good |
| Rating | 5 out of 6 |
Tanfoglio T97 Custom Total Black: wrap-up
The main focus of the manufacturer is clearly on dynamic sports disciplines such as IPSC. The design is a matter of taste, but it was deemed very good in the test. Unfortunately, this match pistol leaves a lot of points in the trigger characteristics area - a pity. Together with all other categories, this gives a total score of 82 out of 100 and thus a test result of "Very good".
---
For more information on the Tanfoglio T97 Custom Total Black please visit the manufacturer's website.
all4shooters.com has already published tests of the following pistols: