Through the "Modular Handgun System" selection process , the gun world was served within short time a number of well-engineered and thoroughly tested new pistols – one of them being the APX. From a technical point of view, it has nothing in common with the 92 , which was an all-metal design featuring a falling block locking system and single/double mixed action.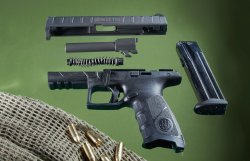 The 9mm Beretta APX in detail
The APX, on the other hand, is a polymer-framed, pistol featuring a striker-fired system characteristic of this type of guns, completed by a trigger safety and a drop safety. And, of course, the mounting rail in front of the trigger guard – which seems unavoidable nowadays – is not missing either. Even if this sounds like "oh, just a plastic pistol", the APX is distinguished by outside details that make it stand out from any other polymer-framed pistol , simply because of the slide featuring full-length front and rear serrations. Using a modified Browning locking system , the APX features a chassis construction like the SIG Sauer P250 DCc and, of course, the P320 from the same company. And what makes this gun stand out is what have been evaluated.
Beretta APX, facts and specs

| | |
| --- | --- |
| Model: | Beretta APX |
| Price: | 740 euro (price may vary in your country due to VAT and import duties)  |
| Caliber: | 9 Luger (9x19 mm) |
| Magazine capacity: | 17 + 1 rounds |
| Barrel length: | 4.25" / 108 mm |
| Dimensions (LxWxH): | 7.44 x 1.29 x 5.55 in (189 x 33 x 141 mm) |
| Trigger pull weight: | 88.18 oz / 2500 g |
| Weight: | 28.14 oz / 798 g |
| Notes: | polymer-framed, striker fired pistol, chassis construction, partially preloaded trigger, Browning-Petter locking system and three-dot sights. |
Where does the APX get points, where does it drop them?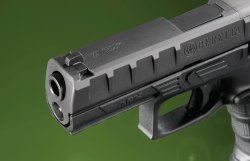 Even before the evaluation points were added up, it was clear that the APX would in any case receive the full score for its outstanding grip frame design. The combination of a low barrel axis and a heavy slide, as well as the ingenious design with a slightly narrower rear upper grip, the texturing of the grip sides and the finger grooves provided for its top characteristics. By the way, the optical appearance was much better than the fingers actually felt (-0 points). It also aced in the cycling/safety test section , since the pistol worked with wonderful reliability with all cartridge types it was offered (-0 P.). The ambidextrous and comfortable controls were great too (-0 P.).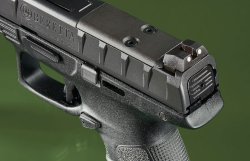 Criticism, however, was leveled at the trigger, firstly because it was quite hard (although still within the usual limits) and secondly because of its long creeping (-2 P.). The three-point sights made of steel were pleasing since the pupil could quickly grasp the target through them and enjoy a high-contrast sight picture. But the rear and front sights lost one point (-1 P.) due to a lack of height adjustability. And as far as workmanship is concerned, the three pieces that had been checked in the meantime all showed some minor defects, be it cracks in the grip, uncleanly executed surface finishes or accessory mounting rails that did not run perfectly straight: here, just not every last detail was cleanly finished (-3 P.) The accuracy section remains to be mentioned – here the Beretta APX with PPU jacketed hollow point ammo got its top target group with a satisfactory 2.4" / 61 mm diameter (-12 P.).
Beretta APX test results

| | |
| --- | --- |
| Rating  | Points |
| Accuracy (max. 50 points)  | 38 points |
| Cycling/safety (max. 10 p.)  | 10 points |
| Trigger characteristics (max. 10 p.) | 8 points |
| Grip design (max. 5 p.)  | 5 points |
| Controls (max. 10 p.)  | 10 points |
| Sights (max. 5 p.)  | 4 points |
| Fit and finish (max. 10 p.)  | 7 points |
| Total points (max. 100 p.)  | 82 points |
| Test result | Very good |
| Rating  | 5 out of 6 |
9mm Beretta APX: wrap-up
The Beretta APX captivated with a first-class grip frame design and a low barrel axis – the testers also liked the fact that the pistol is well suited to place quick strings of fire squarely on the target at short ranges. Equipment is on a high level for the polymer-framed class. The Beretta APX ships in a plastic case of Henry Ford's favorite color, complete with a multilingual instruction manual, a pistol lock, two 17-round magazines with loader, two interchangeable backstraps and a cleaning brush.
---
More information about Beretta guns can be found on the manufacturer's website  .

all4shooters.com already published tests of the following pistols: