Anyone who talks to firerms manufacturers, learns that the most complex and therefore most expensive processing step is the milling phase - in all-steel versions, this means properly machining the frame grip and slide. With this in mind, the Arex Rex Alpha, manufactured in the Slovenian region of Lower Carniola, is likely to have devoured a lot of the corresponding tool life. Otherwise it would not have been possible to realize the strikingly elaborate contour of the slide, which was partially cut out at the top for weight and design reasons and bevelled at the front .
Arex Rex Alpha: all technical data at a glance 

| | |
| --- | --- |
| Model: | Arex Rex Alpha |
| Price: | 1099 euro (price in your country may vary due to VAT and import duties) |
| Caliber:  | 9mm Luger |
| Magazine capacity: | 20 + 1 rounds  |
| Barrel length: | 5" / 127 mm |
| Dimensions (L x W x H): | 8.8 x 1.7 x 6.2 in (224 x 43 x 158 mm)                                                                                     |
| Trigger pull weight: | SA: 2.240 g / DA: 4.561 g |
| Weight: | 42.85 oz / 1215 g |
| Notes: | semi-automatic pistol, all-steel construction, nitrided finish, external hammer, drift adjustable front sight with fiber optic rod, fully adjustable rear sight. |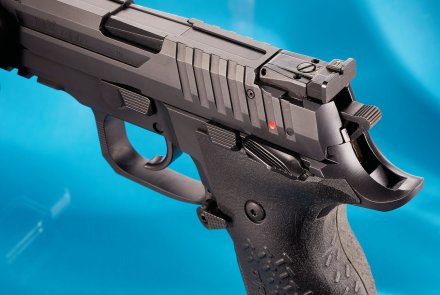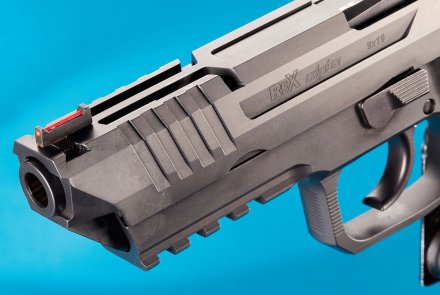 Rex Alpha by Arex: the design

The Rex Alpha is very classic featuring an external hammer, a single/double action trigger and a Browning-Petter-SIG locking system . The gun is equipped with a hammer-forged barrel with a 6-groove profile and a 1:10-in twist rate - but overall length is 2 millimeters more than the Rex Zero 1. In contrast, the Rex Alpha doesn't have a firing pin safety/decocker at the top back of the slide ; as a result, the adjustable micrometer rear sight could be placed lower in the slide . The pistol was designed to match the pronounced contours of the slide , with rather massive, effective cocking serrations at the front and rear

Test firing the 9mm competition pistol on the shooting range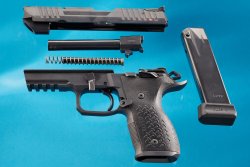 On the shooting range the semi-automatic pistol from Sentjernej alias St. Bartholomew did very well. When firing, this fat all-steel thing lay as still as an infant with a brand-new pacifier . Also, the heavy gun did not suffered a single malfunction with a full 600 shots – consequently, no problems with cycling/safety (-0 points). The sights were also impeccable , being made of metal, fully adjustable and with a clear sight picture (-0 P.). The Arex Rex Alpha also shot well, as showed by groupings between 41 and 46 mm (-5 P.) - if you exclude one flyer each, even groups in the 23-24 mm range came out . So, everything good? No. One out of three team members stated categorically that the trigger was much too hard for a competition pistol. The measurement confirmed this judgment, with values of 79 oz / 2240 g and 160.88 oz / 4561 g (as always, the average of five measurements) . That's too much for sports. The characteristic feature was that the single-action trigger was short and crisp, the double-action broke without a pressure point, but only after a noticeable creep (-3 p.). The grip design also did not meet with unanimous approval. Although the grip was full in the hand, 2 out of 3 shooters from all4shooters disliked the grips as being too smooth (-1 P.) and one also as being too ugly – this matter of taste was of course left out of the evaluation. Controls were easy to grasp, easy to operate, but the slide stop and disassembly lever were only available for right-handed users (-2 P.). As the last step of the evaluation test, t he verdict on fit and finish is as follows: minimal processing marks on the top inside the well-fitted slide, otherwise tip-top (-1 P.).
Arex Rex Alpha test review

| | |
| --- | --- |
| Rating  | Points |
| Accuracy (max. 50 points)  | 45 points |
| Cycling/safety (max. 10 P.)  | 10 points |
| Trigger characteristics (max. 10 P.) | 7 points |
| Grip design (max. 5 P.)  | 4 points |
| Controls (max. 10 P.)  | 8 points |
| Sights (max. 5 P.)  | 5 points |
| Fit and finish (max. 10 P.)  | 9 points |
| Total points  (max. 100 P.)  | 88 points |
| Test result                                                                        | Very good  |
| Rating  | 5 out of 6 |
Arex Rex Alpha 9mm competition pistol: wrap-up

At the end of the day, the Arex Rex Alpha is characterized by a very powerful and striking design . It showed itself to be a solid, very accurate all-steel gun and proved in the test to be totally easy to use. Anyway, there's clearly still a need for improvement in the trigger area, as it is simply too hard for a competition gun. All in all, however, there's nothing wrong with this stable pistol from a price/performance ratio standpoint . The gun comes to the end user in the usual plastic case, with a second magazine, tools and operating manual included.

---
For more information on Arex firearms please visit the manufacturer's website .

all4shooters.com already published tests of the following pistols: