The contrast between stainless steel/anthracite and stainless steel/silver colors is usually found in two-tone  guns . The US firearms manufacturer Kimber offers this aesthetically pleasing scheme with two different colors in several dozen pistols from the Super Carry, Two Tone, Crimson Carry, Master Carry, Eclipse, Aegis, Gold Match II series, not to mention models from the Kimber Custom Shop or special editions. And since in the USA the 9mm caliber is increasingly replacing the good old .45 ACP even in 1911s , Kimber has extended its range to include it. all4shooters.com has extensively tested one of these guns.

The test gun: Custom II Two Tone in 9mm Luger by Kimber 

This Custom II Two Tone is an example of a 9mm 1911. Technically, the pistol follows the Colt model: single-action trigger, external hammer, single-stack magazine, locking by means of two barrel lugs engaging the corresponding recesses in the slide and barrel movement via a pivoting link . Everything is the same as the team of John M. Browning and Carl Ehbets had conceived with the M1911.

Kimber Custom II Two Tone at a glance

| | |
| --- | --- |
| Model: | Kimber Custom II Two Tone |
| Price: | 1071 euro (price may vary in your country due to VAT and custom duties) |
| Caliber:  | 9 mm Luger |
| Magazine capacity: | 9 + 1 rounds |
| Barrel length: | 5" / 127 mm |
| Dimensions (L x W x H): | 8.9 x 1.33 x 5.6 in (226 x 34 x 142 mm) |
| Trigger pull weight: | 77.6 oz / 2200 g |
| Weight: | 47.1 oz / 1336 g |
| Notes: | all-steel pistol with single-action trigger, Colt-Browning locking system, external hammer, Hiviz sights with three luminescent rods and steel parts. |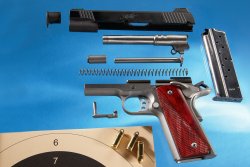 A practical report: what this 9mm pistol can do

In the evaluation, the pistol was found to be well-processed and to a large extent without any play – no thought of the rickety 1911 pistols from the Second World War. The testers only detected a flaw with a few machining traces at the top inside of the slide (-1 point). The single action trigger also met with criticism because it only broke after a rather heavy pull weight of 77.6 oz / 2200 g and also crept noticeably (-2 p.). The grip design was negatively affected by the fact that the grips featured a pleasingly arranged checkering, but this diagonal arrangement resulted in the grips feeling relatively smooth in the hand; in addition, there was a sharp edge in the recess for the main spring housing pin at the back bottom , which was impressed into the hand palm with every shot (-2 P.). Kimber followed the example of the M1911 when it came to controls.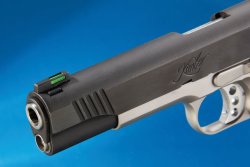 This, however, with the handicap that the slide stop lever, magazine button and thumb safety can only be operated by right-handed people (-3 p.); the extended safety lever is a positive note. The steel sights from Hiviz offer a high-contrast sigh picture, which enabled good target detection even in poor light. However, the testers could not ignore that elevation was not adjustable (-1 P.). Nothing to criticize was found in terms of cycling/safety. There were neither shooting problems to register nor any technical defects that could lead to an unintentional discharge (-0 P.). As for accuracy, the weapon was best able to cope with GECO Hexagon loads and managed to produce a top group of 46 mm (-7 p.). That's more than pretty for a Government model - military .45s were already good if they stayed below the 80mm mark.
Kimber Custom II Two Tone review

| | |
| --- | --- |
| Rating  | Points |
| Accuracy (max. 50 points)  | 43 points |
| Cycling/safety (max. 10 p.)  | 10 points |
| Trigger characteristic (max. 10 p.) | 8 points |
| Grip design (max. 5 p.)  | 3 points |
| Controls (max. 10 p.)  | 7 points |
| Sights (max. 5 p.)  | 4 points |
| Fit and finish (max. 10 p.)  | 9 points |
| Total points (max. 100 p.)  | 84 points |
| Test result | Sehr gut |
| Rating  | 5 out of 6 |
Kimber 9mm 1911 Custom II Two-Tone: wrap-up

Altogether the Kimber Custom II Two Tone presented itself as a neat 1911 , featuring a relatively favorable price , acceptable accuracy and various sporty details. A plus was the nice contrast between the two tones of metal components and the reddish-brown hue of grips. As for the accessories , it should also be noted that Kimber ships his ten-round pistol in a lockable plastic case complete with a gun lock, an oil tube, a bushing key, a spare magazine, a sticker and an instruction manual.

---
all4shooters.com has already published tests of the following pistols: