In order to offer something in the area of premium match pistols also to customers wavering in the face of very expensive models, the gunsmith Prommersberger dared to square the circle. It is obvious that you can't expect the same equipment as a twice or several times more expensive guns for scarcely 1300 euro, but here lies the self-imposed requirement of the manufacturer under the guidance of master gunsmith Karl Prommersberger, well-known for its quality, its resourcefulness and its sound knowledge of the market.
The Sparta 6.0 in 9 mm Luger in detail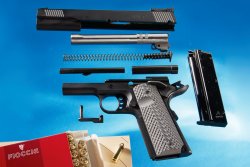 The STP Sparta 6.0 comes with a 6" slide, so it is designed for sports use from the start. It is a single-action pistol, which the manufacturer has produced in the Far East for cost reasons according to detailed specifications – just like other models, by the way. This is done using state-of-the-art technology, but also with a view to quality, the latter being reflected in the forged frame featuring a fine checkering with 30 lines per inch, which in combination with the rough texture of the grey-black mottled G10 grip panels, is designed for maximum purchase. The equipment includes a Videki skeleton trigger with trigger stop, front and rear slide cocking serrations, as well as a widened wing safety that can also be operated with the left hand. Sights consists of a fully adjustable Kensight BoMar-style micrometer rear sight and a laterally adjustable target front sight. As usual for 1911-style match pistols, the Sparta 6.0 is also equipped with a grip safety with Beavertail high grip and memory groove. The gun, based on the well-known Colt-Browning system, also sports a bull barrel with a ramp, but without a barrel bushing; matching the 6" barrel and slide length, there is a two-part spring guide with an extra plug.
Everything about the Sparta 6.0 at a glance 

| | |
| --- | --- |
| Model: | STP Sparta 6.0 |
| Price: | 1290 euro (price may vary in your country due to VAT and import duties) |
| Caliber: | 9 Luger (9x19 mm) |
| Magazine capacity: | 10 + 1 rounds |
| Barrel length: | 6" / 150 mm |
| Dimensions (L x W x H): | 9.6 x  1.49 x 5.78 in (244 x 38 x 147 mm)  |
| Trigger pull weight: | 59.08 oz / 1675 g (SA)  |
| Weight: | 46.42 oz / 1316 g |
| Notes: | all-steel single-action pistol, slightly modified Browning locking system, external hammer, skeleton trigger, micrometer rear sight, driftable front sight. |
How the STP Sparta 6.0 scored points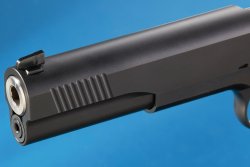 The evaluation - to start with the cycling/safety area: no problem. It worked reliably throughout the test. The system tolerated all tested loads (-0 points). Trigger characteristics: a normal 1911 off-the-box trigger with a trigger pull weight of 59.08 oz / 1675 g. The trigger broke noticeably lower than other 1911s in this price range. The short first stage trigger travel is also typical for such pistols – of course the shooting finger also felt an undeniable creep. Nevertheless: considering the price, a good trigger (-2 P.). Controls were easily accessible, but the slide stop lever, which could only be operated by right-handers, and the impractical magazine release led to a point deduction respectively (-2 P.). The grip design was – compared to the standard in the 1911 family – excellent, as it offered first-class purchase and together with the front-heavy construction provided a real shooting pleasure (-0 P.). No criticism also at the sporting sights with a clean target picture (-0 P.). Mention should be made of the noticeable play of slide and barrel and the only blued magazine (-3 P). At the accuracy check, the long 1911 bearing the name in ancient Greek letters delivered a top group of 48 mm with the 124 gr GECO Hexagon load (-7 P.).
Sparta 6.0 by Prommersberger: test results

| | |
| --- | --- |
| Rating  | Points |
| Accuracy (max. 50 points)  | 43 points |
| Cycling/safety (max. 10 p.)  | 10 points |
| Trigger characteristics (max. 10 p.) | 8 points |
| Grip design (max. 5 p.)  | 5 points |
| Controls (max. 10 p.)  | 8 points |
| Sights (max. 5 p.)  | 5 points |
| Fit and finish (max. 10 p.)  | 7 points |
| Total points (max. 100 p.)  | 86 points |
| Test result  | Very good |
| Rating  | 5 out of 6 |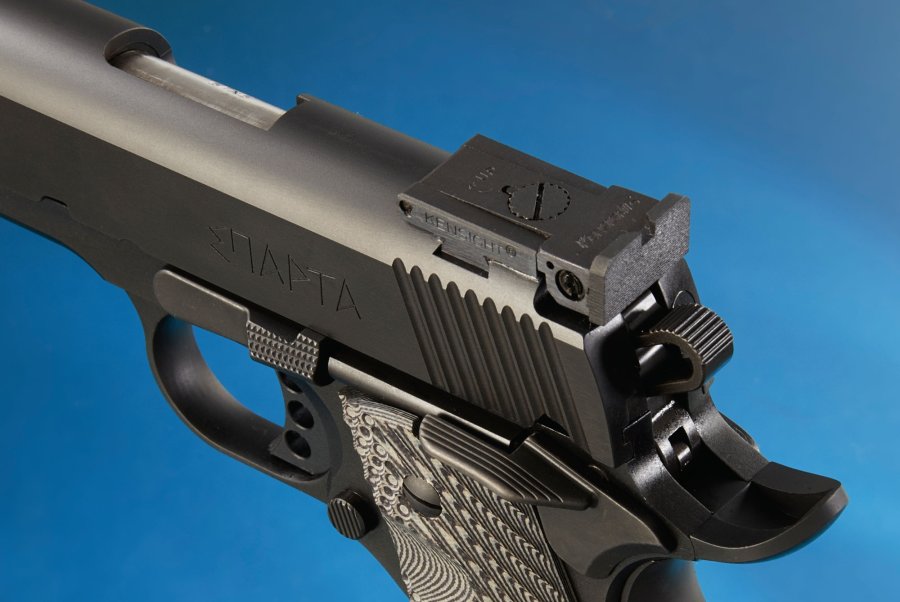 Sparta 6.0 by Prommersberger: wrap-up

Bottom line: for the price, with this all-round sports model from its STP series characterized by a matte black QPQ look, Prommersberger offers a well-equipped 1911 (which is available in 9 mm Luger as well as in .45 ACP). It features a slightly above-average single action trigger (in the 1911 entry-level class) and good accuracy. Contrary to its name, the gun is anything but Spartan: accessories include the STP-typical red plastic case with oil bottle, Allen key, instruction manual, patch and sticker.
---
For more information about STP guns, please visit the manufacturer's website. 

all4shooters.com already published tests of the following pistols: