The XDM series includes three calibers (9x19 mm, .40 S & W, .45 ACP), two slide options (with Melonite finish or stainless steel), and three barrel lengths – 3.8", 4.5" and 5.25" (97, 114, 133 mm). The frame is available in small (9 mm, .40) and large (.45 ACP) sizes, as well as two lengths (standard and short sub-compact), theoretically in three colors. Not all possible combinations are manufactured or imported.
Our test gun: the long XDM 5.25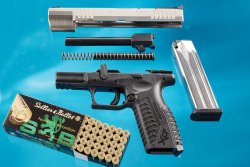 The long XDM 5.25 in 9 mm Luger (9x19mm) with stainless slide and black frame in standard length is representative of the series. Because of its barrel length, it is unfortunately not approved for the Production Division (IPSC), unlike the shorter XDM versions. The trademarks of this 5.25"/ 133mm barrel match version include the slide with extra-flat micrometer rear sight, front serrations, fiber optical front sight and a generous slide cutout at the top, between front sight and chamber. In the 5.25 version HS Produkt added a trigger stop, but there are no more extras than in a shorter version XDM. The design hardly differs from the current standard in large-caliber pistols: a light frame with a Picatinny interface, above which there is a Browning system with the barrel locking directly in the ejection port. The striker-fired system keeps the XDM low on the hand. Typical of all HS Produkt pistols are the grip safety as well as the single action trigger, which in its characteristics and pull weight, however, is more similar to partially pre-tensioned triggers. The striker status and loaded chamber indicators are included, as are automatic safeties. The XDM can be disassembled comfortably and safely by means of a disassembly lever, with no need to operate the trigger.
HS Produkt XDM-9 5.25: price and technical data

| | |
| --- | --- |
| Model: | HS Produkt XDM-9 5.25 |
| Price: | 838 euro |
| Caliber:  | 9 mm Luger |
| Magazine capacity: | 19 + 1 cartridges |
| Barrel length: | 5.25"/ 133 mm |
| Dimensions (L x W x H): | 8.34 x 1.29 x 5.74 in (212 x 33 x 146 mm) |
| Trigger pull weight: | 91.71 oz / 2.600 g |
| Weight: | 810 g |
| Notes: | Browning locking system, polymer frame with interchangeable backstraps, striker fired action, ambidextrous controls, grip safety. |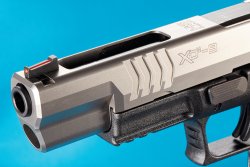 The HS product XDM-9 5.25 in points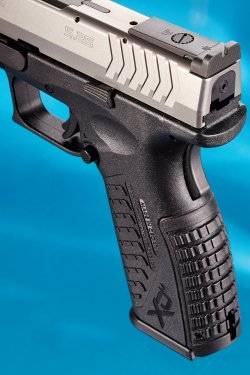 There was nothing to complain about functionality, the XDM 5.25 perfectly cycling even when held with just one hand and a loose grip. Spent cases were evenly ejected to the right (-0 points). On the shooting range, the test gun achieved the best grouping of 39 mm with the Fiocchi truncated cone load, directly followed (with 44 mm) by the GECO hollow point load (-4 P.). Both when shooting freehand and from the sandbag, the contrast-rich, fully adjustable steel rear sight together with the red fiber optic front sight provided a clear aiming picture (-0 P.). This did not apply to the always consistent trigger pull: with about 2.5 kg, it was too heavy for a sporting gun, and with its Glock-like features without a crisp, "real" break point it was more suitable for a service gun than a match pistol (-5 p.).
The hand position felt basically good, but suffers somewhat from the not particularly non-slip grip texture. Individually, the hand position can only be optimized with the small backstrap inserts (-2 P.). The rough grip texture also pulls the XDM down in terms of fit and finish, and the testers would also have liked a little less slide play (-3 p.). Otherwise, machining of plastic and steel on the outside and inside is quite high-quality. For a modern full-size pistol, two-sided slide stop levers should be obligatory (-1 P.). Apart from that, there are no faults with the controls.
Test results: XDM 5.25 

| | |
| --- | --- |
| Rating  | Points |
| Accuracy (max. 50 p.)  | 46 points |
| Cycling/safety (max. 10 p.)  | 10 points |
| Trigger characteristics (max. 10 p.) | 5 points |
| Grip design (max. 5 p.)  | 3 points |
| Controls (max. 10 p.)  | 9 points |
| Sights (max. 5 p.)  | 5 points |
| Fit and finish (max. 10 p.)  | 7 points |
| Total points (max. 100 p.)  | 85 points |
| Test results | Very good |
| Rating  | 5 out of 6 |
XDM-9 5.25: wrap-up
The bottom line is that the 5.25 version of the XDM is a well-manufactured pistol with useful extras that make it more suitable for achieving accuracy on the shooting range than shorter basic models, such as the longer barrel, better balance and sight picture. The trigger is the weak point when using it as a sporting gun, and as with many modern designs with a similar trigger, the system is more suitable for service and defense pistols.
---

More information about this polymer-framed pistol can be found on HS Produkt website.

all4shooters.com has already published tests of the following pistols: