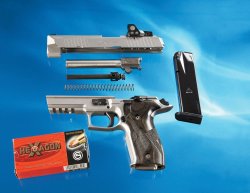 Even its name tells the user that the pistol comes with a factory-fitted reflex optical sight, which is ready to use and can be found in the rear slide area of the gun. In this case, it's the company's own Romeo1 model (the name comes from the military NATO phonetic alphabet, where the "R" is spelled out as "Romeo"). The optical device comes with a 3 MOA red dot and adjustable brightness intensity. It's currently very popular and increasingly common among sports shooters – in the USA , even among law enforcement officers.
X-Five Allround Production Optics: details

The SIG Sauer P226 X-Five Allround Optics is made from stainless steel, which is almost standard for SIG Sauer match pistols of the X-Five-/X-Six-/X-Short series, with grey-black plywood grips (partly varnished and partly checkered). In addition, it features the Browning-Petter-SIG locking system. Typical for the manufacturer, the arrangement of the safety and slide stop levers. The latter is located at the rear, with the safety catch in front of it – it moves down in a curved path and also acts as a decocker.
The SIG Sauer P226 X-Five Allround Production Optics at a glance

| | |
| --- | --- |
| Model: | SIG Sauer P226 X-Five Allround Production Optics |
| Price: | 2659 euro (price in your country may vary due to VAT and import duties) |
| Caliber: | 9 Luger (9x19 mm) |
| Magazine capacity: | 17 + 1 rounds |
| Barrel length: | 5.4"/ 127 mm |
| Dimensions (LxWxH): | 9 x 1.4 x 6.2 in (229 x 36 x 159 mm) |
| Trigger pull weight: | DA: 148 oz / SA: 60 oz (4200 g / 1700 g) |
| Weight: | 42.7 oz / 1212 g |
| Notes: | all-metal pistol with external hammer, SA/DA trigger, pre-mounted Romeo1 sight. |
The allrounder of the X-Series in 9mm under test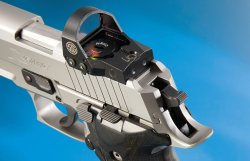 During the evaluation, two test sections got away without any loss of points. On the one hand, the pistol not only shot wonderfully and pleasantly, but also without any trouble or cycling and safety flaws (-0 p.). On the other hand there is the Romeo1 reflex sight. Its red dot enabled even inexperienced shooters to aim precisely from the start. Especially those with old eyes, who have problems with open sights over the usual short 25 m pistol range. And if the battery is dead, that doesn't matter either: the Romeo1 red dot sight has an built-in rear sight, which can be used to aim through the glass of the lens as usual . In addition, the Romeo1 does not interfere when you grab the pistol slide at the rear for cocking, since the device is fitted relatively flush with the slide sides (-0 p.). The single-action trigger pull broke crisp and clean at 60 oz / 1700 g: great.
But with the double-action trigger, which reaches its breakpoint without slack, you can feel by touch and hear a slight creep (-1 p.). A point went down the drain when checking the grip design. The wooden grips were comfortable, but still smooth, and worked minimally when firing (-1 p.). Controls were also in the red, as they were all accessible only to the right-handed (-3 p.) – there was nothing else to complain about in terms of ease of use and accessibility, anyway. And apart from a few almost negligible manufacturing traces, the workmanship of the P226 X-Five Allround Production Optics could only be praised (-1 p.). On the shooting range, the German gun left nothing to be desired. With the light Sellier & Bellot cartridges it produced a grouping diameter of 32 mm: its best and almost first-class result (-2 p .).

SIG Sauer P226 X-Five Allround Production Optics test results

| | |
| --- | --- |
| Rating  | Points |
| Accuracy (max. 50 points)  | 48 points |
| Cycling/safety (max. 10 p.) | 10 points |
| Trigger characteristics (max. 10 p.) | 9 points |
| Grip design (max. 5 p.)  | 4 points |
| Controls (max. 10 p.)  | 7 points |
| Sights (max. 5 p.)  | 5 points |
| Fit and finish (max. 10 p.)  | 9 points |
| Total points (max. 100 points)  | 93 points |
| Test result  | Excellent |
| Rating  | 6 out of 6 |
SIG Sauer P226 X-Five Allround Production Optics: wrap-up
This is a first-class match pistol with an excellent aiming device. And we can look forward to seeing whether the pistol and reflex sight factory combo will set the tone for large caliber sport guns in ten years. The test gun came in a case with a spare magazine.

---
For more information please visit the  SIG Sauer website .
all4shooters.com already published tests of the following pistols: