The MRDS-ready models are given the additional abbreviation OSP by HS Produkt. Apart from the relatively shallow milling in front of the rear sight, the 4.5 Optical Sight Pistol does not differ from an ordinary XDM with a 4.5" / 114 mm barrel, only the iron sights are significantly higher than on a standard XDM model.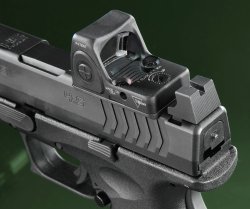 The XDM-9 4.5 OSP in detail

The Croatian manufacturer offers several mounting plates for various MRDSs, but the adapter plates unfortunately cost extra. The particularly high, but only laterally adjustable suppressor rear sight made from steel with matching fiber optic front sight looks well machined and offers a high-contrast sight picture. However, with red dots like the Trijicon mounted here, iron sights should not be much lower, otherwise you will no longer have a sight picture with the rear and front sights when the optics are mounted. With the relatively low standard sights of a normal pistol from the XDM series, in fact, even using the lowest red dot sights you won't be able to co-witness any more. Alternatively, the HS Produkt XDM-9 4.5 OSP versions are also available with a slightly longer threaded barrel.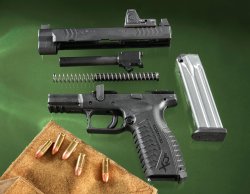 Apart from the sights, this is a conventional XDM: the striker-fire action with single-action trigger feels like a partially preloaded trigger. If you don't like the 2.5 kg trigger with a little more slack than a GLOCK, the importer has a spring set in its assortment to reduce the trigger weight by one kilogram. Operating and drop safety are guaranteed by automatic safety devices, as well as a Colt Government-style grip safety. Backstraps are interchangeable and the surface nitriding protects against corrosion. The Browning system with the barrel locking into the ejection port is the absolute standard today. Modern details such as full cocking serration on the slide front or a Picatinny rail are of course also part of the game. What is nice about the HS Produkt XDM-9, apart from the pistol itself, are the accessory prices. The individual mounting plates for red dots range from 42 to 48 euro, the steel plate magazines all cost between 29 and 39 euro depending on the model. And a longer threaded barrel costs 198 euro as spare part.
HS Produkt OSP pistol at a glance

| | |
| --- | --- |
| Model: | HS Produkt XDM-9 4.5 OSP |
| Price: | 788 euro (price may vary in your country due to VAT and import duties)               |
| Caliber: | 9 Luger (9x19 mm) |
| Magazine capacity: | 19 + 1 rounds |
| Barrel length: | 4.5"/ 114 mm |
| Dimensions (LxWxH): | 7.6 x 1.3 x 6 in (193 x 33 x 152 mm) |
| Trigger pull weight: | 81.1 oz / 2.300 g |
| Weight: | 28.2 oz / 800 g |
| Notes: | polymer grip frame, milled slide for mounting plates, control levers on both sides, steel sights, grip safety device. Height with Trijicon-Sight as in photo: 6.7"/ 170 mm. |
With the 9mm Luger XDM-9 4.5 OSP on the shooting range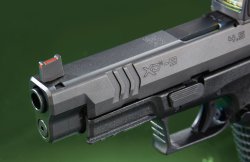 On the shooting range, the test gun liked Federal Tactical ammo with 124-gr heavy hollow point bullets better (1.8" / 46 mm grouping, -7 points). Even with weak ammunition the pistol cycled perfectly and ejected the cases at least one meter to the right (-0 P.). The trigger seemed basically usable, but trigger take-up could be crispier and offer a harder (better tactile and audible) reset (-3 p.). The grip made an average impression in medium-sized male hands:  texture was too smooth and the replaceable backstraps did not influence the hand position excessively (-2 p.). The testers missed a left-handed slide stop lever (-2 p.), but all of the XDM's existing levers and buttons do what they're supposed to. The high steel rear sight with fiber optic front sight of the gun tested offered a good sight picture both by themselves and in combination with an MRDS (-0 P.). Also considering fit and finish details, the Croatian pistol does not differ from well-known manufacturers from Western and Central Europe, even the barrel was firm inside the slide. Only the slide play should be less, and the smooth texture of the grip area did not look very appealing either (-2 P.).
XDM-9 4.5 OSP: wrap-up

| | |
| --- | --- |
| Rating  | Points |
| Accuracy (max. 50 points))  | 43 points |
| Cycling/safety (max. 10 p.)                                                | 10 points |
| Trigger characteristics (max. 10 p.) | 7 points |
| Grip design (max. 5 p.)                                   | 3 points |
| Controls (max. 10 p.) | 8 points |
| Sights (max. 5 p.)                                         | 5 points |
| Fit and finish (max. 10 p.)                                   | 8 points |
| Total points (max. 100 p.)  | 84 points |
| Test result | Very good |
| Rating  | 5 out of 6 |
XDM-9 4.5 OSP: wrap-up

But on the whole there are no differences in quality compared to polymer guns of better known names. The XDM-9 4.5 OSP is quite attractive in terms of price, especially since the equipment, shooting performance and workmanship made an all-round fine impression. Small weaknesses like the missing slide stop on the right side won't bother many.