In service with dozens of armed forces and law enforcement agencies, the 9mm Heckler & Koch MP5 – also available in 10mm Auto and .40 S&W calibers – is probably the most popular and without any doubt the most successful sub-machine gun in the world. 

What can be cooler than that? Well, a "civilian" semi-automatic MP5 chambered in the most popular rimfire cartridge in the world, the .22LR. And here comes the new MP5 .22LR pistol and rifle models that Heckler & Koch has just unveiled in partnership with Umarex of Germany – actually, the only HK-authorized rimfire versions of the legendary MP5. 
A couple of years ago, HK already added the SP5, a 9mm semi-automatic sporting version of its famous SMG. But the introduction of MP5 .22 LRs in pistol and rifle configurations is even more exciting because, as Bill Dermody, HK USA's Director of Marketing, says, "If you like the SP5,you're gonna love the MP5 22. It can be a trainer, a suppressor host, or just the coolest .22LR fun gun on the range. And let's not forget the fact that, as a semi-auto 22, it's an MP5 that most of us can actually afford to own and shoot."
Not just rimfire ammo is cheaper, but the new .22LR versions also have a much cheaper MSRP of $479 (for both the pistol and rifle models), against the $2799 you have to pony up for the aforementioned 9mm SP5.
MP5 .22LR rifle and pistol – "Some serious fun"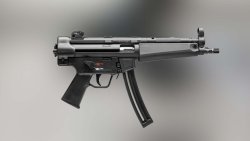 Manufactured in Germany under license by Umarex, both the MP5 .22LR pistol and rifle are base on a simple blowback system – instead of the famous roller-delayed blowback mechanism of the centerfire SMG – and feature a single-stage trigger. Both versions are fed from 10 or 25-round magazines. The MP5 .22LR pistol has a 8.5"/216 mm barrel with an overall length of 18.2"/462 mm, while the rifle version has a 16.1/409 mm barrel. The latter also features a telescoping stock (which, when extended, brings the overall length to 32.3"/820 mm) and a fake suppressor that adds a pleasantly aggressive and tactical look to the gun. 
Weight without magazine is 5.9 lb for the pistol and 7 lb for the rifle. Controls are the same as the rest of the MP5 family, of course. What's the intended use for the rimfire MP5 models? As mentioned, according to the manufacturer, they are ideal as economic sub-caliber trainers or suppressor hosts. But the advertising claim is probably more sincere: these guns are "serious fun" for HK enthusiasts. Which, in our opinion, is more than enough.
In the US the new MP5 .22LRs will start shipping to HK dealers October1, 2021. We are looking forward to testing them in Europe!