It is the SFP9CC, but you can also call it the VP9CC if you like. After some drawings "leaked" a good while back, at Enforce Tac 2023, the German trading fair for security agencies and the military, visitors could finally have a sneak peek of the new Heckler & Koch 9mm micro compact pistol. 
Better late than never, you could say, since practically all pistol manufacturers, and especially the main ones, have been offering "micro-" or "ultra-compact" models in their product portfolio for some time now. After introducing the not-so-successful  P30SK subcompact in 2015, a big name like Heckler & Koch has been somewhat slow to join the micro compact bandwagon. And not just that: even if they showcased it, at HK they say that there are still some tweaks to do before actually offering the SFP9CC to the market. This means that expected availability is in Q4 2023 at the earliest. In any case, here is what we know and were said at Enforce Tac. 
Meet the HK SFP9CC 1.5 stack micro-compact pistol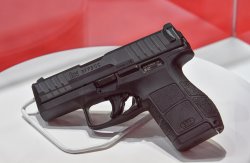 The HK SFP9CC is a "one and a half stack" polymer-frame micro-compact pistol chambered in 9mm with a modular FCU (Fire Control Unit). It is based on the VP9 model, HK's first striker-fired pistol in decades, introduced back in 2014 – that's why you can also call it the "VP9CC", as mentioned above.  Two main versions will be offered, the SFP9CC Standard with ambi controls and with or without Picatininy rail, and the SFP9CC-Shape, featuring "contour optimized" slide and frame for ultra deep concealment and single side controls. Users will be able to choose between five different backstraps (including beavertail and non-beavertail ones), SF or TR trigger ("light/heavy"). There should also be optics-ready versions, together with versions equipped with a conventional button-type magazine release or even a heel release – the pistol at Enforce Tac had a signature HK paddle magazine release. Barrel length is the same for all models (3"), however.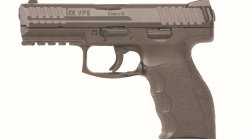 Magazine capacity is 10 rounds, but a 13-round magazine is already planned. Magazine baseplates can be flat or with pinky extension for the larger capacity ones.
Basically, the new pistol will have to compete with well-established models such as the SIG Sauer P365 and Glock 48/43X, and a host of similar models from other small and big manufacturers: a tough fight indeed! Sure, a wider offer is always good for customers, but is there still room for another 9mm sub-compact now? Much will obviously depend on the price, which unfortunately has not yet been disclosed.