Commander for gun enthusiasts is a noun inextricably linked to the compact version of the Colt 1911 in .45 ACP. The year was 1950, World War II had recently ended, and the U.S. Army had learned great lessons from the wartime experience. Among them was the fact that the Colt 1911 service pistol was a bit too bulky, at least for officers. A competition was announced to adopt a new compact 9mm Para pistol that had a length of no more than seven inches (17.78 cm) and a weight of no more than 25 ounces (708 grams). Colt submitted its own candidate, featuring an aluminum frame, 4.25-inch barrel and 9-round magazine, which was called the Commander model. It was the first 9mm pistol with an aluminum frame manufactured by the prancing pony company and met with a great success. The pistol was also made in .38 Super Auto, .45 ACP, and several variants had steel barrels.
Here comes the Moxie Commander in .45 ACP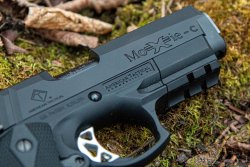 And here we are in the present day, with this pistol manufactured by American Tactical that carries over the Commander concept, with a four and a quarter inch (10.79 centimeters) long barrel. Chambered in .45 ACP, the Moxie Commander has a 4140 steel slide and a polymer frame that echoes and updates the design of the Colt Commander. Control placement is identical to that of a 1911, but in addition offers semi-anatomical grooves on the grip front strap, an oversized trigger guard with finger rest for for weak hand support, ambidextrous manual safety, and the now ubiquitous Picatinny rail on the dust cover. Compatibility with the 1911 is not just ergonomic: in fact, the Moxie Commander can mount grips, safeties and other aftermarket acessories intended for the Colt semi-automatic. The frame of the Moxie is available in black or Flat Dark Earth. Trigger is single-action, with an aluminum trigger blade and lightened hammer.
On the other hand, as far as the slide is concerned, a fixed sight set is factory mounted; the Moxie Commander can also be equipped with sights compatible with Glock 17/19/20/22/23 models. Not only that: in front of the rear sight we find a cut that allows direct mounting of mini-reflex type red dots. The magazine is the classic single-stack 8-round .45 ACP type. The weight of the gun with an empty magazine is 680 grams.
With a retail price of less than $500 in the U.S., or about 470 euros, the Moxie Commander is a very affordable gun, and it would not hurt if some importer would consider distributing it in Europe as well. It might be worth it.
Moxie Commander specs and price
| | |
| --- | --- |
| Manufacturer: | American Tactical (USA) |
| Model: | Moxie Commander |
| Caliber: | .45 ACP |
| Capacity: | 8 rounds |
| Barrel Length: | 4.25"/107.9 mm |
| Overall Length: | 203 mm |
| Sights: | Fixed, optics ready |
| Frame:  | Polymer composite and steel |
| Safety: | Manual on the frame, automatic on the grip |
| Weight: | 680 grams |
| Price (MSRP in the U.S.) | $459.00 |