The Netherlands has a temperate climate, it's mostly flat with land reclaimed from the sea. The small country is an agriculture giant, exporting food across the world. It has a vibrant flora and fauna despite its high human density, busy road networks and farmlands.
Hunting in the Netherlands
all4hunters.com talks to Huntress clothing Founders Vera de Geus and Hanneke Esselink about hunting with pointers in the Netherlands. We find out why a good strong pointer is the ideal hunting companion. Hunters can hunt five species: mallard, hare, pheasant, wood pigeon and rabbit. Wild boar, red and roe deer are protected species.
Game and species management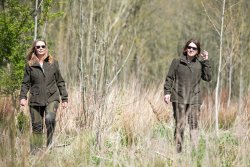 Hanneke tells all4hunters.com, "The landscape is varied with game species everywhere and you can hunt them within the seasons. However, hunting is also carried on outside this season. But this is officially not considered to be hunting but more a kind of 'damage control' or 'species management'. It concerns among other things various types of geese, foxes, crows and roe deer."

Netherlands is a geese haven
The Netherlands is a haven for geese: with 2.5 million overwintering, and 500,000+ in the summer months, they create a huge problem. Vera said, "We shoot greylag, Canada, barnacle and Egyptian geese. Our farmers face too many issues so it's a hard task for the Dutch hunters. For example, damage control near Amsterdam Schiphol (airport), is an ongoing job."
Hanneke told all4hunters.com about her choice of hunting dog. She said, "A pointing dog is the best thing there is. I do a lot of geese hunting, so a Pudelpointer is a dog strong enough to fetch heavy geese. Hanneke hunts all year round. I put my gun and dog in the car and make sure I'm in the field before dawn. It is magical to arrive in the dark. To find a good place, watch the sun rise and then watch the geese fly."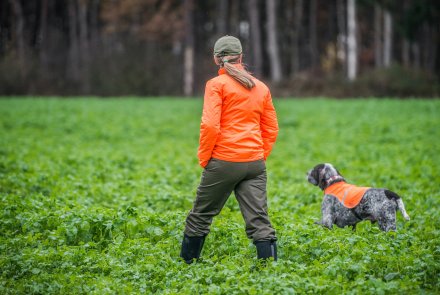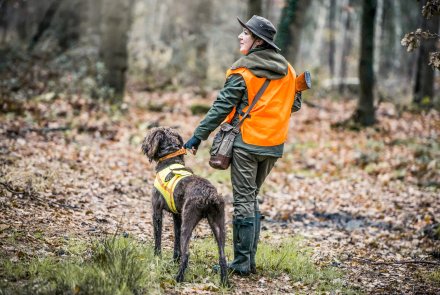 Burgos Pointer
all4hunters.com asked Vera about her choice of hunting dog, she told us, "I use a Burgos Pointer. In our country we do not have wide open spaces like the moors in the UK, therefore I prefer to hunt with a 'short range' pointing breed. I always see and know where my dog is. My Burgos Pointer is a big dog, heavy and very strong dog (69 cm, 40 kg). For hares and geese he's fast enough, and able to work all day."
Hannah Verhoeven, © Foto Verhoeven
Hanneke has been involved with hunting since childhood. all4hunters.com asked about her favourite type of hunt in the Netherlands. She told us, "Walked up shooting with my own dog is my favourite. Working with my gun dog is the ultimate hunting feeling for me. I use a Beretta S55 that belonged to my late father. For the goose hunt I bought a Fabarm Elos-C Hunting with a cylindrical choke. It has a longer range than the Beretta."
Old fashioned hare and pheasant hunt
"Nothing beats a good day's hunting in the Netherlands like an 'old fashioned' hare and pheasant hunt," said Vera. "As a dog handler/beater/picker up, I have to be focussed at all times so pheasant hunting combined with hares is my favourite."
Hunting season game dishes
all4hunters.com asked about harvested game. Hanneke replied, "Everything is eaten. My favourite dish is pheasant with oven-baked sauerkraut." Vera told us it depends on the hunting master, some sell straight to restaurants and some divide the game among hunters and dog handlers. "The Dutch are very fond of 'hazenpeper', it's a hare dish and very popular to eat during hunting season.  We like dishes with potatoes, veggies and a good piece of meat. Stews are also very popular, made from wild boar, roe deer, stag and, of course, goose!"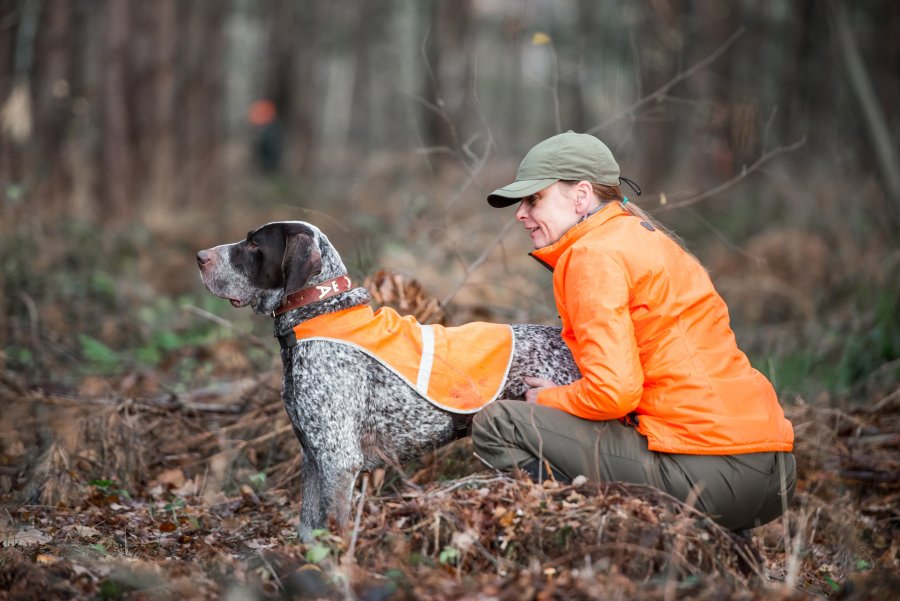 Hannah Verhoeven, © Foto Verhoeven
Huntress brand of ladies hunting clothing
As we are moving into warmer weather Vera and Hanneke's Huntress brand has introduced a new hunting clothing line for the summer and autumn. Huntress clothing is specifically designed for female hunters. Vera recommends hunting trousers, she said, "perfect for waterfowl thanks to extra high back with fleece, the kidney's don't get cold and you don't have to pee all the time."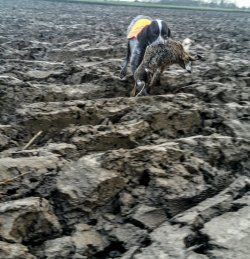 Huntress ladies' dream hunt
all4hunters.com asked the ladies from Huntress clothing about their dream hunt. Hanneke's said, "My dream is pheasant hunting in South Dakota, but only if I can bring my own gun dog!" Vera said she had a bucket list of dream hunts, and all with her dog. "South Dakota pheasant hunting, North Dakota sharptail hunting, Scotland for grouse and pheasant, and Italy for quail. I love to travel and meet different cultures and experience different hunting rituals. So, the countries mentioned above would let me live to the fullest."
Here you will find links to all other contents of our "Dream Hunt series" on all4hunters.com:

---
Who is our author Linda Mellor?
Linda Mellor is one of Scotland's foremost shooting, fishing and hunting female writers and photographers. She is the product Ambassador for Venator Pro, a premier hunting company and stockist of the European brand Hillman. With a lifetime of countryside experience, Linda's passion, enthusiasm and respect for the outdoors and hunting is explored and shared across her writing and photography. 
For more information on Linda Mellor, please visit Linda Mellor's website.
Twitter (LindaMellor) and instagram (linda_mellor).