South Africa is a favourite hunting destination
Jason, an experienced hunter, travelled from Heathrow to Johannesburg (10 hours), then took a connecting flight to Port Elizabeth, he shared a great tip with all4hunters, "if travelling with a gun and connecting to domestic flights, leave at least three hours, because it's a two stage customs firearms process in-between flights. Hiring a gun is the easier option!" Wikus from Game4Africa picked him up, and drove 1 hour 45 to the Kudu Ridge Lodge. 
Jason's passion for Africa's hunting landscape
Jason said, "I was taken aback by the sheer size of the Kudu Ridge grounds and the beauty of the surrounding hills; it is in a stunning location. The hills are almost mountains and are covered in everything from dense spekboom and buffalo thorn to stands of tall wild plum and gum trees.'"
The lodge's high position looked out over a huge grass area then dense bush takes over. The irrigated grass area is a 24/7 guest game viewing experience as wild animals drift in and out of the bush onto the grass where they feed, play and fight. Jason has hunted in Africa for 18+ years. He shares his first outing at Kudu Ridge with us.
Jason talks about plains game ammunition
Before going hunting, he acquainted himself with the lodge's Rifle: Sako 85 7mm Rem Mag, and he told all4hunters, "all the main brands like, Federal, Norma, Hornaday etc sell ammunition specifically designed for plains game. It must have well controlled expansion and have excellent weight retention. They are MUCH tougher than animals in Europe: minimum caliber for small plains game .308 Win. I like a 7mm Rem Mag (very flat shooting) although not everyone can handle the recoil. There are many popular calibers in Africa like 30-06 or .300 Win Mag. All are excellent for medium to large game. For some of the really big animals like eland I would seriously consider a .338 Win Mag, Lapua or .375 H&H.'" To shoot in Africa, hunters should be confident shooting off sticks up to 200m and more.
Jason had no fixed view on a particular species, he told us, "after many years of hunting 'my thing' is now taking old animals. We agreed that we would hunt for whatever popped up that was either a great trophy, or any old bulls or rams we came across."
Jason's early morning hunt from Kudu Ridge Lodge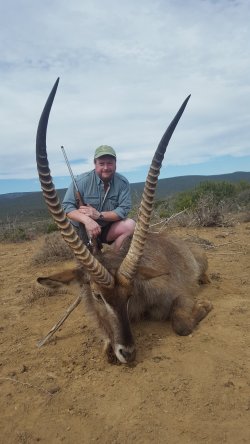 After a 05:45 rise and coffee in the main lodge, Jason, Wikus and Mike the tracker set off in the Toyota for the first outing. After a short, uphill drive, they quietly walked into a vantage point to game watch (Swarovski EL 8.5x42 binoculars, see here) until a huntable animal was spotted, Jason said, "after 20 minutes of glassing below the escarpment we had seen numerous groups of nyala, kudu, impala and wildebeest, but with such dense bush and challenging terrain nothing was going to be easy."
They carefully progressed to different locations on the hill before spotting a group of six mature waterbuck bulls browsing in the dense spekboom, Jason said, '"the animals were less than a mile away but the first half of the stalk was down a steep scree track which made for slow and slippery going." Full leather boots are essential.
They stalked to within 200 m of impala when they spotted two huge horns of a waterbuck in the middle of a bush. Jason told us how his patience was rewarded: "All the other bulls had drifted away, suddenly, it was up but heading away from us and the bush still covered the lower half of the body. I was up on the sticks and tracked each move. Then it happened! A slight step with the front feet towards the right, I had a chance, high and very angled but a chance. You know you have to take your opportunities when Africa offers, so I whispered to Wikus 'am I OK to take it?' he said yes. I placed the crosshairs of the Swarovski Z6i (2-12x50). The shot rang out across the valley followed by the heavy thud of the bullet striking its target. The bull dropped immediately so I reloaded. After 10 seconds Wikus told me there was no sign of life and was happy for us to go forward."
Jason's incredible waterbuck trophy
Jason was amazed by the enormity of the bull. "A great animal to take, possibly past his prime physically but luckily for me the trophy was incredible. It was nice to see four staff carry him out of the bush using two strong poles, and it concluded a truly amazing first few hours at Kudu Ridge. My bull measured 33 inches both sides, truly the king of waterbuck.' 
Jason's dream hunt
All4hunters asked Jason about his dream hunt, he said it would be in Luangwa valley, Zambia. "Lots of hunting history and folklore there. I would like a 21 day hunt for lion, leopard, buffalo, elephant, crocodile and hippo." 
A 60" plus Kudu would be nice icing on the cake. Something specific to my desires would be to hunt all very old examples of all these species: scarred up male lion that is in the process of being pushed out of the pride, a buffalo bull with hardly any horns left, old solitary bull ele, big croc and hippo. Simply, the buzz of outwitting the wisest of animals and taking them at the most appropriate time in their life."

Here you'll find links to all other contents of our new dream hunt series on all4hunters.com:

---
Who is our author Linda Mellor?
Linda Mellor is one of Scotland's foremost shooting, fishing and hunting female writers and photographers. She is the product Ambassador for Venator Pro, a premier hunting company and stockist of the European brand Hillman. With a lifetime of countryside experience, Linda's passion, enthusiasm and respect for the outdoors and hunting is explored and shared across her writing and photography. 
For more information on Linda Mellor, please visit Linda Mellor's website, Twitter (LindaMellor) and instagram (linda_mellor).