Hunting in Croatia: what do you need?
To hunt you will need a Croatian Hunting Licence, approximately 60 euro, and is valid immediately (Dean will organise it for you) until the end of the calendar year. The license (also insurance) is issued by the Croatian Hunting Association. Each year around 4,500 foreign hunters register to hunt in Croatia. 
Most of the hunting (you must wear orange), especially in groups, is done during the autumn and winter months, with roe bucks in the summer. You can hunt wild boar, roe and red deer, chamois, mouflon, fallow deer, and smaller game: pheasant, snipe, woodcock, partridge and hare. The temperatures, like the terrain, offer a variety: in summer temperatures can reach 35  °C and -10 °C with some snow in winter. 
Croatia offers the hunter a challenge and a big variety. Hunter Dean Čortan lives for hunting and being outdoors, especially the woods and mountains. Dean is also a hunting agent based in Croatia and organizes tailor-made hunts for deer, chamois and mouflon, wild boar and small game. Here is our whole story…
Going into the mountains - equipment check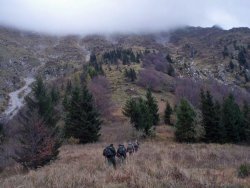 Dean values conservation and only hunts managed quarry. He has shot golden jackals near the Sava River - they are on the Safari Club International list - and hunted marmot in Kartitsch, Austria, 1353 m above sealevel .
Dean told us: "It takes a few hours to get to the altitude where they are. I used a .222 calibre Steyr rifle, with Kahles 4x32 scope, belonging to a local gamekeeper. The goal is to find an animal that is big enough - that usually means, old enough. It is small target, but you can shoot leaning on a rock. Shooting distance can be 80 -150 m. Walking on rocks as big as a football is a challenge on its own: walking boots need to be broken in, otherwise getting off the mountain is going to be painful! Hunting in the mountains is very special and offers something magical."
The goat-antelope chamois can be hunted from 0 to 1300 meters up. Dean uses his  Steiner 10x42 Ranger binoculars to find and observe, he also uses local guides in the field to help him locate a beast for his guest. Typically, shots are fired from 100 - 300 m.
Hunting big wild boar in Croatia, a great experience
Walked-up bird shooting over dogs is very popular, but the majority of foreign hunters hunt wild boar. Wild boar are to be found on most hunting grounds where numbers are good (you can hunt male wild boar in Croatia 365 days), and with an ideal habitat of oak, beech and chestnut forests, they average about 30 kg at 1 yr. old, 60 kg at two yrs. old, and 100 kg at three years old. A driven wild boar day starts with breakfast at 7 am, a meeting at 8 am and the hunt get underway at 9 am. Dean said, "We usually do two drives, lunch, one more drive and then have a ceremony with the game taken that day. Rifle, any calibre above 308 or 270 will do. Bullets: work better if they are bonded, scope with 1x as a start, zeroed at 100 m because typically shots are taken under 100 m. All the meat is harvested and put into the food chain, and we often eat it while out hunting. During the wild boar hunt, fox and jackal can also be shot."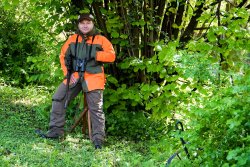 BOZIDAR BABIC PHOTOGRAPHY.
Dean takes his Baikal IZ43E 12 gauge for bird shooting, with 36 g cartridges from M90. He uses environmentally friendly lead-free FOX bullets,  he owns a CZ 8x57. His favourite rifle is a Tikka T3 in 7x64 mm, fitted with a 1-4x24 Vortex Crossfire 2 with RD for wild boar. He also uses a 7x50 Zeiss scope and he explains us why: " I rather use Tikka, because in any of my hunts there is a chance for wild boar". He was gifted a Heym SR 21 in .243 (not legal for shooting wild boar due to the smaller calibre). His hunting companion is his German short-haired pointer.  "The dog is from working blood lines, and in his pedigree there are some dogs who are world champions. He is a very good hunting dog!"
Our Hunter and his personal "dream hunt" in the US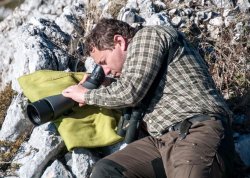 Dean said, "I find hunting in the mountains something special, and since I do not think I will ever get a chance to hunt sheep (Dall, Desert Bighorn, Rocky Mountain Bighorn and Stone) in North America - a man can dream, right?" 
Special service from all4hunters.com:
To arrange a tailored hunt with Dean Čortan in Croatia, please contact him via Facebook, LinkedIn, or e-mail cortandean@gmail.com

---
Who is our author Linda Mellor?
Linda Mellor is one of Scotland's foremost shooting, fishing and hunting female writers and photographers. She is the product Ambassador for Venator Pro, a premier hunting company and stockist of the European brand Hillman. With a lifetime of countryside experience, Linda's passion, enthusiasm and respect for the outdoors and hunting is explored and shared across her writing and photography. 
For more information on Linda Mellor, please visit Linda Mellor's website, Twitter (LindaMellor) and instagram (linda_mellor).
Here you'll find links to all other contents of our new dream hunt series on all4hunters.com: