Caribou is the wild species of deer (often known in Europe as reindeer when domesticated), and are the only deer species where both sexes grow antlers. Travis Price told all4hunters.com, "The caribou herds in Alaska are constantly changing.  There are a few local herds that residents can hunt with a tier tag, registration tag or a draw tag.  Most hunts for nonresidents will need some sort of transport into an area that will be open for them to purchase an over the counter tag."  
Travis recommends you call the Alaska Department of Fish and Game biologist to learn how the different herds are going, and they will help if you have any questions about the regulations, which can be intimidating.
Timing your Alaskan hunt and what you should know about caribou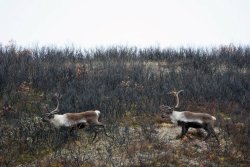 The weather conditions can be variable. "In August the caribou will most likely still be in velvet. They tend to get a prettier white mane and the antlers are hard by September.  In August, you will have lots of daylight but also the possibility of bugs. If it's too warm you have to factor in the risk of meat spoilage." Travis continues, "It's mostly closed season in October as they start to go into the rut. With a rutting big caribou bull it's possible that the meat will be inedible. They follow the cows around and drink their urine and don't feed like normal. I've been told that you can't even stand to be in the house because of the smell if you try to cook rutty bou."
Caribou hunting: rifle recommendations
Caribou are not very hard to take so they don't require a huge gun but you have to consider that they live in the same place as interior grizzly. "A lot of locals refuse to use a smaller gun than a .30 cal for this reason," said Travis, "I've shot several with a .270WSM and it worked perfectly.  If you use a bigger caliber like .300WM or .338 just use a premium bullet that won't blow up, and take a behind the shoulder shot without hitting the bone and there will not be too much meat loss. I recommend a 200 yard zero and know how your rifle shoots out to 400 yards.  Caribou are generally not spooky and easy to get close to," recommends Travis. 
Caribou meat vs. reindeer meat - what's the difference?
"Caribou meat is very good. Hills Foods Ltd. - a specialist meat retailer from Oregon - has been asked several times over the years, what exactly is the difference between Reindeer and Caribou meat? Here is what they say:  "One is wild  (Caribou) and the other is controlled (farmed/ranched). The few people in the know that we have talked to, that have dined on both, say there is not really much difference between the two. This has been our own experience as well. Talking to the key people involved in the harvest and processing in the northern communities we found that if you happened to be in the community where wild Caribou were being harvested the wild Caribou were considered to be superior to the controlled"Reindeer herds. The opposite was true with the individuals involved in the Reindeer harvest. The people there considered the meat of the Reindeer to be as good or better than Caribou". Finally it's up to your personal taste...
Dall sheep hunting in Alaska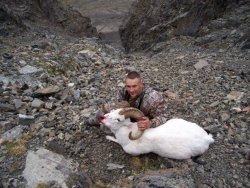 all4hunters.com asked Tarvis about hunting Dall sheep. "Without doubt the hardest, and most rewarding animal to hunt." You need to be in top physical condition and able to cover treacherous terrain. "I did a lot of crazy missions while in the army and none of them compared to a sheep hunt. Lots of conditioning is required and it takes some prep work to get your pack weight down as light as possible. Sheep are not that hard to kill and a lightweight flat shooting gun is recommended: a .270 or any similar caliber that you can shoot well, will work. Most of the time, the terrain can be used to close the distance to normal hunting ranges 100-400 yards. You do have to pay attention to where the ram is laying and what will happen when shot, so avoid a shot that could result in the ram falling somewhere that will make it unsafe to retrieve."
Dream hunt: red stag and bull elk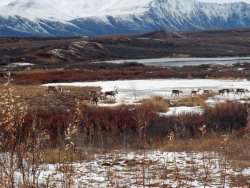 Travis tells all4hunters, "Dall sheep was always my dream hunt. Now that I've had the chance to hunt them, my next dream hunt would be a toss up between red stag in New Zealand and bull elk during the rut with my bow. The roar or the stag and the bugle of a bull elk sends chills down my spine. I grew up in Virginia and spent all of my Military career (other than AK) overseas or on the East Coast so I have really hunted out west."
Travis is a fishing guide. If you wish to visit Alaska, look him up, he guides on the beautiful Kenai River.

Fish Em LLC
Travis Price (907) 317-4706
Website: http://fishem.net/
Facebook: https://www.facebook.com/FishEmLLC/    
Here you will find links to all other contents of our "Dream Hunt series" on all4hunters.com:

---
Who is Linda Mellor?
Linda Mellor is one of Scotland's foremost shooting, fishing and hunting female writers and photographers. She is the product Ambassador for Venator Pro, a premier hunting company and stockist of the European brand Hillman. With a lifetime of countryside experience, Linda's passion, enthusiasm and respect for the outdoors and hunting is explored and shared across her writing and photography. 
For more information on Linda Mellor, please visit Linda Mellor's website, Twitter (LindaMellor) and instagram (linda_mellor).