all4hunters.com investigates the thrill of fast-paced rock pigeon shooting in South Africa. Rockies, sometimes called the African grouse, are prolific breeders, and are a major problem for South African sunflower farmers as they strip crops. The birds are agile fast fliers, so there's plenty challenging sport for the best shotgun shooters.
Shoot days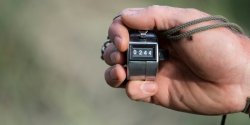 © Credit Richard Scrope/Frontiers Travel)
Before the day's shooting commences, scouts go out to study how the birds are flying. Rock pigeons are shot from a hide (or a blind) situated on the lead edge of the sunflower fields. The birds fly into the middle or the back of the field. 
Proper sport
We asked the experts: Frontiers Travel's UK MD Tarquin Millington-Drake, told us, "They typically fly in groups of 5 to 100. Once the flight starts in earnest you will be experiencing some proper sport. If the day is still, they will come in high and you will have some very challenging shooting at some seriously high birds. If there is wind, and more often than not there is, they will drop onto the deck and you will find yourself in the best grouse shooting school on the planet. Rock pigeons as a game bird are almost as fast as a grouse and in windy conditions fly and react in a very similar way."
Peter Ross shot rockies last year with Frontiers Travel. He told us: "The sheer variety of birds throughout the day will test any shooter. Early in the day, a few birds will start to fly over the blinds to ease your party of guns into action. As the morning progresses the flight will intensify as flocks of pigeons break through the bush to offer the SA version of driven red grouse. This is epic shooting." 
© Credit Richard Scrope/Frontiers Travel)
The sport is incredible, as Peter told us, "picking out and killing a particular bird in front, and making a 'double' with another behind is incredibly satisfying." In addition to the high volume, each shot challenges the shooter, "when the birds hear the 1st shot, they twist and turn and make your 2nd barrel the most awkward of shots."
Shooting rock pigeon is a daylong sport where the excitement doesn't diminish. "As the afternoon progresses, your skill is further tested by sky high birds returning from the sunflower fields." The birds can be high flying at 55+ metres.  Peter continued, "When, or if, you kill one of these birds, you are 'toasted' by the guns on either side of your blind."
Shooting party
Four to six is the ideal shooting party.  "This number will add to the competitive edge we all have, and to the 'craic' in the hotel later that evening. Husband and wife, or father and son teams are also ideally suited on this trip."
Bird boys
"The rock pigeons fly from their roost to the sunflower fields, returning later. "Bird boys pick up the shot birds in the field. Peter continued, "this is done extremely efficiently and all birds picked are utilised."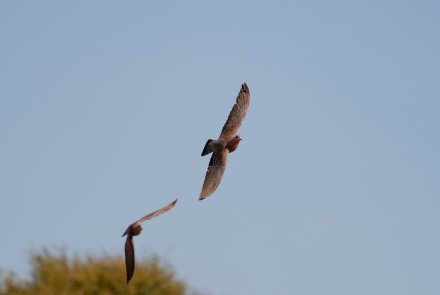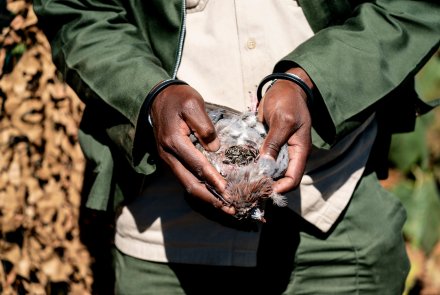 Rock pigeon shotgun choice
These days, it's much more convenient, and cost effective to leave your guns at home. Travelling with firearms can be very tricky, causing hassle in airports and potential delays with connecting flights. The shooting outfitter will provide shotguns. Peter told us he used, "Over & under Blaser or Browning with game chokes ¼ and ½. These guns are chosen for their reliability considering you can expect to shoot 500+ cartridges per day."
Shotgun gauge and cartridge choice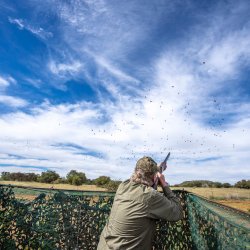 © Credit Richard Scrope/Frontiers Travel)
Both 12-ga and 20-ga are available. Peter said, "I recommend you specify your preferred gauge before arrival. SA branded cartridges are offered in 6's & 7's, 28 or 30 g. High volume shooting in SA will enlighten you as to the killing power of a regular game choked 20-ga with a No.7 shell."
Rock pigeon shoot recommendations
What vital items to pack in your suitcase for shooting rock pigeon in South Africa?
Protection: glasses for eyes, muffs for ears, gloves for hands on hot barrels, pad for shooting shoulder, UV cream for skin.
Clothing: Light trousers, shirt, dull coloured pullover (for early morning) light rain jacket.
Footwear: Light walking boots.
Peter's dream hunt
all4hunters.com asked Peter about his Dream hunt. "Walked up rough grouse, Quebec, Canada. A real hunt in the wild. Two guns with 20gs, hunting over pointers. Close to the action at all times (or you should be!). A bird is pointed & flushed, the speed of acceleration is akin to a UK red grouse, but through trees at first, and then into 'window' for the shot. You experience the exhilaration of a kill or the despair of a miss. You watch the dog point and retrieve your bird. It's not about the bag, it's about the hunt!"
Here you will find links to all other contents of our "Dream Hunt series" on all4hunters.com:

---
Who is our author Linda Mellor?
Linda Mellor is one of Scotland's foremost shooting, fishing and hunting female writers and photographers. She is the product Ambassador for Venator Pro, a premier hunting company and stockist of the European brand Hillman. With a lifetime of countryside experience, Linda's passion, enthusiasm and respect for the outdoors and hunting is explored and shared across her writing and photography. 
For more information on Linda Mellor, please visit Linda Mellor's website.
Twitter (LindaMellor) and instagram (linda_mellor).