Tailored for the bird hunter and hunting dogs
Green Acres Sportsman's club started in 1970, based in Roberts, Illinois, USA. Over the years it has grown and developed with a clubhouse, a sporting clays course, and a mallard hunting marsh offering "everything for the bird hunter". Green Acres is a membership based club and has an onsite hunting dog training facility with 36 heated kennels, where dogs can be evaluated and trained. The onsite training operation employs 14 people.
Traditional upland bird hunting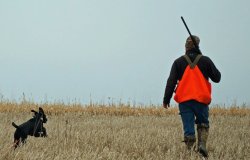 Green Acres Gamekeeper, Tyler Brenner, tells all4hunters, "we offer two different types of upland hunting; driven wing shooting as well as walk-up (also called rough-shooting)". In the USA, walk-up is the traditional way of hunting Upland birds. "Our landscape ranges from tall prairie grass plains to cultivated grounds with standing cover crop. Multiple conifer stands enclose some of our most beautiful driven shoot drives. Creeks flow through the majority of our property leading to 7 wetland areas. Not including our channel system for driven duck shooting". Tyler informs us there has been an increased call for quality driven shooting. "This demand has caused us to strive to create some of the highest flying birds in the western continent," said Tyler.
Green Acres provides the ideal upland bird habitat with large open fields of prairie grass accompanied by thick pollinator plots and strips of planted grain crop. The pollinator creates great nesting habitat that predators cannot scavenge through.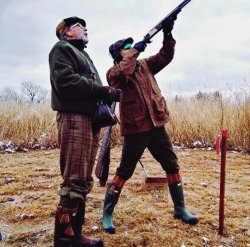 Gamekeeper Tyler is dedicated to giving hunters a memorable shooting day, he tells all4hunters,  "our driven duck shoot is by far the most jaw-dropping event that we put on". He is confident they offer unrivalled days, he said, "multiple waves containing thousands of high-flying mallards buzzing over the gun line from all directions. Our ducks are true driven birds. The keepered ducks live on our channel system for months before we start performing shoots". 
Tyler works the birds everyday, "using flags, kayaks, and dogs to create the flight path. I've dedicated my life to these birds and watch over them like a Shepherd. I take great pride in the ducks and the adrenaline rush that goes over everyone during the shoots. If anyone is looking for an amazing driven shoot, our ducks offer some of the highest, fastest, and most exhilarating wing shooting opportunities in the world. I would like to challenge those who call themselves, "seasoned driven wing shooters" to come take part on one of our driven duck shoots and experience the best of the best."
Shooting doves over sunflowers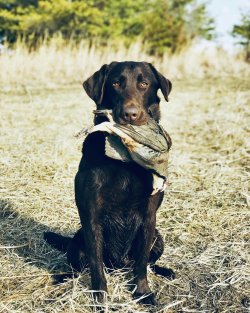 Green Acres offers a member exclusive, with an opening day dove shoot which takes place on September 1st. Tyler said: "it is a full day event where our hunters hunt over cultivated crop fields of wheat and sunflowers. Migrating doves lock-in on this feed source and it makes for a really great time. Members may also harvest cottontail rabbits and woodcock within the state-monitored seasons".
Hunters Grand Trio
"We offer an annual shoot that we call the Trifecta: Friday begins with a full day of clays, Saturday is our Grand Battue (driven pheasant), and driven duck on the Sunday."

Hunting season, quarry and recommended shotgun cartridge
The hunting season opens on September 15 and runs until April 15. The membership based club offers shoots with ring-neck pheasants, chukar partridge, Hungarian partridge, bobwhite quail, and mallard ducks. Tyler recommends, "the ideal cartridge for shooting pheasants, Hungarian partridge, and chukar would be 2 3/4'"# 6 shot. Bobwhite quail is 2 ¾" 7 1/2 shot. For Mallard ducks I recommend 12 gauge 3 inch #2 shot, slightly heavier loads for driven pheasant shoots such as a 2 ¾" #5 shot. For upland hunting we require orange vests and hats for all hunters and guides."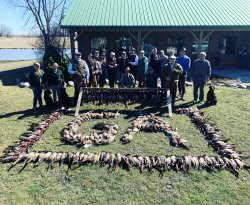 all4hunters asked Keeper Tyler to share his dream hunt with our readers: "I really enjoy waterfowl hunting. 
My dream waterfowl hunt is to shoot king eiders. During season, I duck hunt out of a boat blind at a different body of water in Illinois. It's a lot of travel, early morning, and hard work but that's what makes it satisfying to me. I create the best memories of my life with friends on these days, that I will have forever."
---
Who is Linda Mellor?
Linda Mellor is one of Scotland's foremost shooting, fishing and hunting female writers and photographers. She is the product Ambassador for Venator Pro, a premier hunting company and stockist of the European brand Hillman. With a lifetime of countryside experience, Linda's passion, enthusiasm and respect for the outdoors and hunting is explored and shared across her writing and photography. 
For more information on Linda Mellor, please visit Linda Mellor's website, Twitter (LindaMellor) and instagram (linda_mellor)