The red deer are native to Scotland, their territory can be vast and unforgiving especially during the winter months. On open ground large groups of stags gather separately from the hinds and, generally, only mix during the rut (usually end of September, but it varies), eating grassing and heather. Sizes, weight and heads vary but an average Scottish hill stag weighs approximately 90 kg.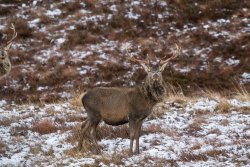 Linda Mellor Photography, © Linda Mellor Photography
Deer are active throughout the day, using open hills during daylight and head to lower ground during night-time. In the summer months, they often search for high ground to escape midges (tiny biting insects that bite humans too). Top tip from all4hunters.com: the Highland midge is relentless so always wear repellent if stalking during summer months .

In a fight for dominance, stags roar during the rut, and wallow in boggy peat to make themselves look bigger as they compete for mating with hinds.
Deer stalking in Scotland
Red deer stalking in Scotland is not for the faint hearted, a good degree of physical fitness is needed for going to the hill.  You will also have to be prepared for the weather, it's very changeable out in the corries (a steep-sided hollow at the head of a valley or on a mountainside). Perthshire based, Debbie Anderson had her first stag hunt at Glen Artney, in September 2019, during the Scottish red stag stalking season. 
She shared her stalking experience with all4hunters, "I had to work for it, keeping up with the head stalker, and walking uphill in the rain for three hours was not easy." A deer-stalker is invaluable for a successful stalk: leading the hunt, spying deer, reading the wind and finding the best route to approach the deer undetected. No one knows the land better than a time-honoured deer-stalker.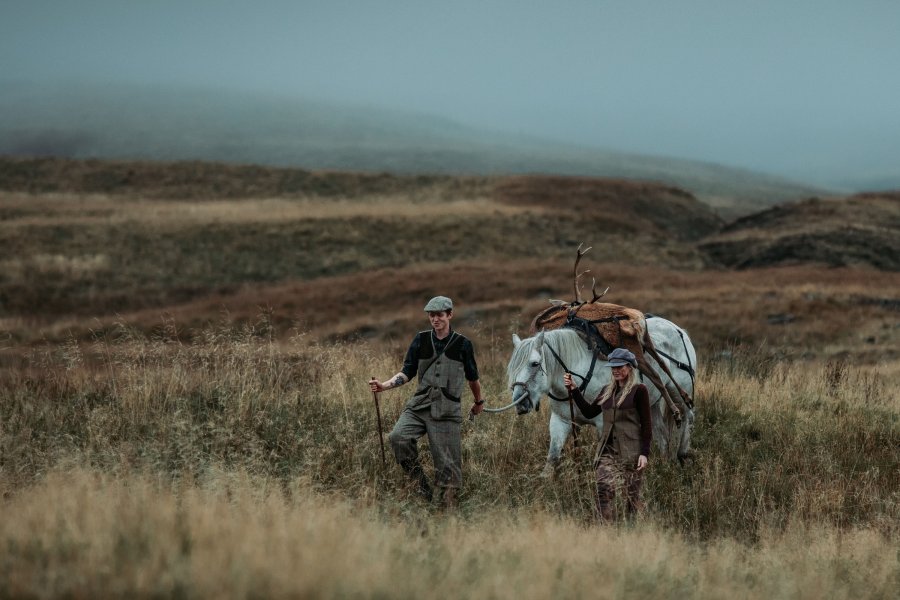 Traditional stalk in Scotland with Highland ponies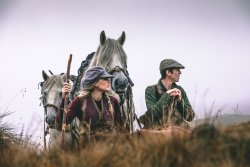 Debbie told all4hunters, her stag stalk was, "a perfect day outdoors" . She said, "it really captured the essence of Scottish country sports. It was as much as about the comradery as it was about the hunt for the stag, and you are creating memories. It wasn't an easy day, as the weather was wet and I had to be dressed from head to toe in full waterproofs and still got soaked through."  Debbie, the estate's Head Stalker Alistair Chalmers, and two highland ponies led by Pony Boy Jack Yeoman, had to wait for a bank of mist to clear. Highland ponies, also known as garron, are very traditional, and used to carry shot deer down from the hill to the larder. The highland hill-ponies are sure-footed, quiet, steady and able to cover areas of the hill where motorised transport cannot. In Victorian times they sometimes carried members of the hunting party and a picnic lunch up the hill, and then were laden with a stag for the return downhill trip to the larder.
Final part of stag stalk on Glen Artney
As they waited the sun came out, the mist lifted. Debbie reflected on the events of the day with all4hunters.com. She told us, "Walking nearly 10 miles up and down the hills stalking was a struggle, but because of this, it ended up the perfect balance and through all this, some six hours later I managed to take a shot and got my red stag. The mixture of the elements, the team, ponies and a picnic on the hill, combined to make it the most perfect day, it was so rewarding and hugely memorable. It really echoed to me what country sports is all about."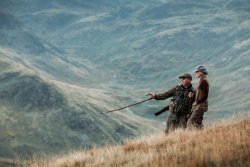 Debbie's dream hunt
all4hunters.com asked Debbie, mum of two, about her dream hunt. She told us, "Going to hunt wild boar in Italy or France would be my dream. I'd imagine the hunt would be quite an adrenaline rush. Being out, enjoying the countryside taking part in a hunt definitely appeals, so does the tradition of the hunt, the company, food and wine afterwards."  
Debbie owns 'Be Coorie', a lifestyle shop inspired by her love of the Scottish outdoors and country sports.
Here you will find links to all other contents of our "Dream Hunt series" on all4hunters.com:

---
Who is Linda Mellor?
Linda Mellor is one of Scotland's foremost shooting, fishing and hunting female writers and photographers. She is the product Ambassador for Venator Pro, a premier hunting company and stockist of the European brand Hillman. With a lifetime of countryside experience, Linda's passion, enthusiasm and respect for the outdoors and hunting is explored and shared across her writing and photography. 
For more information on Linda Mellor, please visit Linda Mellor's website, Twitter (LindaMellor) and instagram (linda_mellor)