The state of Alaska contains huge sections of wild country and uninhabited areas—a true hunter's paradise, and home to North America's largest game animals. Covering 424.5 million acres, Alaska has plenty of room and choice for adventurous hunters including hunting for bear.
Travis Price told all4hunters.com, "I've always had a love for the outdoors. There is no better way to enjoy mother nature than to spend a week or so hunting remote as possible. I have hunted places in Alaska where we went a week or more without even seeing a plane. I grew up hunting in south-west Virginia where it's small plots of land with a mix of public land and mostly private land. In Alaska it's not uncommon to go hundreds of miles with no fences or posted land. "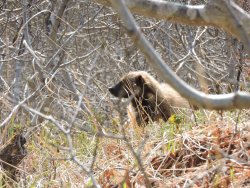 Hunting bears
all4hunters.com asked Travis: how you go about hunting bears? He said, "there are a few ways to hunt bears in Alaska. You can setup a bait barrel in the spring or spot and stalk in the spring or fall. There are plenty of places to do a day trip within several hours of Anchorage, but I find it's better to hunt bears like sheep: hike up above treeline with a frame pack, a lightweight camp and plan on staying for several days. Bears are all about the food! Find out what they are feeding on and glass."
" Don't go spreading your scent around, find a good place to glass from and stay there. Buy the best binos you can afford and put them to work," advised Travis.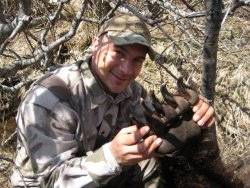 all4hunters.com asked Travis about preparation for the hunt. He told us, "Stay in as good as shape as possible and always be ready. Get a comfortable frame back (Barney's external frame pack has been my favourite - my next pack will probably be an internal pack like Stone Glacier). Focus on keeping your pack weight as light as possible. Keep notes on trips and if you don't use it don't bring it next time. I have done several solo trips but a quality hunting partner is paramount to success and the safest way to go."
Bear hunting rifles and ammo
Travis primarily uses three rifles in AK. A .338 WM, a .300 WM and a .270 WSM. " My favorite are Barnes tipped triple shock and trophy bonded tip. Any quality hunting bullet that your rifle likes will work (Nosler Partition, Swift Scirocco, Bonded) I like two holes, and want bullets that retain most of their weight and still expand. A quality scope is important. I like variable scope 3-9 by 40 is perfect. I have a Z3 Swarovski scope on my .300 and Leupolds on my .338 and .270."
Travis told all4hunters, 7-10 day trips are ideal for flyout or remote trips. "Long weekend trips or simple overnights work if that's all you have time for. Bears love low light times, so I prefer to glass until it's too dark to see. They tend to move better in the evening than in the mornings in my experience."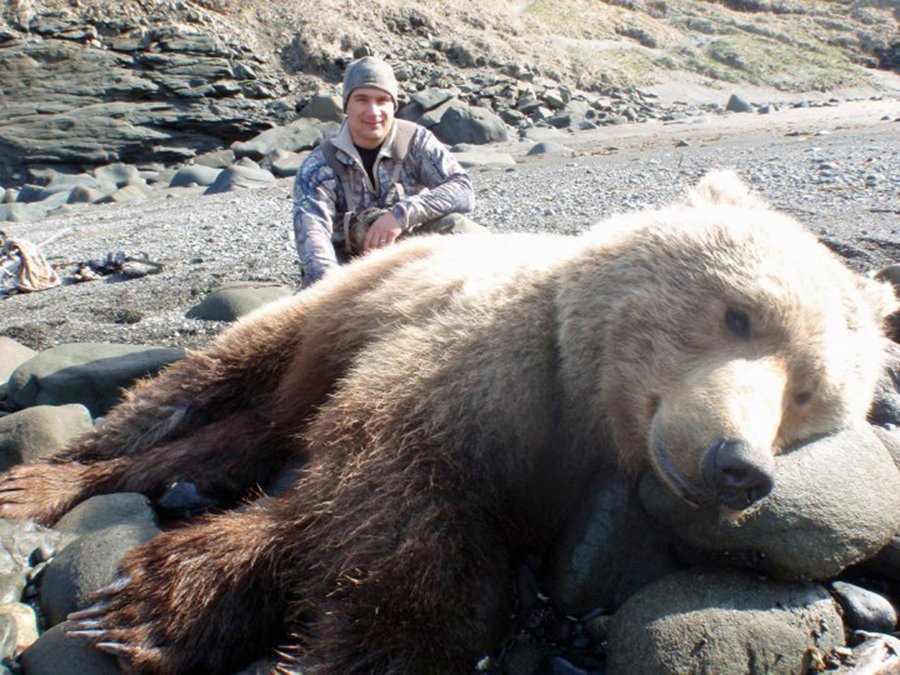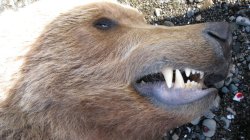 "Bears can be tough animals. I prefer a quartering away shot that takes out both lungs and the off side shoulder. I don't like to shoot over 400 yards but prefer closing the distance to under 200 yards." Generally, the bears are skinned where they fall. Travis said, "the meat is usually very good but can vary depending on what they have been eating. I avoid shooting bears on salmon streams for this reason. A bear that has been eating blueberries is some of the best meat on this planet. Depending on location we skin and quarter the bear, debone if it's a far pack out. It's best to have two people. The hide and skull alone on a big brown bear can be well over a 100 lbs. I have packed out a few black bears solo in one trip but it makes for an extremely heavy pack."
all4hunters.com asked Travis about his dream hunt. He told us, " I just love to hunt and go as much as possible. Alaska offers adventure, there are millions of miles of practically untouched wilderness. I moved to Alaska in 2006 with the Army, and when I retired in 2013, I decided to stay!"
Here you will find links to all other contents of our "Dream Hunt series" on all4hunters.com:

---
Who is Linda Mellor?
Linda Mellor is one of Scotland's foremost shooting, fishing and hunting female writers and photographers. She is the product Ambassador for Venator Pro, a premier hunting company and stockist of the European brand Hillman. With a lifetime of countryside experience, Linda's passion, enthusiasm and respect for the outdoors and hunting is explored and shared across her writing and photography. 
For more information on Linda Mellor, please visit Linda Mellor's website, Twitter (LindaMellor) and instagram (linda_mellor)