all4hunters.com explores the Scottish Island of Orkney, and discovers why it is a goose-shooters destination. Orkney is invaded by thousands of geese. There is a large population of resident Greylag geese and smaller numbers of pink-footed (often shortened to pinkfoot) geese. Around October, numbers of geese increase when thousands more migrants arrive from Iceland, increasing the goose population on Orkney to more 20,000. The geese damage crops, and pose a threat to vital farming and crofting on the island.

Hunting geese from hides and blinds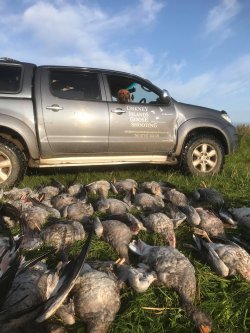 all4hunters.com talks to Raymond Shearer, an Orcadian and lifelong goose shooter, we ask him about the best way to hunt geese, "The most successful way to hunt the geese is to find where they are feeding. We prepare an ambush by using decoys in the early morning to attract them into the range of guns." The geese have great eyesight so out on the feeding ground all hunters have to be concealed in hides or blinds. "Great skill is required to build hides and blinds; we need to insure all our hunters are invisible to the sharp eyed birds. On some occasions, during September and October we use layout blinds, they allow hunters to be hidden in the rows of straw in a harvested grain field."
Windy weather brings in skeins of geese
Orkney is a wild location, and strong winds are very common. Goose hunter Raymond said, "The weather in Orkney is generally mild considering it's Northerly latitude and there are often good winds for hunting which increase the hunter's chances." Waterproof clothing is recommended, and it is essential all hunters wear camouflage clothing including hat or a windproof balaclava.  The head is the only part of you seen above the hide.

Bring your own shotgun or hire one
At all4hunters.com we all know how difficult it can be travelling with our firearms. Raymond's shop stocks a range of shotguns for hire and a vast selection of wildfowl cartridges. Raymond recommends shooting with 12 or 10 bore.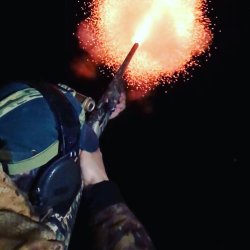 Early rise for early season shooting
During September and October the available daylight is much longer, Raymond tells all4hunters.com, "The morning goose shoots take place early in the morning so an early rise is required to get the hunters from their hotel to the feeding fields before first light. From November to the end of January, when the season closes, we get into position at a different time as dawn is later."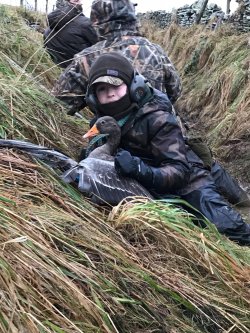 Dusk duck flighting

"At dusk we take the hunters out again to shoot ducks on fed flight ponds and there is also the chance of geese too, afterwards we take the hunters back to their hotel after dark. All the hunting times are dictated by the time of dawn and dusk, which is when the birds move."
Goose shooting long or short stays
Hunting parties usual comprise of 4 to 6 hunters, enjoying three days shooting or for a full week (no shooting on Sunday, so a good day to travel). Raymond and his assistant, Shane, take hunters out 5 to 6 days a week to shoot on local farmland.
Orkney welcomes hunters
Hunters are welcomed on Orkney because they help to keep the numbers of geese to acceptable levels. Orcadians are known for their friendliness and hospitality to visitors, and you can fill your time in-between goose outings by visiting the many points of interest on the island, including the distilleries. All birds shot can be prepared (for a small fee) for guests to take home as oven ready, sausages or burgers.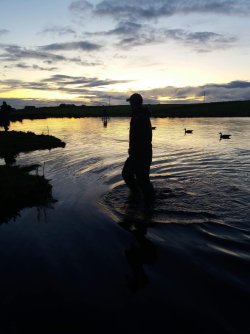 Travel arrangements to shoot geese in Orkney
You can drive and take the ferry across or take the fastest method and fly into Kirkwall: more information here.
Dream hunt for a goose hunter
all4hunters.com asked Raymond about his dream hunt, he told us, "My dream hunt would be shooting wild boar, I hear about it so often from my French goose shooting guests and would love to give it a go in France. It sounds unbelievable and thrilling. I probably have two dream hunts though, because I have always fancied shooting doves in Argentina!" See our next article, we explore shooting doves in Argentina!