Vast hunting landscape and big game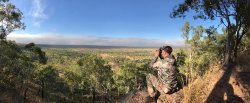 Australia is one of the least populated and driest areas in the world with vast, wild places, untouched by man and accessed by dirt tracks. The continent has a diverse ecosystem and home to a number of huntable native and non-native species, many are considered feral or pests and can be hunted anytime, including: rabbits, hares, foxes, wild dogs, feral cats, goats, donkeys and pigs, deer (including fallow, red, sambar, rusa, hog, chital), buffalo, horses and camels, pheasants, waterfowl, quail and pigeon. The Sporting Shooters' Association of Australia is an informative site.
The Northern Territory, a popular hunter's choice for scrub bull
The Northern Territory (NT) is home to the scrub bull, a sought-after big game species with monster horns. Scrub bulls are feral cattle, and make for a challenging and dangerous hunt because they have adapted to the remote Australian landscape. Mature bulls can be tough to kill because of their size and aggression, and are likely to charge so reliable and experienced back-up and heavy weight premium bullets are essential. Numbers of feral cattle are estimated around 100,000.
Be alert when hunting in the Bush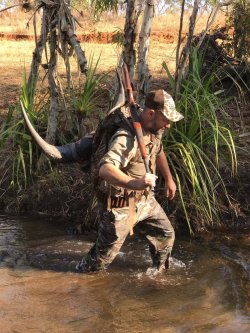 Shaun Porter and his son, Brandon, hunted Arnhem land by the Waterhouse River, he tells All4 Hunters, "We were constantly on the lookout for snakes and spiders, if you saw a log you stepped on it and not over it in case a snake was lurking and could strike you. We had our boots on but our guides walked everywhere barefoot, by day three we were all walking barefoot."
The hunt and stalk for scrub bulls
"The temperature varied between 32–38 °C, everything was covered in red dust, we were shade of orange most of the time, it was impossible to keep clean!" said Shaun. "We left the lodge about 4am, and travelled on tracks, pushing bushes down to get through in an adapted 4x4 truck. The scale of the country is unbelievable. We drove for approximately seven hours, then stopped to have our lunch sitting in the sandy-bottomed Waterhouse river and constantly watched out for Crocs. Our guide had seen an unique, large Scrub Bull with irregular shaped horns that slopped backwards so we headed to the home territory of the bull about an hour from the river."

Rifle, taking the shot and ammo choice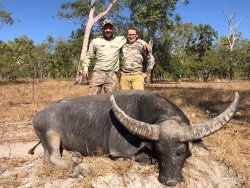 "Once we were in the area, we glassed the land to find the scrub bull, we saw others but not him. We patiently carried on looking, then he appeared. We got out of the Land Cruiser, and carefully stalked in closer to get within 80 yards." Shaun had the CZ 550 in .416 Rigby rifle loaded with 410 grain Australian made Woodleigh Ammo. "I was in the shooting position, and waited. The bull turned broadside to enable me to take the perfect shot. I took the shot but the bull ran away. We went after him, my heart was pounding in my chest and I had to shoot again to bring him down but he refused to die." The bull, weighed in excess of a ton and a half, stopped, turned around and headed straight at Shaun. "I took another shot and, finally, he was down. He was enormous! We skinned him, and took what meat we could (stored in cool boxes and eaten back at the lodge) and the head. We had to work fast because red ants, mosquitos and large meat flies turn up in their thousands, and have a painful bite!" Shaun had taught Brandon to shoot a rifle but he'd never hunted big game. Shaun told us, "There was a lot of Buffalo about (invasive, non-indigenous species), we watched two bulls fighting across the river from us, then an opportunity presented itself for Brandon to shot a cow with a .308 It was a perfect shot and an amazing opportunity for a 13 year old!"
Shaun shared his dream hunts with All4 Hunters: 'There are so  many animals I'd like to hunt such as Muskox and Bison.  My dream hunt would be a proper old-school Cape Buffalo and Elephant combination in one of the old hunting areas probably Mozambique's Coutada 11. I would love to go back in time and experience old Africa from the 1930s -1950s and hunt with the great PHs of time, with a .505 Gibbs rifle."
Shaun Porter, Outfitter, Global Outdoors
Email: info@global-outdoors.com
Instagram @global.outdoors
https://www.global-outdoors.com/
Here you will find links to all other contents of our "Dream Hunt series" on all4hunters.com:

---
Who is Linda Mellor?
Linda Mellor is one of Scotland's foremost shooting, fishing and hunting female writers and photographers. She is the product Ambassador for Venator Pro, a premier hunting company and stockist of the European brand Hillman. With a lifetime of countryside experience, Linda's passion, enthusiasm and respect for the outdoors and hunting is explored and shared across her writing and photography. 
For more information on Linda Mellor, please visit Linda Mellor's website, Twitter (LindaMellor) and instagram (linda_mellor)