Passion for duck hunting: "Waterfowl is my first love"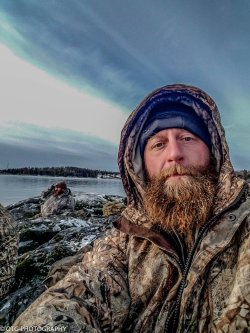 Ryan Baudhuin is a USA Marine Combat Veteran, and after an invite to take part in the Horicon Marsh Veterans Hunt he fell in love with duck hunting. Ryan owns Off The Grid Photography specialising in wildlife photography, and created Off The Grid Videography to film hunting and promotional videos for outfitters and outdoor retailers. He is avid supporter of veterans hunts and other non profit organizations. He tells all4hunters.com about his passion, "Waterfowl is my first love and everything else is secondary." 
"I have duck hunted in many states from Alaska to Maine, and from Wisconsin to Texas in pursuit of the 41 species of ducks and geese that are available to pursue.  I believe I have about seven left and will check a few more off this year in the West and the SE." Ryan enjoys the different hunting styles needed to adapt to each species and the different locations. He said, '"locally we hunt fields in coffin blinds, in boats on marshes for puddle ducks, and in layout boats on the big water for sea ducks and divers."
Challenges of duck hunting on big water
Ryan tells all4hunters.com, "when chasing sea ducks and divers on the 'big water' of the Great Lakes or the oceans, the birds don't arrive in numbers until late fall and throughout winter, so sub-zero temps and unforgiving cold water spray are almost a given."
Getting to know the duck species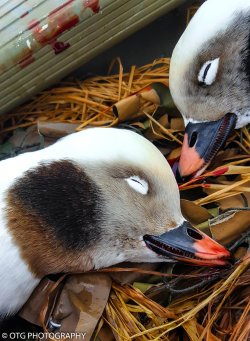 "The Great Lakes hold old squaws, blue bills, buffleheads, other mixed bag divers, and the occasional scoter; whereas, the oceans have eiders, old squaw, and harlequin and an abundance of scoter species,'" said Ryan. Puddle duck hunting in fields and on marshes and shorelines allows for a mixed bag of species. "You never know what you are going to get coming into your spread, albeit it is consistently Mallards and Canada Geese.  There are instances of divers hitting the marsh often and sometimes even a rare species that usually doesn't travel our Mississippi River Flyway area." 
Duck flights and decoys
Early morning is when the major flights of ducks fill the skies. Ryan explained, '"We take at a minimum two boats out miles to find the open waters that the birds are congregating in, the second boat is in the case of emergency on the 'tender boat', as if you have troubles on that boat you are not making it back to shore in time to survive the hypothermia that will result in an abandoned ship."  Ducks present themselves to both shooters on the tender boat (which is responsible for retrieving the birds from the layouts) and the layout boat, which is usually a single man low profile pumpkin seed shaped motor-less hull. "The decoys are placed in a line off the fore of the layout boat.  Sea fowl usually fly tight to the water, disappearing between through the crest of waves, and right down your lines where the shooting opportunities are fast and furious and in your face!"
Eat what you shoot
all4hunters.com asked Ryan what happens to the ducks, "Sea ducks and some diver species usually make their way into sausage blends; however puddle ducks and some divers are very tasty table fare.  I prefer to smoke them after an apple cider brine stuffed with provolone cheese and bacon or the real treat is adding it to Gumbo!"
Ryan's dream hunt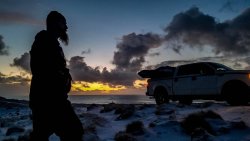 Ryan told all4hunters.com about his dream hunt, '"I've been on safari for big game in Africa and I was amazed at the number of waterfowl species there too that were way outside my knowledge at the time. I think it is untapped and not yet reached popularity on a world scale to go there and duck hunt, as most if they make the trip have bigger game in mind.  I always have been a square peg in a round hole floating in my own timeline and doing much my own thing... so why not go be one of the guys who does something most never even think of none the less dream to see and do."

Ryan tells us "Apex Ammunition is outfitting my veteran hunt in Arkansas this year."

Contact details Ryan Baudhuin:
---
Who is our author of the dream hunt series?
Linda Mellor is one of Scotland's foremost shooting, fishing and hunting female writers and photographers. She is the product Ambassador for Venator Pro, a premier hunting company and stockist of the European brand Hillman. With a lifetime of countryside experience, Linda's passion, enthusiasm and respect for the outdoors and hunting is explored and shared across her writing and photography. 
For more information on Linda Mellor, please visit Linda Mellor's website, Twitter (LindaMellor) and instagram (linda_mellor).