The king of the forest, a keystone game species
Sweden has the most dense population of moose. A bull can weight upwards of 600 kg, and a cow up to 360 kg. Its natural predators are wolf (one wolf family kills about 120 moose annually) and brown bear. The moose population is thriving (although the hot summer 2018 impacted on numbers), there are few predators and modern forestry practices, such as clear-cutting, increases food availablity. Hunters play an important part in conserving the species by controlling numbers. The moose is keystone game species: important source of food, recreation, and tourism.
The moose hunting culture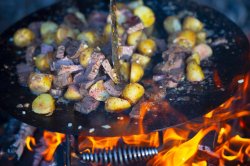 Justin King of L2G Experiences tells all4hunters.com about the season, "the moose hunt in our part of Sweden usually starts 2nd Monday in October.  This is a sacred time for many Swedes and the first week sees thousands of hunters and their families head out to their hunting grounds to try and fill their quota (set by the government and based on land size). Moose hunting is ingrained in the culture and spans across many lives. It is the premier hunt of the year and everything stops for moose hunting. Generally, the majority of moose are shot in the first 2-4 weeks of the season. The season lasts several months so those with larger grounds and bigger quotas (L2G has lots of ground) can hunt longer until their quota is full."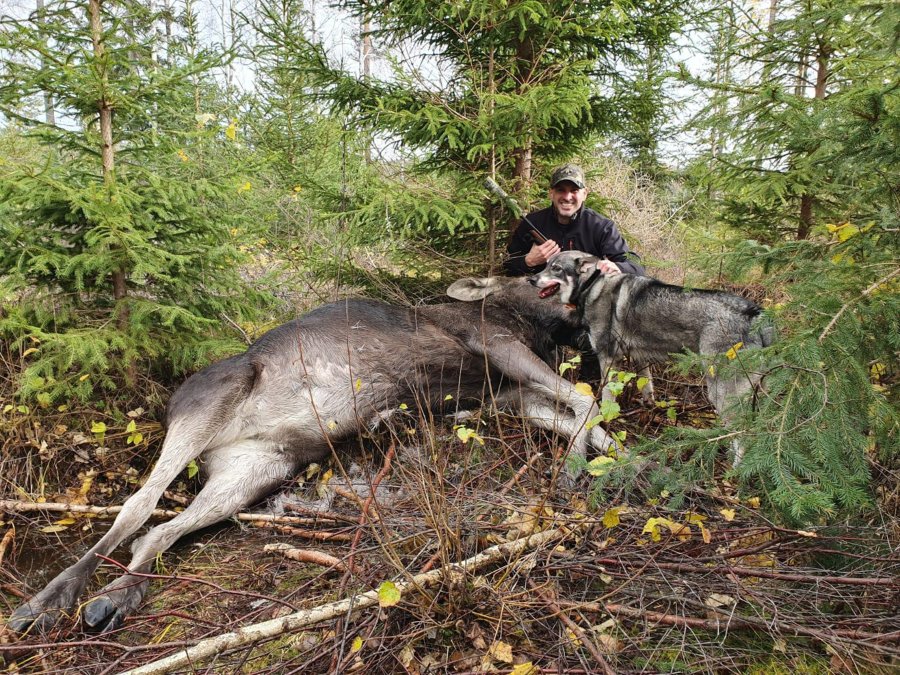 It's a huge community event, and there are lots of village hunts, where everyone gets a share. Justin said, "the average Swedish hunter may only shoot 1 or 2 moose in a lifetime but they will be out hunting every season of their life. I recently met a lady hunter, she had been hunting for 20 years and had shot one moose, but that's quite normal."
Temperatures can vary quite a lot in October, it can be anything between 12°C to freezing.  We hope for around 4-6°C which is good for the dogs to work in. Our moose hunts are usually 1 week long for the first 2-3 weeks of the season.
Planning the moose hunt and using hunting software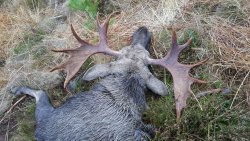 Justin tells all4hunters, "we plan everything in advance and use technology to help us: radios, GPS and software called 'We Hunt' . This gives everyone's position, real-time updates on dog and handler location so you can follow the hunt. We have to be tactical and map out the hunting grounds, use dogs and handlers and target each terrain. We stop for a traditional lunch over an open fire before heading out again in the afternoon. The dogs pick up the scent, the moose either runs or is held by the dog."
Rifles choice for shooting moose in Sweden
Justin said, ".30-06, .308 Win are the norm.  We get hunters to shoot a few practice shots on the range at 100 m to show they can hit a target and be safe but also to allow checking of any guns/scopes that have been transported.  There isn't really a typical shot on a moose, it depends a lot on which stand you are on, anything from 30 m to 250 m."
Hunting wild capercaillie and black grouse with dogs
all4hunters asked about other forest wildlife.  Justin said, "what you will likely not see, but be assured they are there and you might see tracks, are wolf, bear and lynx."  For hunting capercaillie and black grouse, Justin told us they use dogs to find the birds up in trees. "The dogs' bark alerts us to their location. We can try to get in range for a shot,  it is really exciting and not easy to get close without spooking the birds. This is a true hunt with wild birds. When the snow comes, the traditional way is to use skis."
We asked L2G's Justin King about his dream hunt. He told us, "I don't have a specific animal in mind but for me the dream hunt is about being being somewhere remote, in the wild, hunting for something that will likely take days to track. Being able to learn from local experts and then going out and putting that into practice is what gets me excited!"
Exclusive Swedish rifle maker
Interesting hunting fact! Sweden is home to the makers of one of the most exclusive rifles in the world, VO Vapen. The family-run gunsmiths craft their handmade hunting rifles at VO Faktori, next to Trolle Ljungby Castle, and can take up to a year and a half to complete.
L2G are based in Bogen, Värmland county, not far from the Norwegian border. 
Facebook page: https://www.facebook.com/l2gexperiences/
Recommended airport for L2G hunting: Oslo, Gardermoen airport (Norway) and transfers are approximately 1.5 hours from there.  
Who is Linda Mellor?
Linda Mellor is one of Scotland's foremost shooting, fishing and hunting female writers and photographers. She is the product Ambassador for Venator Pro, a premier hunting company and stockist of the European brand Hillman. With a lifetime of countryside experience, Linda's passion, enthusiasm and respect for the outdoors and hunting is explored and shared across her writing and photography. 
For more information on Linda Mellor, please visit Linda Mellor's website, Twitter (LindaMellor) and instagram (linda_mellor).