Is Latvia a hunter's dream location?
Hunters are made very welcome in Latvia - located in Northeastern Europe, between Sweden and Russia, with three international airports. More than half of the country is covered in forest with 12,000 rivers, 3,000 lakes, 40+ deer parks, and is home to many animal and bird species. Hunts are offered by Latvian State Forests (major hunting authority), outfitters, hunting clubs, Latvian Safari Club, and regional tourist information centres will also supply hunting information. 
Latvia is home to many species
You can hunt all year long, here is a guide to the seasons for each species.
Animal species: wolf, moose, wild boar, hare, beaver (very popular, and takes place with specially trained dogs), mink, ferret, racoon dog, lynx, pine and beech marten, polecat, muskrat, badger, fox, American mink, mouflon, roe, fallow and red deer. 
Bird species: pheasant, woodcock, duck, capercaillie, black grouse, rackelhahn (or Rackelwild a hybrid between the western capercaillie and the black grouse), hazel grouse, geese, crow, magpie, wood pigeon and domestic pigeon.
Hunts in Latvia take place within a hunting sector according to a schedule approved by the State Forest Service; hunting restricted game requires a hunting permit and a hunter's seasonal card, while hunting for unrestricted game a hunter's seasonal card is only required. Game birds hunted on public bodies of water and tow zones, as well as American mink and raccoon dogs may be hunted without prior approval.
Alex Vankov talks to all4hunters about moose hunting in Latvia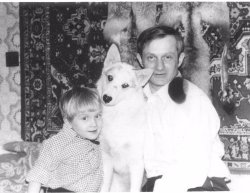 Hunter Alex Vankov, moved to Latvia from Russia when he was 7, then moved to the UK at 21, and continued his passion for hunting. Alex talks to us about driven and walked-up moose (largest of the deer species) hunting in Latvia, "they all are equally exciting and difficult. Driven hunting is probably the most popular way of hunting moose in Latvia." Trackers are used to find and read the moose tracks, and estimate when the track was made. "As the tracker finds a fresh trail, a team travels to the other side of the woodland. It is only after the guns are in place at pegs that the beaters start to move towards them with the dogs flushing the animal towards the pegs. It is a very popular and fast way of hunting moose, and it brings a lot of people together couple of times per month and is followed by a great gathering behind the table at the end of the hunt regardless of the outcome."
"The second way is walked-up with the dogs, the success depends on the outfitter knowledge of the hunting ground, animal habits and behaviour, but most importantly, the hunting depends on the dogs as they pick up the animal's scent, and follow it. The hunters listen out for the dogs, and know when they hold the animal."  The hold is the most dangerous part of the hunt, many dogs get injured or killed before hunters get to the location to shoot.  Alex continues, "the large bulls can grow up to 1 ton, so a single blow can end the life of your beloved hunting dog."
With the hunt over, there is work to be done: "The most intimidating bit about moose hunting is the actual retrieval of the animal, the fun bit stops after you pull the trigger," said Alex.
Rifle and scope advice for moose hunting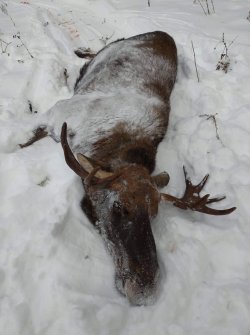 Our hunter shares his thoughts on rifles for moose hunting: "The rifles mainly used on the specially organised hunts, towers and high seats are .30-06, .308/7x62 and .300 (probably the most popular calibres in most EU countries purely because they have a lot more stopping power on the moving target). My scope preference is GPO: high quality glass, and affordable, or Kahles Optics because of their quality and amazing company history.'
Federal Premium Nosler Accubond: 30-06 Springfield, 180grs is a popular choice of ammo for bigger game.
Informative page on the topic of Moose hunting rifle and calibre choice. https://www.all-about-moose.com/moose-hunting-rifle.html
Our hunter tells us about his dream hunt
Alex tells us about his dream hunt: "My ultimate hunting would be wood grouse/capercaillie in the mating season. I've read a lot about it in Russian hunting books and heard a lot of great stories from friends all over the world. It's one of the most difficult hunts you are likely to experience and the success rate is very low because you have to stay still for 20-30 min or more to go undetected."
Contact details: 
Facebook: Alex Vankov

Youtube: Охота с Алексеем В.

Instagram: alex.v_rus_hunt_uk

Website: www.theroe.co.uk
Take a look!
Hunting clothing supplier based in Rīga,Latvia, Gunmarket.
Here you will find links to all other contents of our "Dream Hunt series" on all4hunters.com:

---
Who is Linda Mellor?
Linda Mellor is one of Scotland's foremost shooting, fishing and hunting female writers and photographers. She is the product Ambassador for Venator Pro, a premier hunting company and stockist of the European brand Hillman. With a lifetime of countryside experience, Linda's passion, enthusiasm and respect for the outdoors and hunting is explored and shared across her writing and photography. 
For more information on Linda Mellor, please visit Linda Mellor's website, Twitter (LindaMellor) and instagram (linda_mellor).