Adventurer Ryan Baudhuin is an experienced hunter, it was his third trip to Louisiana, a US state nicknamed the Sportsman's Paradise. He tells all4hunters, "the swamp people are amazing, they rarely visit a grocery store, instead they live off the land. It doesn't matter who you are, everyone uses the land, and they have it all - ducks, deer and hogs."
Traditional craft of alligator hunting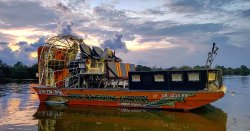 For some, hunting gators is a way of life; a sport and a lifestyle choice with differing techniques, a mixture of hunting and fishing, passed down through the generations. The gators live in bayous (fresh or brackish, slow-moving rivers), and eat everything from fish, birds, snakes, beaver to deer. The highest population lives mostly in Louisiana. Alligators were placed on the endangered list due to over-hunting, and from 1962-1971 hunting them was banned.
Short gator hunting season
Ryan told all4hunters, "the season for alligator is September in Louisiana." The dates are set by the Department of Wildlife and Fisheries, and they can vary from year to year. The majority of the hunting trips take place during the first two weeks of the month.
Hook caught, and rifle dispatch
"Gators themselves are caught hook and line with cane poles and rope anchored to the bank," he said. Chicken meat is used as bait and hangs out over the water, the hooks are checked regularly for activity. Ryan continues, "once they are caught on the hook, they are pulled in by hand and dispatched". A .22 Magnum is popular method for dispatch. Ryan tells us, "a rifle with a larger round, or bow can be used but rifle is the swifter method." 

"You can also shoot them unhooked.'" This method of shooting can be very dangerous because the gator sinks quickly, and going into the water is risky. "The night before we went gator hunting we were bow fishing in the area, and a 12ft gator rolled right next to our boat." There are other dangers to look out for: Ryan told us a poisonous snake dropped from the trees into their boat.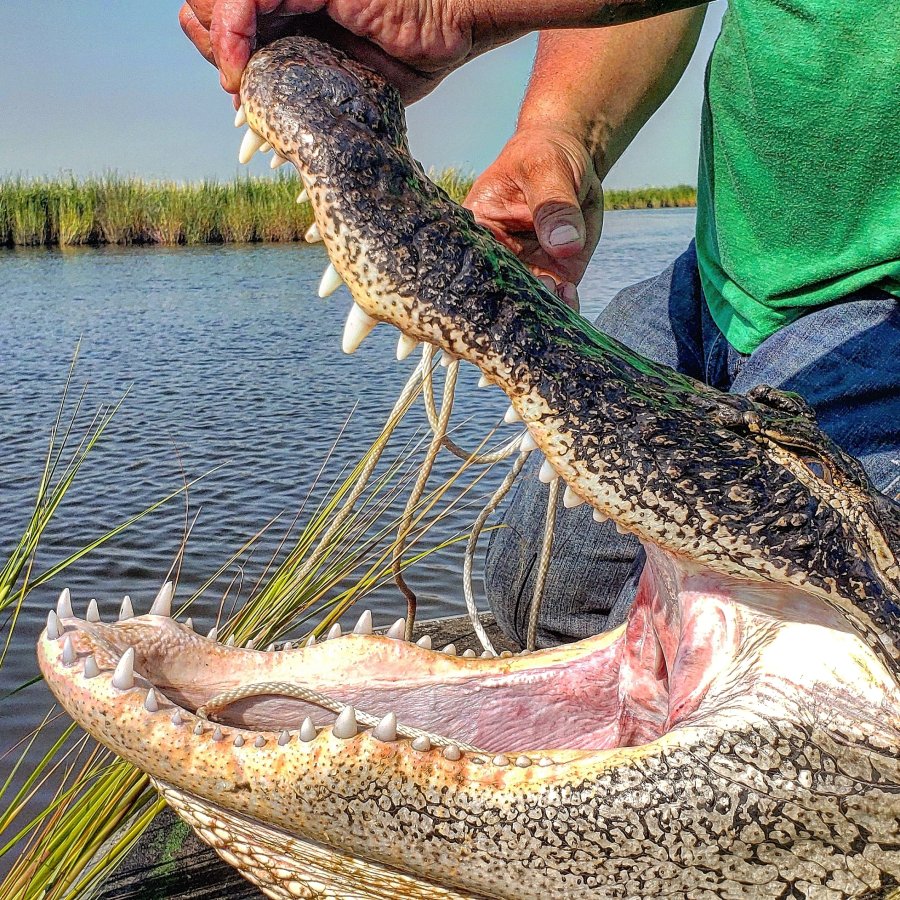 Adrenaline rush from dangerous predator hunting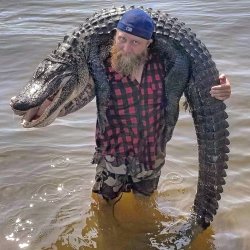 The following day they went out hunting from the air boat, and Ryan harvested one of three alligators (8, 9.5 and 10ft) taken that day, "the adrenaline rush is intense when the alligator is thrashing about after it has taken the bait." We asked Ryan, a Marine Combat Vet, about the danger, " I have always been drawn to the danger aspect, it's ramps up the adrenaline factor to a whole new level" . Alligators vary in size, and there is no way of selecting one, "whatever size is hooked must be taken, so size is luck. They can kick around and move for an hour after they have been shot dead, you can open the jaws and they snap shut. I picked up one and lifted it onto my shoulders and felt the reflexes in the tail moving," said Ryan.
Harvested alligator meat and hide
Nothing is wasted, " the hide, meat and skulls are utilized, " Ryan tells a4h. "Skinning alligators is a tough process with their armoured hides and knifes dull quickly.  The meat is flaky and white and is amazing deep fried in bites or grilled tail medallions . " The mildly flavoured meat is low in fat, more information about meat cuts is given by the  Alligator Advisory Council.

Cajun hospitality at its best for hunters
all4hunters asked Ryan about the popularity of hunting alligators, and other aspects of his trip. He told us, "the Cajun people are the best part of the experience.  A real live-off-the-land type people and very hospitable. No matter where you come from they want to meet you, and cook for you. The Cajun food is amazing. The hunting is quite expensive and a one-time event for most people.  Experiencing a unique culture and riding the airboat was surreal.  Something most only see on tv."
Ryan Baudhuin's Dream Hunt
Ryan is hunter, filmmaker, photographer and adventurer, he travels to make films about hunting, and has many journeys planned over the next year or so. He told us one of his dream hunts would be, "to hunt Himalayan Tahr in New Zealand, it's their terrain that makes it a challenge, it would be a full body mount no questions."
Ryan was Alligator hunting and filming with Outfitter Capt Mark Voght Jr for  Bayou Bow Fishing  and Hunter K.J. Serigne.
Contact details Ryan Baudhuin:
Take a look!
---
Here you will find links to all other contents of our "Dream Hunt series" on all4hunters.com:

---
Who is our author of the dream hunt series?
Linda Mellor is one of Scotland's foremost shooting, fishing and hunting female writers and photographers. She is the product Ambassador for Venator Pro, a premier hunting company and stockist of the European brand Hillman. With a lifetime of countryside experience, Linda's passion, enthusiasm and respect for the outdoors and hunting is explored and shared across her writing and photography. 
For more information on Linda Mellor, please visit  Linda Mellor's website , Twitter (LindaMellor) and instagram (linda_mellor).