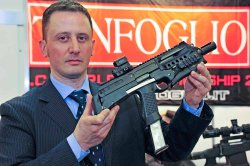 At the 2016 edition of EnforceTac – a two-days long side event of the Nuremberg IWA expo dedicated specifically to MIL/LE/Govt.-only firearms, ammunition and equipment – the Italian-based Tanfoglio company, a well known manufacturer of civilian-grade sporting and defensive guns, astonished the market with the introduction of its first ever professionally-oriented product line, dedicated solely to military and law enforcement sales.
Among Tanfoglio's new products is the M4-style, 5,56x45mm caliber Tanfoglio TAR assault rifle, a direct gas impingement design featuring a monolythic railed handguard and a 14,5" barrel. Even more interesting is the 9x19mm caliber Tanfoglio TCMP compact sub-machinegun, featuring an innovative magazine design and a plethora of interesting technical solutions – of which we can't disclose further information, under the Company's own request – that make it a high-capacity, small-sized, lightweight, concealable select-fire platform that can be accurately and controllably used one-handed in full-automatic. A true must for VIP close protection.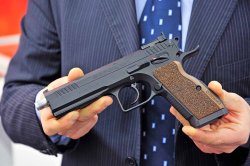 Last, but not least, the Tanfoglio P19-FA is the Company's first select-fire pistol. Based upon the Tanfoglio Stock III sporting pistol design − at least in its prototype form, just to show how the company is capable to adapt any Tanfoglio pistol platform to select-fire capabilities upon request by MIL/LE/Gvt. customers − the P19-FA sports a three-position selector switch located on the left side of the frame, in lieu of the simple manual safety, allowing it to fire single shot or in full-automatic mode. The caliber is 9x19mm; the Tanfoglio P19-FA also features, among other things, a threaded barrel for muzzle compensators or sound suppressors.