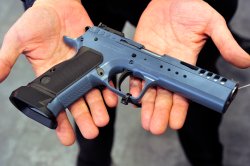 At the 2016 edition of the HIT Show, held at the Vicenza City fairgrounds in northern Italy, the Fratelli Tanfoglio arms company introduced two new semi-automatic pistols conceived for IPSC  specialtiesand other practical shooting competitions.
The Tanfoglio Limited Custom 2016 single-action semi-automatic pistol was specifically conceived for Standard division IPSC shooting, and has been improved over the previous Limited Custom models in terms of overall design, structural and dimensional features.

Some of the features of the Tanfoglio Limited Custom 2016 pistol include: a full-length, one-piece frame with thumb rest attachments, an extended beavertail and reinforced inserts on stress points; a conic, semi-polygon-rifled barrel; a redesigned magwell funnel for quicker reloads; aluminum grip panels; quick-alignment fiber-optic sights; and much more.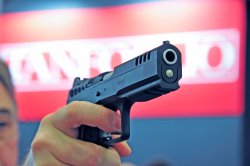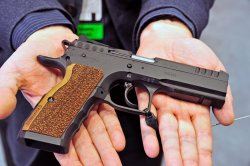 The Tanfoglio Stock 1 SA/DA semi-automatic pistol was instead conceived for Production-class IPSC shooting and for SSP and ESP-class IDPA competitions.
A fast-firing, accurate, compact handgun provides excellent performances at short ranges; the relatively small size and low weight (less than 1219 grams with a full magazine) all contribute to reduce recoil and muzzle climb.

The Tanfoglio Stock 1 semi-automatic pistol sports an improved machined slide with front and rear slide serrations, and an 11.3cm-long, standard-rifled barrel offering excellent ballistics even with softer loads. The adjustable rear sight and the interchangeable front sight allow quick adaptation to the personal style of every shooter. The full-lenght frame − akin to that of the earlier Tanfoglio Stock 3 model − improves overall balance of the gun and also sports a MIL-STD-1913 "Picatinny" rail for accessories.