And now for something completely different… It's not the old 1970s British Monty Python's sketch comedy film: Kimber introduces it's new polymer-framed pistol – the R7 Mako.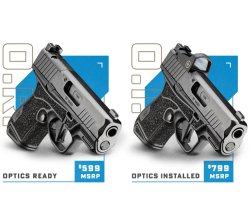 A subcompact, striker-fired 9mm pistol, "The R7 Mako is what every concealed carry handgun should be," they proudly declare at Kimber. The new addition is in fact rich in features today deemed indispensable in a carry gun, including a high-capacity 11+1-round magazine (13+1 rounds with the included extended magazine), a Performance Carry Trigger and a reflex sight (on the optics-installed model) – plus some old-style and now less common technical details such as the fully enclosed, or "hooded" ejection port. The grip frame is glass-filled nylon with a stainless steel central block
Kimber R7 Mako polymer pistol: optics-ready or optics-installed versions available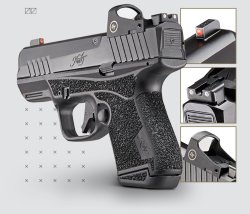 The Kimber R7 Mako is available in optics-ready and optics-installed versions. In the latter, the sight is a Crimson Trace CTS-1500 reflex sight. In both cases, the gun can mount any sight that fits the Shield pattern RMSc footprint anyway. The R7 Mako comes with co-witnessed tritium night sights (orange front ring and white rear dots) with GLOCK-cut dovetail for plenty of aftermarket options. 
As for the locking system, the R7 Mako's design features a rear-mounted barrel-locking lug, instead of using the whole barrel hood as commonly seen in many modern pistols. This is to reduce the unlock angle of the barrel, for consistent round presentation and low-felt recoil.
As mentioned, the ejection port is hooded to vent gasses and brass away from optic.

According to the manufacturer, "there's no trigger on any competitive micro-compact, striker-fired gun that even comes close to what you'll experience with the R7 Mako": The flat-faced trigger actually has a pull weight of 5.0-6.75 pounds, delivering "the kind of smooth, consistent, short pull and clean, crisp break you''d expect from a single-action handgun".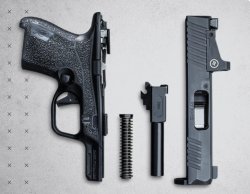 The new Kimber R7 Mako comes with a high-capacity, flush-fit 11-round magazine and a higher-capacity extended 13-round magazine. The 3.37" stainless steel barrel with a 1:10 LH twist is FNC hard-coated and sports a deep-cut muzzle crown. There is no manual safety, the only external safety being the usual lever incorporated into the trigger. Controls are ambidextrous.
As for prices, they are more or less in line with the competitors: the optics-ready R7 Mako has a MSRP of $599, while the optics-installed version with Crimson Trace CTS-1500 Reflex Sight can be yours at $799.
As usual, when a newcomer joins the already huge band of subcompact, polymer-framed, striker-fired 9mm carry handguns. These are the main competitors in the segment: Taurus GX3, Ruger MAX, SIG Sauer P365, Smith & Wesson Shield plus and Springfield Armory Hellcat. The open question is: will it be able to stand up for itself, or at least get noticed? We'll see - especially in Europe. In any case, after building a reputation with its metal-framed pistols, Kimber is to be congratulated for the courage to enter the fiercely competitive market of polymer carry guns with a new product. We'll keep you updated about the plans for EU in respect to availability and pricing.
Kimber R7 Mako polymer framed pistol specs and prices
| | |
| --- | --- |
| Caliber:  | 9mm Luger |
| Weight (w/o Magazine):  | 19.5 oz/553 g |
| Overall Length:  | 6.2"/157 mm |
| Barrel Length:  | 3.37"/85 mm |
| Height:  | 4.3"/109 mm |
| Width (at Grip):  | 1"/25 mm |
| Magazine Capacity:  | 11+1 rounds (13+1 with extended magazine) |
| US Prices (MSRP):  | 599 USD (optics-ready version); 799 USD (optics-installed version with Crimson Trace CTS-1500 Reflex Sight) |
The brand new Kimber R7 Mako for 2021 in video
This video has been hidden because of an external service (YouTube) that could potentially collect personal data.Allow video services for the duration of the visitAllow video servicesStop allowing video services