After 30 years spent in relative oblivion (it was introduced by FN in 1990), the 5.7x28 mm caliber is more and more popular nowadays. The latest gun chambered in 5.7 is now the Ruger LC Charger. Associated with Ruger, the name Charger evokes a series of semi-auto pistols in .22 LR – actually, a variant of the 10/22 rimfire rifle – or the more recent pistol version of Ruger's 9mm PC carbine series. But the new Ruger LC Charger is yet a different beast:  based on the 5.7x28 Ruger LC Carbine, it is a large-format semi-auto pistol featuring a 10.3"/262 mm threaded barrel.
The best of two platforms: new Ruger LC Charger pistol
The Ruger LC Charger also uses the same 20-round magazines and controls – namely, a 1911-style ambidextrous manual safety and the reversible magazine release – as the  Ruger-5.7 pistol, actually combining "the best of both platforms," as they claim at Ruger. Still like the Ruger-5.7 pistol, the LC Charger utilizes Ruger's Secure Action fire-control mechanism with protected internal hammer and bladed-safety trigger. The manufacture ensures a short, smooth pull, clean break and positive reset.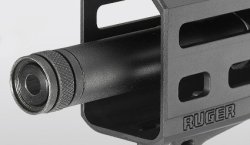 Besides the already mentioned ambidextrous manual safety and bladed-safety trigger, safety features include a neutrally balanced sear with significant engagement and strong spring tension, and hammer catch to help prevent the hammer from contacting the firing pin unless the trigger is pulled.

At 66.5 oz/1,885 g, the LC Charger pistol is relatively lightweight for its size: receiver is aluminum alloy, and the gun also features a CNC-milled aluminum free-float handguard with M-LOK accessory attachment slots and adjustable hand stop. Both receiver and handguard have a Type III hard coat anodized finish. Charging handle is reversible. The barrel is nitride-coated and threaded 1/2"-28 for the attachment of standard muzzle accessories (it comes factory with a thread protector). The new pistol has no sights: a full-length Picatinny rail is on the receiver's top for the mounting of any optic of your choice. In case you want to use a sling. multiple QD attachment points are available.
With a recommended retail price of $999, the new Ruger LC Charger is intended for the range, home defense, backpacking, or small game. 
Ruger LC Charger specs and price
| | |
| --- | --- |
| Caliber: | 5.7x28 mm |
| Barrel Length:  | 10.30"/262 mm |
| Overall Length:  | 16"/406 mm |
| Weight: | 66.5 oz/1,885 g |
| Magazine Capacity:  | 20 rounds |
| Receiver Material:  | Aluminum alloy |
| Sights: | None |
| Price (MSRP in the U.S.):  | $999 |