Slowly but surely, SHOT Show 2022 has come to its end. However, that didn't stop us at all4shooters.com from continuing to look for the latest trends and products in short and long guns, gear and accessories for the sport shooter and hunter on the last day of the show. Here we present to you the highlights.
Video: all the highlights and new products from SHOT Show 2022.

This video has been hidden because of an external service (YouTube) that could potentially collect personal data.Allow video services for the duration of the visitAllow video servicesStop allowing video services
News from SHOT Show 2022
Our on-site reporter, Michael Paa, was also out on the last day of the show to bring you the latest products. And while this show is ending, we are already taking big steps towards the next highlight of the 2022 show season: from March 3-6, 2022, the IWA OutdoorClassics will take place in Nuremberg. Of course, as usual, we will provide you with all the latest info and highlights from this trade show as well.
This article will be updated continuously.
New handguns from SHOT Show 2022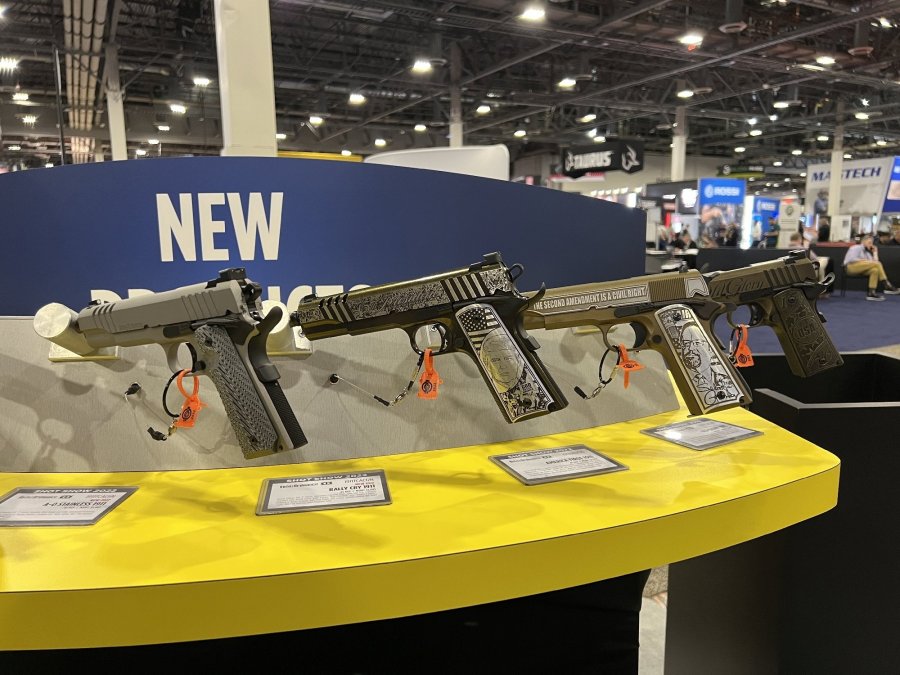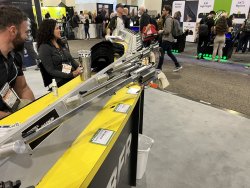 Pennsylvania-based manufacturer Kahr Arms is actually focused on compact pistols, ranging from .380 ACP to 9mm Luger and .40 S&W to .45 ACP. However, Kahr can also produce classics within the Kahr Firearms Group, which also includes Thompson, Magnum Research and Auto Ordnance – this time, for example, there was a series of 1911 pistols with noble aluminum grips and Cerakote finish, but also those with engravings for the Second Amentment or an engraved (ex-)presidential edition with Donald Trump portrait on the grips. 
These sell well, especially in the USA, as do the Desert Eagle pistols with tiger patterns or some BFR Magnum revolvers with forearm-long barrels, which were also on display at the Kahr booth. 
New long guns from SHOT Show 2022
Derya Arms: MK-12 for left-handers, XY9 B6 9mm pistol, Meriva MC-10 double-barreled shotgun and MD-10 lever-action shotgun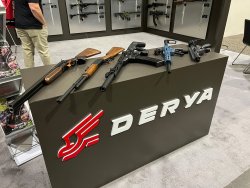 At SHOT Show 2022, the Turkish manufacturer Derya Arms comes up trumps with a whole host of new products: we already introduced one new product on Day 2 of SHOT Show coverage – the TM22 rimfire self-loader. But that was far from all. In addition, Derya is coming to SHOT Show with a new variant of its popular MK-12 competition shotgun (spoiler: now for left-handers), a 9mm Luger pistol, a classic double-barreled external-hammer shotgun and a lever-action. The manufacturer is thus positioning itself as a full-range firearms producer. But let's take a closer look at the new products.
We have already tested the MK-12 semi-automatic shotgun, which is specially designed for dynamic competitions, in detail here at all4shooters.com. The model comes to the SHOT Show now fully set up for use by left-handed shooters. The reason for the expansion was the increased demand from customers for left-handed guns. The main feature is thus the charging lever located on the left side of the gun. Otherwise, the left-handed MK-12 corresponds in many respects to the right-handed model: the magazines are compatible, and the lower and upper receivers are made of 7075 aluminum. Moreover, this version is also available with an adjustable stock in addition to a fixed stock. 
The next novelty is the XY9 B6 pistol in 9 mm Luger. Just like the MK-12, the receiver, handguard and even the stock here are made of 7075 aluminum. One of the most important features of the gun is the attention paid to the quality of the trigger: during initial tests in the Derya booth, we were able to confirm that it has extremely good characteristics and is very crisp. Another important point is the adjustment of the gun to the shooter: The buttstock is interchangeable, while the muzzle is threaded, allowing the choice between different muzzle attachments and suppressors. In addition, two versions are available: the XY9 B6 comes with both a side charging lever and with an AR-style rear charging handle.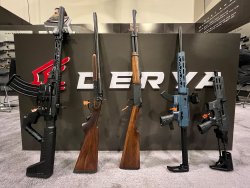 Apart from these sporting tactical gun, Derya also brings products for Western enthusiasts and fans of classic firearms: new is the Meriva MC-100 double-barreled shotgun, which has been equipped with the stylish double trigger, naturally external hammers and the stock is made of Turkish walnut. It will be available with 50- and 61-cm barrels. 
To match it, there will be an MD-10 lever-action shotgun in .410 bore, which is available in several variants: In addition to the analogous barrel lengths to the MC-100, it also comes with an adjustable rear sight or a Picatinny rail for mounting optics of the shooter's choice. The material of these classic guns from Derya differs from the tactical ones. The receiver of the shotgun is not made of aluminum, but of 4140 steel. 
We have already presented the new TM22 KK self-loader from Derya on the second day of the trade fair.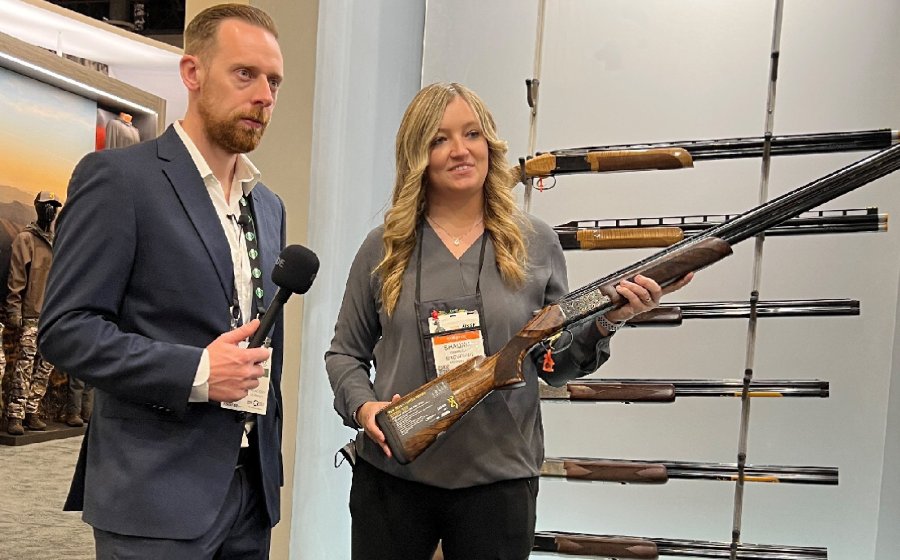 The Citori 725 series is an evolution of John M. Browning's legendary B25 Superposed shotgun, but now with the modern performance advantage of a low-profile receiver. The new 725 receiver is significantly lower than previous Citori models, providing advantages in pointing and recoil performance. With a Citori 725, you get the "one with the gun" feeling, as Browning puts it. The Citori 725 also features an all-new FireLite mechanical trigger that offers unmatched feel and a lighter pull weights than ever before. A good ten new Citori shotgun models, with different stock wood, different finishes, and also with engravings and select Grade IV walnut from Turkey were shown. Here are some features:
Blued steel case with extensive engraving and gold enhancement.
Glossy oil finished  grade IV Turkish walnut stock with cut checkering, right-hand palm swell and name plate inlay for owner's initials
High-gloss blued barrels
Inflex II recoil pad
Triple Trigger System with three trigger shoes
HiViz Pro Comp sight and ivory mid-bead
Five extended choke tubes
Ideal for sporting clays/skeet/hunting
Negrini locking hardcase with leather trim and padded felt lining included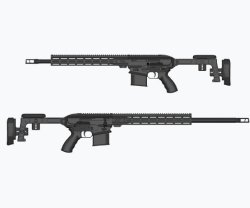 On the Facebook and Twitter accounts of the U.S. company, almost all comments call for a new edition of the popular, but currently not produced Bushmaster ACR self-loader. 
Currently, ACR production is on hold due to patent disputes caused by the bankruptcy of its former parent company, Remington Arms. However, ACR production is expected to resume "soon," according to CEO Sun Naegele in May 2021. 
Bushmaster presented a straight-pull rifle at the SHOT Show instead, even though the BA30 is somewhat reminiscent of a typical modern semi-automatic, only with a bolt handle – in .308 Win or in 6.5 Creedmoor, with of 18- or 24-in barrels, M-LOK handguard, adjustable stock and, most importantly, an ambidextrous bolt handle. 
New optics from SHOT Show 2022
Sightmark showcases Minishot pistol red dot sights: the M3 Micro and M-Spec M2 and M3 – solar powered!
Three very interesting miniature reflex red dot sights are showcased by Sightmark at the Sellmark booth, two of which are partially Solar powered; designed primarily to be used mounted on Optics Ready handguns, Sightmark's Mini Shot sights can also be used on rifles, shotguns and other weapons as well as secondary, short range coaxial sights to a high magnification riflescope.
The low profile Mini Shot A-Spec M3 Micro Reflex Sight, is designed to be compatible with the Shield RMS-C footprint, featuring a red reticle with automatic brightness control to adjust ambient illumination. The housing is built out of machined aluminum alloy and is IP55 water-resistant, shockproof, able to withstand up to .375 H&H caliber and operate in temperatures from -22F to 122F. The CR2032 battery used is expected to last up to 100,000 hours and it includes a rubber cover, low-profile fixed mount and manual. MSRP in the USA is $169.97.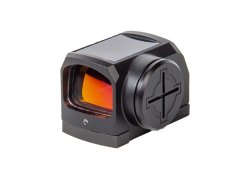 The Sightmark Mini Shot M-Spec M2 Solar and the Mini Shot M-Spec M3 Solar have much in common but could not be farther apart in concept! The first thing that comes in mind is that the M2 has the internal structure, and click mechanisms flipped over: the result is a larger window (21x15 mm vs. 20x15 mm of the M3 Solar) and the whole optical axis is lower over the bore of our gun, as only the mounting hardware stays of the bottom of the optic. Another plus, is the high amount of adjustment range gained by this configuration, 110 elevation and 160 windage MOA vs 60/90 MOA for the M3 Solar. 
Both sights employ a rugged, machined aluminum construction, with a red 3 MOA illuminated reticle with automatic brightness adjustment to acquire targets with speed and precision. The solar panel on the top side of both Mini Shot A-Spec M2 and M3 Micro Reflex Sight help save power to yield a extra-long 20,000+ battery life. Plus, the sights mount on Weaver and Picatinny rails, and fit pistols with the RMR Footprint. Last but not least, both Mini Shot A-Spec M2 and M3 Micro Reflex Sights from Sightmark share the same MSRP in the USA: $299.97.
New accessories from SHOT Show 2022
EAW: new mounts for tactical use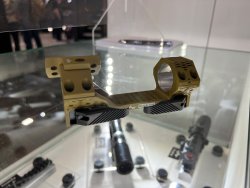 The ultralight but highly stable 3D mount, already known through many test reports, also at all4shooters.com, experienced its SHOT Show premiere in front of many interested trade show visitors. 
But also otherwise a lot has happened in the last two fair-free years: so there are the Blue Line mounts, innovative with triple screws: outside hexagon, then slot and inside still Torx. 
The Razor mounts are suitable for both civilian and tactical use (with quick-release lever), and finally EAW showed a scope block mount with additional rail above the lens for a rangefinder.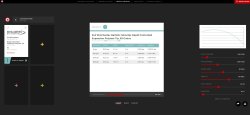 The award-winning Winchester Ballistics Calculator is back and better than ever, with new enhancements that make this tool even more intuitive for hunters and sport shooters. The free app, available in both the iOS and Android app stores for easy use on mobile devices regardless of your location, can also be accessed directly from the manufacturer here. This easy-to-navigate tool comes pre-loaded with popular Winchester ammunition products and allows users to compare up to four different products at once using detailed ballistic charts and trajectory graphs. Adjust shooting conditions, such as distances, elevation change, wind speed and outside temperature. Choose from seven different categories, including centerfire rifle, handgun hunting, handgun sport/defense, rimfire handgun and rifle, and shotgun/slugs. Easy to read ballistics chart with all trajectory data. Print option for a small shooting chart that you can stick to the side of the stock, for example, to always have it ready.