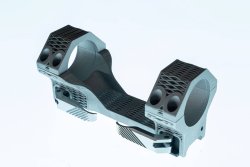 Laser-based additive manufacturing is the name of the new manufacturing technology at EAW. This new production method, which is patented by EAW, makes it possible to create shapes and designs that could not be achieved using conventional mechanical or casting processes.
The result is an exceedingly lightweight scope mount the likes of which we have not seen before. The interesting lattice frame construction is not only an eye-catcher visually. Following the motto "Form follows function", the structure of the aluminum mount provides enormous strength with up to 40% weight savings compared to conventional mounts. Incidentally, the strength has been subjected to endurance testing by the German Experimental and Test Institute for Hunting and Sporting Firearms (DEVA). The new EAW 3D mount was tested to 2000 shocks at 700 grams – without any problems!
EAW is justifiably proud of its new patented design. Thus, EAW Managing Director Stefan Schilling revealed to us: "We spent a long time developing this technology, so we are particularly proud that the EAW team can once again present a world first that will revolutionize the market for mounts."
A retail price for this innovative scope mount from EAW is currently not yet known to us. We will provide this in due time with the first test. A sample is already on its way to us with rifle (Unique Alpine) and optic (Kahles). You can already order the 3D printed mounts from wholesalers: however, you will need some patience, because due to the complex additive manufacturing process EAW currently only manufactures on pre-order. For the time being, the mounts are available in 30 and 34 millimeter diameters and two heights each, optionally in natural or black anodized aluminum.
For the future, there is still a lot to expect here. There will be the technical possibility of a coating later on, so that other surfaces and colors will also be up for choice. There will also be minor changes in the final form. These will include a continuous center bar for even more stability, for example. We are excited about our test sample and can only warmly recommend the video below. After all, this is a real world first in mounts.

EAW shows some detail shots of the new 3D printed mount in this video:

This video has been hidden because of an external service (YouTube) that could potentially collect personal data.Allow video services for the duration of the visitAllow video servicesStop allowing video services