The three brothers Thomas, Andreas and Benedikt Nöth put their foot down. In addition to new firearms such as the VRB bolt action rifle in .223 Remington or the H7 Rifle System in .308 Winchester based on the Remington 700, they have invested a lot of time, money and energy in a new corporate image, so it is definitely worth taking a look at the Hera Arms website. But we want to take a look at the Hera Arms 7SIX2 in .308 Winchester caliber, which was first presented at the Enforce Tac/IWA 2019 and is now finally available. A great gun, it can be said in advance...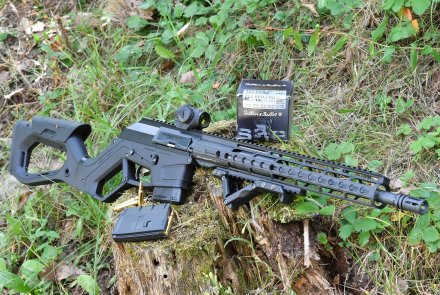 This 7SIX2 from Hera Arms is already available as a ready-to-use rifle or you can assemble your own gun with the configurator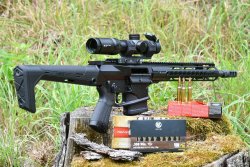 As usual, you can either choose one of the four new models 7SIX2 1020, 2020, 2010, 3040 with different barrel lengths and equipment, or you can assemble your individual dream rifle on the website with the help of the configurator. The most compact model 1020 has a 14.5" barrel and is equipped with a fixed HRS Light stock. This semi-automatic rifle weighs 8 lb/3650 grams and reaches an overall length of only 35"/89 cm. Price: 2529 euros (all prices stated here may vary in your country). The 2010 and 2020 models are equipped with 16.75" barrels. The 2010 model with fixed HRS stock weighs 8.78 lb/3985 grams with an overall length of 39.7"/101 cm. Price: 2589 euros. The 2020 model is fitted with the length-adjustable CCS stock and weighs 8.48 lb/3848 grams with a variable overall length from 37.2" to  40.7" (94.5 cm to 103.5 cm). Price: 2599 euros.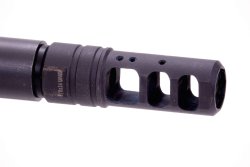 These rifles feature polymer furniture from the in-house Hera Arms production (all4shooters.com has already reported on them on video). The fourth and most expensive model 3040 on the other hand is equipped with the popular Magpul PRS stock with adjustable length of pull and cheek piece height. The match rifle has a 20" bull barrel instead of a heavy-barrel contour like the other three models, and with a weight of 10.81 lb/4907 grams it has an overall length of 42.71"/108.5 cm. Price: 2899 euros. All rifles have a twist rate of 1:11", are equipped with an effective three-chamber compensator and come with a Magpul PMAG magazine with a capacity for 10 cartridges. 
Our test gun is the flagship in the form of the Hera Arms 7SIX2 Model 3040.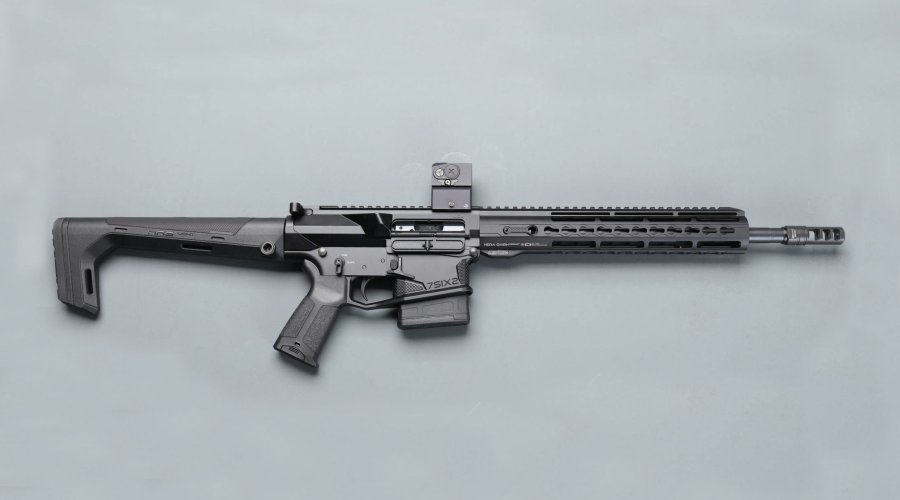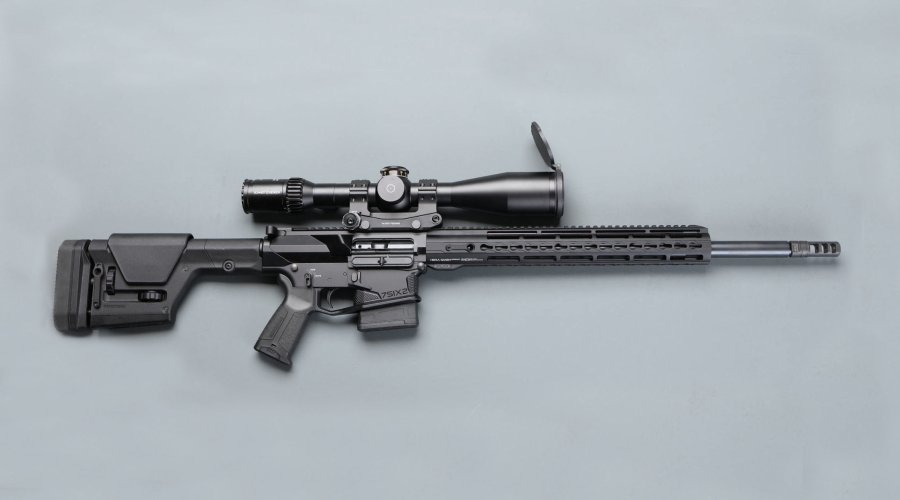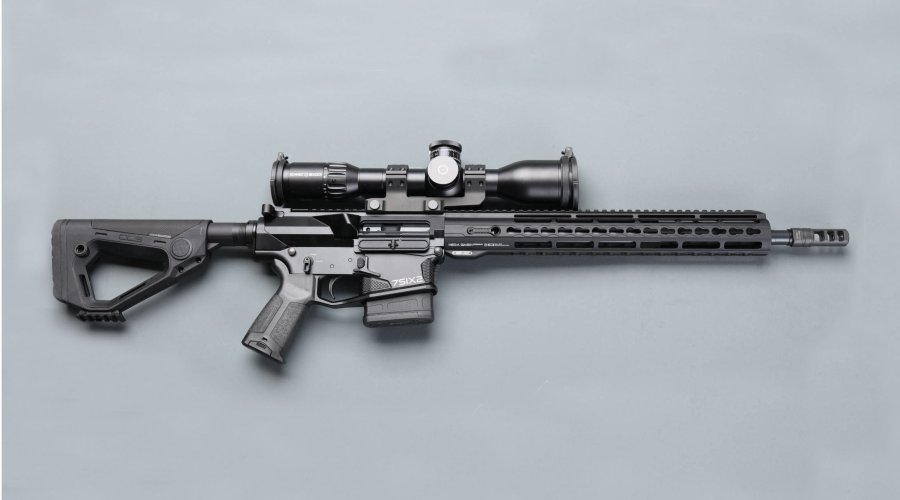 The  AR-10 based Hera Arms 7SIX2 analysed in detail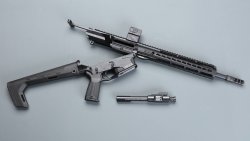 The German manufacturer is rightly proud of the fact that almost all AR platform components are manufactured in-house, so that it can be autonomous and is hardly dependent on suppliers. When manufacturing the receivers from 7075-T6 aluminum, the company uses modern, five-axis DMG CNC milling machines to implement the modern design. Here, too, it is the details that count. For example, the hole for the front pivot pin on the receiver was not drilled symmetrically but off-center. This is not a manufacturing error! This is because it prevents the upper receiver from hitting the lower receiver with full weight and a lot of force when the rear take down pin is removed and the rifle is opened. This eliminates unattractive marks on the lower and upper receivers in continuous use. These main components are very well manufactured both inside and outside. In order to achieve minimum tolerances, there are two studs on the top of the pistol grip, with which the lower and upper parts can be perfectly matched.
This method of tolerance compensation is common practice in the AR world today, even if manufacturers take different approaches. In the end, only the results count. On the new 7SIX2 standard models, controls such as the bolt catch and magazine release are single-sided. The selector is on both sides, with a voluminous lever on the right and flatter lever on the left side of the lower receiver. The Hera Arms MPSS Gen2 safety can be rotated 90/45 degrees. Trigger is a standard MIL-SPEC assembly. The single stage trigger has a measured pull weight of 2,100 grams due to the built-in, lighter hammer spring, which is a reasonable value for such a standard trigger.
Hera Arms 7SIX2 3040: all specs, features and price

| | |
| --- | --- |
| Model: | HERA Arms 7SIX2 3040 |
| Caliber: | .308 Winchester |
| Action: | Direct impingement gas-operated system with 7-lug rotating bolt that locks directly into the barrel extension |
| Barrel: | 20"/508 mm long heavy barrel match barrel with 1:11" twist and 5/8 x24 UNEF muzzle thread with triple chamber compensator |
| Stock: | Fully adjustable Magpul PRS stock, free standing Hera H15G pistol grip, 15" long light alloy handguard with KeyMod system for attachment of additional equipment |
| Magazine: | Magpul PMAG plastic box magazine with a capacity for 10 cartridges |
| Trigger: | Standard trigger, measured pull weight 4.8 lb/2180 grams |
| Safety: | Safety on both sides of the lower receiver, acting on the trigger |
| Overall Length: | 42.71"/108.5 cm |
| Weight: | 10.81 lb/4907 grams |
| Price: | 2899 euro (price may vary in your country) |
The gas-operated system of the 7SIX2 from Hera arms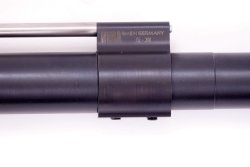 The gas system with a straight, unbent gas tube also has striking features. In the original AR-10 system, the gas tube pinned in a simple MIL-Spec gas block is often not tight. This can easily be seen by looking at the dirt around the gas block when the hand guard is removed. This is where Hera Arms relies on a thread seal. Obviously with success, because after extensive shooting, only minimal contamination by escaping gases was found on the gas block. As already mentioned, the 20" long match barrel made of 42CrMo4 steel, which is produced by button rifling, is provided with a 1:11" twist and additionally bore-lapped. Many other manufacturers use a 1:10" twist in the standard .308 Win caliber. However, the 1:11" twist has proven to be more flexible, especially with regard to lighter bullets from 136 to 150 grains, which can also be a significant advantage in the hunting ground, depending on the bullet construction. In our later practical test we were able to achieve good results with bullets in the weight range of up to 178 grains.
Video: the most suitable rifle for hunting, the model 1020 from Hera, in action on the shooting range

This video has been hidden because of an external service (YouTube) that could potentially collect personal data.Allow video services for the duration of the visitAllow video servicesStop allowing video services
With the 7SIX2 3040 semi-automatic rifle in .308 Winchester on the shooting range for accuracy testing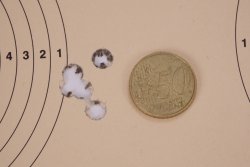 We fitted our Hera Arms 7SIX2 3040 model with an ERA TAC mount with adjustable forward tilt, a Schmidt & Bender PM II 5-45x56 PM II High Power and a Fortmeier bipod. The shooting performance test was carried out with eight types of ammunition at 100 meters. The best result we achieved was 0.63"/16 mm with the RWS 168-grain Target Elite Plus factory ammunition, which was beyond all doubt the best. For the first time, we also fired the brand new RWS 168-grain Scorion match bullet, with which we were able to achieve good results with our semi-auto loading press right from the start. Thus we produced a 0.70"/18 mm group with a hand load consisting of 42.0 grains IMR 4166 propellant and RWS Scorion bullet. A grouping that was only one millimeter larger was achieved with the same load, incresing the powder charge by only 2.0 grains. However, the Hornady 178-grain Precision Hunter factory cartridge with the hunting ELD-X bullet was also convincing with 0.74"/19 mm.

Hera Arms 7SIX2 test conclusion

With the new 7SIX2 family, Hera Arms has succeeded in launching a semi-automatic rifle based on the unmistakable AR-10 platform in the powerful .308 Winchester caliber, which impresses with its high level of workmanship, reliability and shooting performance, besides showing innovative detail solutions. Those who can't find what they are looking for among the four standard models offered can still assemble their dream rifle according to individual preferences using the online configurator. This is of course a little more expensive and may involve a little longer waiting times. But the possibilities with regard to equipment details are almost inexhaustible. The price of 2899 euro for the match rifle with 20" match barrel tested by us is in any case perfectly adequate.