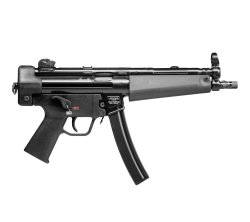 Ever fancied to emulate "Die Hard" hero John McClane and many other action movie stars of the 1980s and 1990s wielding a "real" Heckler & Koch MP5? Well, now you got the chance. Heckler & Koch has just introduced an authentic, semi-automatic sporting version  of the MP5 submachine gun, the SP5 – where "SP" stands for "sporting pistol".  A real HK from HK – it's the real McCoy this time! (Especially considering that even in "Die Hard" they weren't using genuine MP5s, but chopped and converted HK94s instead...)
Unless you were one of the few people in the world allowed to legally buy and own fully automatic – and very expensive – original MP5s, till now you had to be content with more-or-less faithful "copies" or "clones" offered by other manufacturers. A few years ago Heckler & Koch had introduced the SP5K , a semiautomatic civilian version of the MP5K submachine gun (you can read our full test here ), but HK fans were still waiting for a fully fledged "MP5".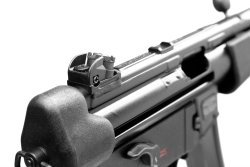 As explained by HK guys, "The SP5 was developed by Heckler & Koch as a semiautomatic, civilian sporting pistol that matches the look and feel of the legendary MP5 submachine gun. Designed and manufactured to meet the definition of a civilian pistol, the SP5 is loaded with authentic features, like a Navy barrel with threaded tri-lug adaptor, paddle magazine release, fluted chamber and chrome-lined bore. "
Even more important, the civilian semi-automatic version shares the same roller-delayed blowback operating system of its full-auto siblings. It's manufactured in the same Heckler & Koch's Oberndorf factory in southwest Germany and also retains many of the critical elements of the MP5. Caliber is 9mm (9x19 mm), of course.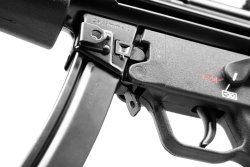 Being a "sporting pistol" the SP5 has no stock, but it comes with an elastic "bungee" sling that can be easily installed by snapping it onto the sling swivel hardware located on the rear of the receiver. According to HK, "using the sling makes firing the SP5 more stable and reduces fatigue". The SP5 features the current MP5's wide forearm, also known as "tropical" handguard. In any case, as HK reminds us, the MP5 is the "world's most popular pistol-caliber carbine platform" and you can find a lot of accessories in the aftermarket.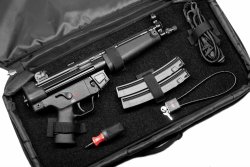 Complete with a soft case, sight tool, two extra 30-rd or 10-rd magazines (a 15-rd version is also available) and sling, the 9mm SP5's price tag in the US is somewhat hefty, at 2799 USD. But you are buying genuine Heckler & Koch quality. As they put it, "The New SP5 will make all those generic MP5 copies out there look like nothing more than gun store consolation prizes."
The SP5 is available in the US for now. Will it be available in the rest of the world too? We don't know yet. Let's wait and hope...   Stay tuned!