You asked for it, H&K answered: after the SP5, a semi-auto version of the legendary MP5 submachine gun, Heckler & Koch is now releasing the SP5K-PDW – you guessed it, the  semi-automatic civilian sporting version of the shorter "Personal Defense Weapon" variant of the MP5. (The "k" in the name actually stands for "kurtz", or "short" in German).
No surprises inside, since the new gun is still based on the same roller-delayed blowback operating system of the whole MP5 family (both military and civilian). But what is most interesting "the SP5K-PDW was designed and manufactured to meet the definition of a civilian pistol" and "is loaded with authentic features", including a 4.5" barrel with Navy-style threaded tri-lug adaptor, paddle magazine release, and fluted chamber. Sights are the same drum-style used on the MP5K, while the extended safety selector lever is ambidextrous. Caliber is 9mm Luger, of course.
MSRP for the 9mm SP5K-PDW with two 30rd magazines is 2799 USD (10- and 15-round magazines are also available). The gun comes in a nice hard case with a custom cutout to fit the pistol, sight tool, extra magazine and accessories.
SP5K-PDW, not just a "clone"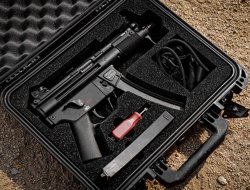 At H&K they clearly know how to strike the right notes with shooters and collectors alike: as explained on their website, "the SP5K-PDW is manufactured in Heckler & Koch's factory in Oberndorf, Germany. It retains many of the critical elements of the MP5 and MP5K, including its precision-machined components and attention to detail. This high level of quality and workmanship is a result of making civilian SP5 variants in the same factory, on the same lines, and by the same workforce that has been making MP5s for years."
More than this, the claim says it all: "Who wants a copy when you can own the real thing?"