Heckler & Koch also offers pistols which are factory-ready for mounting mini red dot sights (MRDS) directly on the slide. The company from Oberndorf started with the P30 OR, whereby the abbreviation stands for "Optical Ready". In the place of the cover shown, 4 different mounting plates for various MRDS fit into the slide milling. Unfortunately, the adapter plates are an accessory that has to be paid extra.
This is the OR version of the SFP9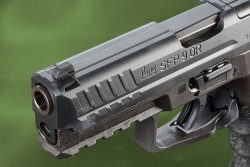 Except for the milling for MRDSs in front of the rear sight, the OR does not differ from a normal SFP9: the polygon barrel locks using a modified Browning system, the trigger is difficult to get with the same specifications of the German police or as a lightened version like in the test gun ("Special Forces" trigger). Instead of the "paddle" magazine release in the back of the trigger guard, HK also manufactures the model with a push-button and those who prefer an additional thumb safety can also fall back on such equipped variants. Whether one really needs the small handling "ears" made of plastic or rubber behind the slide serrations on a more or less conventionally designed pistol is open to debate. However, with the red dot sight mounted, they offer an additional option for a reliable manipulation of the SFP9 slide.
Heckler & Koch SFP9 OR – the hard facts
| | |
| --- | --- |
| Model: | Heckler & Koch SFP9 OR |
| Price: | 829 euro |
| Caliber: | 9 mm Luger |
| Magazine capacity: | 15 + 1 cartridges |
| Barrel length: | 104 mm |
| Dimensions (L x W x H): | 7.32 x 1.3 x 5.4 in (186 x 33 x 137 mm) |
| Trigger pull weight: | 77.6 oz / 2200 g |
| Weight: | 25.57 oz / 725 g |
| Notes: | Polymer frame, nitrided steel parts, striker-fired action, slide ready for MRDS, individually adaptable grip, mounting plates 50 euro surcharge each. |
With the Heckler & Koch SFP9 OR on the shooting stand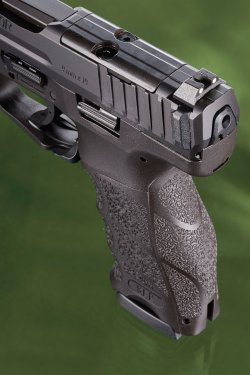 The new SFP variant performed splendidly. The best grouping at 25 m (42 mm with GECO Hexagon) resulted in 45 points (-5 points) – without a "flyer" it would have been only 33 mm. As far as case ejection or cycling are concerned, no malfunction could be observed: the test gun swallowed all ammunition on the spot without grumbling (10/10 points). The SFP trigger, here in the lightened "Special Forces" version, would probably be a bit too light for a regular service weapon at just under 77.6 oz / 2,200 g. All in all, the SFP9 trigger offers a nice balance between firing comfort and safety. It could be a bit more crisp at the breaking point and reset could be a bit shorter (-1 P.), but for a service and defense gun the SFP9 already features a very pleasant trigger out of the box. The trigger and grip design reached a full five points (-0 p.). Thanks to the well designed interchangeable grip shells and backstraps, the grip area is perfectly suitable for many hand sizes.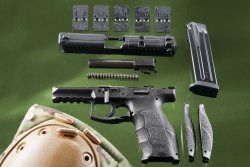 The operating levers remain as slim as possible. They are nevertheless easy to reach for both right- and left-handed users without having to grasp around or the danger of slipping, yet they are not in the way when shooting or handling (-0 P.). The iron sights with photoluminescent twilight dots on the rear and front sight are theoretically perfectly suited for rough use. However, depending on the reflex sight, they are too low to co-witness with the red dot. This would not bother many shooters for purely sporting use and some would even prefer this solution. For serious use, this sight combo is unfortunately only suitable to a limited extent (-2 points), especially since a higher sight costs money, just like every single mounting plate that is not factory included by Heckler & Koch. In Oberndorf, there is little to criticize when it comes to workmanship. The slide just ran a bit jumpy on the frame guides (-1 point).
Heckler & Koch SFP9 OR review
| | |
| --- | --- |
| Rating  | Points |
| Accuracy (max. 50 points) | 45 points |
| Cycling/safety (max. 10 P.) | 10 points |
| Trigger characteristics (max. 10 P.) | 9 points |
| Grip design (max. 5 p.) | 5 points |
| Controls (max. 10 P.) | 10 points |
| Sights (max. 5 P.) | 3 points |
| Fit and finish (max. 10 p.) | 9 points |
| Total points (max. 100 P.) | 91 points |
| Test result  | Very good |
| Rating  | 6 of 6 |
Heckler & Koch SFP9: wrap-up 
Apart from that, all surfaces appear carefully finished. Here, neither burrs, or cast seams on the grip or incorrectly applied markings are a problem. Edges and angles appear clearly defined everywhere, the gun design is also comfortable to carry when concealed, without appearing to be rounded. The bottom line is an excellent 91 points, especially as the surcharge for the new Optical Ready model from Oberndorf compared to a conventional SFP9 is kept within acceptable limits.
---
For more information please visit Heckler & Koch website.
all4shooters.com already published tests of the following pistols: