The Elos D II Grey is the latest over/under in the Fabarm Elos shotgun series; it's manufactured with a 12-gauge chambering and can be used for various hunting types.
Its well-balanced weight makes it easy to carry for walked-up game shooting, while the solidity of the various barrel configurations used to take the most difficult shots make it well-suited for hunting from a hut too. 

Elos DII Grey AL and Elos DII Grey Field
The over/under is available in two different versions, the Grey AL with a light Ergal 55 action and an exclusive satin finish; and the Elos DII Field with a forged steel action. Both models have a break tension adjustment system and are pressure tested to 1630 BAR, guaranteeing the general robustness of the gun. 
The geometry of the Tribore HP barrels, Fabarm's jewel in the crown, remains unchanged as these barrels already provide excellent ballistic performance and a homogeneous spread. The extended forcing cone and the internal diameter that's progressively reduced help maintain a constant shot speed, reducing friction between the tube and the shot so it isn't deformed, to produce compact and effective patterns.
There are various barrel lengths available for the two Elos DII over/under models; 66, 71 and 76 cm for the Field version, 61, 66, 71 and 76 cm for the AL version. The gun also comes with a set of five 82 mm internal, interchangeable chokes. The top conical rib, with a red fibre optic sight at the end is ventilated, but the side rib isn't.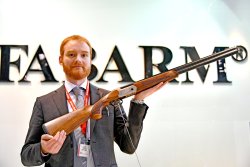 The satin finish action is a totally new design, and produces an interesting range of hues; it's enriched by laser-cut engravings of hunting scenes and game.
The stock on the Elos D II Grey over/under is a pistol grip with a rubber butt pad, while the forend is a "Schnabel".
The selective single trigger system has a selector built into the end of the action. Cartridge ejection is automatic. The large, rounded trigger guard protects a chequered trigger, which helps you feel the shot.
The Fabarm Elos DII Grey Field over/under weighs 3 kg, while the AL weighs just 2.6 kg.