Fabarm introduced a subfamily of the now famous Elos 2 series of over-and-under shotguns, presented two years ago: the Classic. it is a small line of hunting guns named "Classic". It includes three engraved models, all of which are currently chambered in 12/76. 
Fabarm Elos B2 Classic Gold for stalking hunts
The more generic model, called Elos B2 Classic, is dedicated to stalking hunts and is available both with a light alloy or forged steel action. In the latter case, the receiver is nickel-plated with gold-inlaid engravings. 
The Tribore barrels feature interchangeable 5 Inner HP  (hyperbolic profile) chokes.
Fabarm Elos Wetlands Gold for waterfowl hunting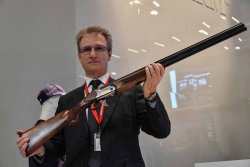 We also have a specific model for waterfowl hunting, called "Wetlands", that is available only with a forged steel action for better stability and accuracy in long-range shots using heavy loads. 
Weight is 116.4 oz / 3300 g with 30" / 76cm barrels, a 0.43" / 11mm rib and Tribore barrels with interchangeable 5 Inner HP chokes. 
The famous Fabarm Tribore HP barrels have always been a guarantee for fast and tight patterns even at medium and long ranges.
Fabarm Elos B2 Classic AL Paradox for woodcock hunting
The last model, specific for woodcock hunting, is instead available only with a light alloy action that allows for easy swinging and comfort of carrying. It features a Paradox rifled lower barrel for instinctive shots at short range and an upper smoothbore with interchangeable 4 Inner HP chokes. The European walnut stock is oil-finished and weight is just 95.2 oz / 2700 g.
The barrel length for all versions is either 26" / 66 or 30" / 76 cm, except for the woodcock model, which features 24" / 61 cm barrels.
Retail prices start at 1788 euro.
---
For more information about the new Elos over-under family, please visit Fabarm website.
Find all the news from HIT Show 2019 on all4shooters.com/all4hunters.com .