Introduced late in 2020, the newest 12 gauge firearm from Italian manufacturer Fabarm is the interesting new Martial Cantilever pump action smoothbore, featuring a barrel-mounted Mil-Std 1913 Picatinny rail designed to increase and improve slug ammunition accuracy. The delivery of the new model started in November 2020. Let's have a look at details: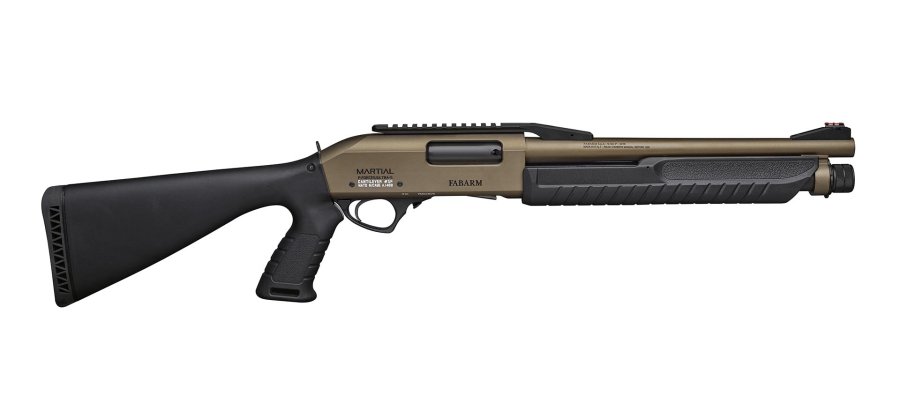 Features of the Fabarm Martial Cantilever pump action shotgun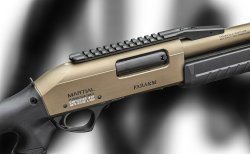 This shotgun, conceived for professional, LE/military and sporting use, is available in two barrel lengths, 14"/36 cm and 20"/51cm, both chambered in 12/76, with a magazine capacity of 5+1 and 7+1 rounds. The shorter version may not be available in all countries due to local restrictions. The cantilever rail allows solid mounting of any type of optical aiming device, including Red Dot sights and riflescopes, preserving accurate zeroing of the optic regardless of how many times the barrel is disassembled for maintenance or cleaning. A portion of the Cantilever Picatinny rail, just above the front end that is attached to the barrel, is milled in a way that it works as a fixed iron rear notch sight, in conjunction to the front dovetail mounted (and adjustable) fiber optic post.

All metal parts of the Fabarm Martial Cantilever shotgun in both barrel lengths are finished with a Burnt Bronze colored Cerakote coating, protecting the steel barrel, magazine tube, and Ergal 55 action of the firearm from weather and rough handling. Stock and pistol grip are a single piece in black polymer. The cylindrical barrel, with a 18.4 mm bore, is CNC machined from steel stock and internally hard chromed from chamber to muzzle to 10 micron thickness, providing excellent accuracy. 
Although this pump action shotgun model is not new, having been introduced late in 2020, it is now available for purchase; pricing for the Fabarm Martial Cantilever pump action shotgun is 970 euro for the 14" model and 999 euro for the 20" model. The gun is delivered in a cardboard box and warranty is three years.