The STF shotgun line produced by the Italian Fabarm company is very popular with both professional users and US-inspired "tacticool guns" lovers.
Even if the inspiration for this type of weapons is certainly coming from the other side of the Atlantic, from a technical point of view the Italian shotguns have already amply demonstrated that they have no guilt complex against their American counterparts. On the contrary, you can speak of an "Italian style" in shotguns, also and above all embodied by Fabarm products.
Introduced in 2014, the STF pump action shotgun line is part of the Fabarm Professional catalog and is designed for use in the field by special intervention teams. All features are therefore designed to ensure maximum modularity and efficiency in all conditions of use.
Fabarm STF 12 Compact 11": technical features
Like all other STF series shotguns, the Compact 11 is built around a machined and anodized 7075 aluminum receiver, designed to guarantee maximum rigidity and strength. The 11-inch (28 cm) barrel  allows you to create a weapon that combines the power and flexibility of a shotgun with the small footprint of a handgun. The total length of the Fabarm STF 12 Compact 11" is in fact only 20.8 inches (53 cm).
The HP-type barrel featuring a larger outer diameter is supplied with a proprietary choke that ensures exceptional accuracy with slugs. Like the other shotguns of this series, the Fabarm STF 12 Compact 11" is equipped with a muzzle brake that redirects the gases in three lateral and vertical directions when firing, reducing the recoil felt.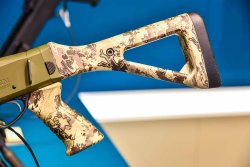 The tubular magazine has a capacity of 5 + 1 12 Magnum gauge cartridges. The composite stock is foldable, with pistol grip.
The Fabarm STF 12 Compact 11" features a 12 o'clock Picatinny rail for accessories on which there are the removable metal sights. Three other rails on the forend allow for the assembly of any type of accessory.
The receiver is Cerakote finished with a "western viper" soft touch pattern. The weight of the Compact 11" is 8.2 lbs / 3.75 kg. The price starts at 1655 euro.
Fabarm STF 12 Compact 11": technical data
| | |
| --- | --- |
| Type: | pump-action shotgun |
| Gauge:  | 12 Magnum |
| Purpose: | professional, home defense |
| Barrel length: | 11 in / 28 cm |
| Total length:  | 20.8 in / 53 cm |
| Magazine capacity: | 5 + 1 rounds |
| Sights: | metal, rail for accessories |
| Price: | from 1655 euro |