Czech retailer STROBL.CZ has been reliably supplying hunters, sport shooters and outdoor enthusiasts looking for great prices with everything they need for their hobby or profession. Headed by Michal Štrobl Sr, the company has earned an excellent reputation for punctuality and top-notch service. The online store sources many of its products directly from the USA, including reloading equipment from reputable brands such as Lee Precision, Lyman, Nosler, Sierra, Starline and many more.
Why it is worth to order online at STROBL.CZ
Ordering from STROBL.CZ in the Czech Republic offers many advantages: significant cost savings and a risk-free purchase transaction thanks to the 24-month warranty in accordance with EU law. In addition, shipping costs are kept within reasonable limits. For example, the price for the delivery of a package weighing up to 28 kilograms to Germany with GLS is only 9.20 euros. Simply select your desired product, order it online and your goods will be on their way to you. 
From the STROBL.CZ extensive range we already presented you, among other things, accessories for sport and recreational shooting such as magazine pouches, earing protectors and mobile targets; with target cameras, a wind meter and a case catcher we have shown you products that make your time at the shooting range comfortable.
We've also looked at useful accessories for areas like gun maintenance and outdoor gear. This time, we're looking at the AR-15/M16 Delta Series Compact Multi-Tool from Wheeler Engineering and the TekMat gun cleaning mat, a smart aid for reloaders with the Frankford Arsenal Platinum Series Case Trim and Prep Center, shooting accessories with the IPSC gun bag and shooting mat from Odeon Optics and the Caldwell shooting gloves. And finally, equipment for avid hunters with a three-legged seat stool and the roe deer call from Hubertus & Buttolo.

Delta Series Compact Multi-Tool for AR-15 platform by Wheeler Engineering – available at STROBL.CZ
We start with the Wheeler Delta Series Compact Multi-Tool from Wheeler Engineering: the handy and robust tool fulfills a variety of functions for the care and adjustment of semi-automatic rifles based on the AR-15 platform. Its compact design and included nylon belt pouch also make it an ideal companion tool for use at the range or in the field.
This multi-function tool is made of stainless steel with a satin finish, which emphasizes its durability and robustness. It includes a variety of tools specifically designed for AR-15  maintenance. These include an AR Carbon Multi-Scraper Tool for removing carbon deposits, multiple hex wrenches (5/64", 7/64", 1/8"), pivot and takedown punch, #2 Phillips screwdriver, bolt waist scraper, interior BCG scraper, and a Torx wrench in T10, T15 and T20 sizes.
In addition, it includes an A2 front sight tool, a 3/16" slotted screwdriver and two wrenches in 3/4" and 1/2" sizes. A castle nut wrench completes the comprehensive set. After use, the tool easily slips into the included belt pouch so you can quickly get back to shooting.
With the Wheeler Delta Series Compact Multi-Tool, you practically always have an entire toolbox on your person in a handy form, which makes it an indispensable companion for every AR shooter.
TekMat gun cleaning mat for AR-15 semi-automatic rifles
The multi-tool can be used, for example, on the high-quality TekMat gun cleaning and maintenance pad. The haptically and visually appealing pad with ArmaLite 15 model print is an indispensable companion for anyone who wants to maintain their rifle safely and efficiently. Measuring 90x30 centimeters, it offers enough space for a fully disassembled AR-15 rifle as well as all the tools needed for this purpose.
The cleaning pad stands out for its quality and functionality. The 0.3 centimeter thick padding is enough to provide comfort during maintenance work as well as protect your gun and work surface from accidental impacts. The surface is made of soft thermoplastic fiber that will protect your semi-auto from scratches, while the non-slip rubber base provides a firm grip on the workbench and protects your work surface from chemicals, oil and dirt.

Detailed exploded views of the AR-15 stand out on the black pad, which also makes it an informative tool when disassembling your firearm. The durable sublimation printing is resistant to water, scratches, light and oil, underlining the robustness of this product.
With dimensions of approx. 30.5x91.4x0.3 centimeters, the TekMat maintenance pad is not only functional, but also easy to store. You can simply roll it up and transport it easily. The TekMat gun cleaning mat is an excellent investment for anyone who values careful maintenance of their AR-15 rifle.
Frankford Arsenal Platinum Series Case Trim and Prep Center for reloaders – available online at STROBL.CZ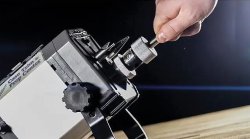 The Frankford Arsenal Case Trim & Prep Center is a practical auxiliary device for all reloaders that accurately trims cartridge cases in seconds. It features an innovative case holder with adjustable collet and bushing system that indexes the case shoulder and can be precisely adjusted to the desired case length. Once the case holder is adjusted, simply insert the brass. The collet aligns the case squarely with the hi-speed cutter. As the case mouth contacts the cutter, the case is trimmed until the case shoulder stops on an internal bushing.
The set includes three collets and six busgings that can accommodate any shouldered case from .17 Remington to .460 Weatherby. In addition to the cutter, the station can operate up to three additional tools simultaneously. Inside and outside chamfer tools as well as primer pocket cleaners are included to fully prepare cases for loading.
The Case Trim & Prep Center's heavy-duty motor and drivertrain is optimized for performance and durability. Cutting and beveling tools are made of high-quality, hardened steel. A convenient built-in storage box provides space for spare collets, bushings and tools.
The kit includes:
Inside deburr tool
Outside deburr tool
Primer pocker cleaner (large and small)
Case trimmer
The Case Trim & Prep Center from Frankford Arsenal is an absolute must for anyone who appreciates fast, precise and efficient work. Especially with large quantities of cases, this reloading aid saves a lot of time and nerves.
Versatile range bag from Odeon Optics. Now at STROBL.CZ!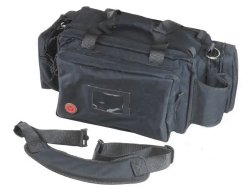 As an owner of multiple handguns, you're all too familiar with the picture: guns gear and ammunition need to be safely hauled from A to B. And the distance from the parking lot to the shooting range is often longer than you'd like. A practical transport solution for handguns and ammo comes from Odeon Optics in the form of a range bag that is ideal for both your training and competition use, especially IPSC shooting.
The bag is made of sturdy material and features high-quality zippers. The spacious main compartment offers room for your pistols, ammo, hearing protection and has adjustable hool-and-pile dividing walls for flexible organization. There is also a smaller side pocket suitable for documents or cleaning tools.
For your magazines, there is a large side pocket equipped with integrated holders for up to seven magazines. A second large side pocket is available to store anything else you like to have with you. In addition, there is a special pocket for a water bottle and another smaller pocket that can be used to collect brass, for example. An ergonomic carrying strap with a padded, non-slip surface makes for comfortable transport. The reinforced, padded floor of the gun bag provides additional protection for your equipment.
With external dimensions of 55 centimeters long, 35 centimeters wide and 25 centimeters high, the bag is compact yet spacious. With this gun bag you get all their equipment safely and comfortably to the shooting range and competition.
Odeon Optics shooting mat for sport shooters at STROBL.CZ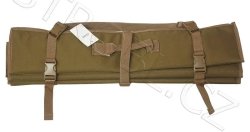 The Shooting Mat from Odeon Optics is a lightweight, durable option for any shooter. It features extendable, padded "wings" that provide a comfortable elbow rest and stabilize the shooting position.
With a size of 195x65 centimeters, the mat offers enough space for the shooter. The width of the front area expands to 114 centimeters with  fully extended elbow pads, providing additional comfort and stability.
The shooting mat is made of a water-resistent, durable material that can withstand both the elements and everyday wear and tear. Special attention has been paid to the surface for knees and elbows, which is designed to be non-slippery to prevent slipping during shooting.
Despite its sturdiness and size, the Odeon Optics Shooting Mat is easy to pack and transport, making it an ideal choice for mobile shooters. Weighing just 1.6 kilograms, it is light enough to carry from range to range with ease.
Caldwell shooting gloves for sport shooters at STROBL.CZ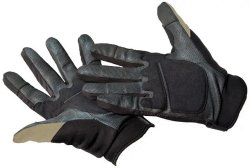 Now it's straight hands-on: the Caldwell shooting gloves are specifically designed to increase comfort and safety while shooting. They feature padded palms that help minimize perceived recoil, especially from handguns. At the same time, freedom of movement remains almost unrestricted.
The gloves material is lightweight and breathable, which prevents hands from overheating. On the back of the hand and fingers, the gloves are equipped with elastic areas that provide a custom, secure grip. This maintains extreme dexterity, which is especially useful when handling small parts or quickly changing magazines. In addition, the gloves feature leather reinforcement that protects your hand from the so-called "slide bite" caused by the recoil of the pistol slide. Thanks to non-slip rubberized palms, the gloves provide a secure grip even when wet.
A special feature of the Caldwell shooting gloves are the touch-sensitive fingertips, which allow you to operate your smartphone at the range without taking off your gloves.
Three-legged stool and roe deer call by Hubertus & Buttolo for hunters – available online at STROBL.CZ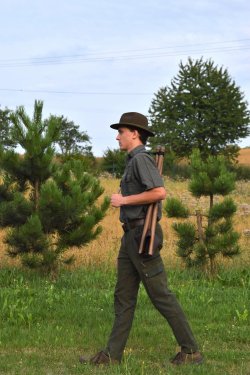 Last but not least, hunters should not be left out: on the one hand, we have a seat stool with three wooden legs as a mobile and comfortable place to sit on when hunting or in other activities in the field. When hunting, there definitely are waiting times. The seat itself is made of sturdy leather, which guarantees both durability and comfort.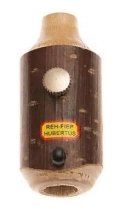 With a seat height of 60 centimeters, the stool is high enough to ensure a good overview of the surroundings. Despite its size, the stool can be easily folded and stowed in a larger backpack, or transported on the convenient carrying strap.
Sitting on the stool, a deer call can be comfortably used: The roe deer call from Hubertus & Buttolo is an call made of cherry wood that deceptively imitates the voices of deer of different ages – from fawns to old roe deer doe. The pitch of the call can be adjusted easily and precisely by turning a knob.
Thanks to its high fidelity and easily adjustable pitch, this roe deer call has been popular with hunters for decades. For easy handling, the call has a cord hole with which it can be conveniently hung around the neck and quickly picked up.
By the way, STROBL.CZ offers additional savings to all fans of the STROBL Facebook page, because there you will find regular discount promotions for all product categories.

---