Many price-conscious hunters, sport shooters and outdoor fans have been reliably supplied by the Czech dealer STROBL.cz for many years with everything they need in terms of accessories for their hobby and profession. Simply select, order online – done. 
In addition to the favorable prices, the supplier under the management of Michal Štrobl Sr. is also appreciated internationally for its adherence to delivery dates and good service. Many of the goods in the online store are imported directly from the USA: reloading tools from Lee Precision, Lyman, Nosler, Sierra, Starline and many other brands are also part of the offer of the accessories and reloading specialist STROBL.cz. 
These are the reasons to order from STROBL.cz in the Czech Republic: You save money and take absolutely no risk with 24 months warranty and EU legislation. At the same time, shipping costs are low: for example, delivery to Germany of a parcel weighing up to 28 kg costs only an inexpensive 8.90 euros. 
After we have already presented products for reloaders, hunters as well as outdoor and knife enthusiasts from STROBL.cz's wide range of products, this time we will show you the Double Alpha Academy Racer magazine pouches, Walker's Razor Electronic ear muffs and Caldwell targets made of steel and ballistic polymer – interesting accessories for sport shooters.
Double Alpha Academy Racer magazine pouch for IPSC shooters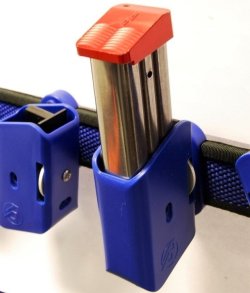 The Racer magazine pouches were developed by Double Alpha Academy especially for dynamic IPSC shooting: since 2011, the magazine carriers for fast draw made of aluminum have enjoyed great popularity in the scene. Now the manufacturer has added almost identically shaped plastic magazine pouches to its range, which offer comparable practical functionality and reliability to their more expensive, "Master"-titled predecessors. Especially when you consider that it is quite possible to attach three or four pouches to the belt, a set-up with the Racer carriers is much more affordable.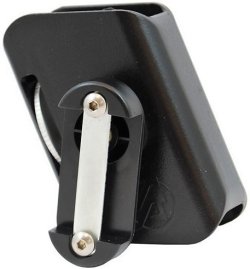 The proven, adjustable "pressure from the back" holding system of the Master magazine pouches has been retained, and interchangeable inserts allow you to switch from larger 2011 magazines to smaller ones. A third pressure spacer for GLOCK and M&P magazines is included. However, the Racer magazine pouches are not suitable for large frame magazines from GLOCK (e.g. G20/21) or .45 ACP magazines from HK. 
The magazine pouches can be easily mounted on either side for left or right handed use and can also be mounted on the belt at a 90 degree away from the body. Compared to the aluminum version, the belt mount is more spartan, but the Racer pouch can also be adjusted in tilt in very small increments, allowing each shooter to adjust the angle according to preference. A good fit.

Priced at just over half the price of a Master magazine pouch, the Racer is the perfect choice for the budget-conscious sport shooter. At STROBL.cz, the Racer magazine carrier is also available in the version with an attached magnet, to which another magazine can be attached, ready to hand.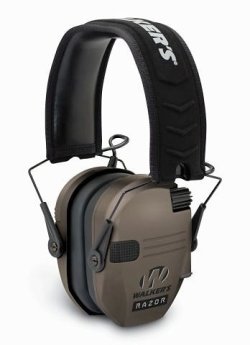 Walker's Razor Slim Electronic Muff: compact hearing protection for sport shooters
Indispensable for every sport shooter is a good hearing protection. The Razor Slim electronic muff from American manufacturer Walker's offers professional sound attenuation of 23 dB Noise Reduction Rating in a particularly slim design. 
Two high-gain microphones pick up outside noise and transmit it through HD speakers for clear, balanced sound with full dynamic range that can be adjusted via a recessed control. Sound-activated compression reacts at lightning speed in 0.02 seconds. Additionally, the hearing protectors are equipped with an audio input jack. The two AAA batteries needed for operation are included. 
The Walker's Razor Slim electronic earmuffs are characterized by a good price-performance ratio and are available in the STROBL.cz online store in black, dark earth and black-pink.
Caldwell resetting and self healing targets: versatile targets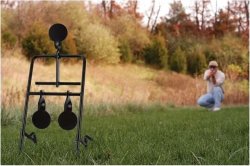 But now let the fun begin: with Caldwell's versatile targets, training can be varied and effective. The two targets presented here could hardly be more different in terms of material and function.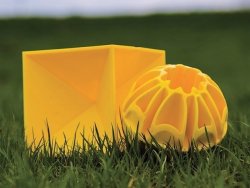 The more classically designed Caldwell Resetting Target is made of solid steel and offers three movable targets. The lower two targets swing up when hit and remain in that position. Only when the upper target is hit does the mechanism allow the engaged targets to swing back. The Caldwell Resetting Target is easy to transport and provides long-lasting, fun target training with handguns. Also available at STROBL.cz are Caldwell steel targets designed specifically for rimfire and air guns, as well as rifle and magnum calibers. 
The approach of Caldwell's Duramax Self Healing Targets is completely different: the targets are made of ballistic polymer and dynamically bounce around when hit, making rapid shot strings an absolute challenge. At the same time, the durability is designed for maximum service life: the Duramax targets regain their shape after a hit and can be fired at thousands of times – with the smallest calibers up to .50 BMG! 
In the STROBL.cz online store, the Caldwell Duramax Self Healing Target is available as a ball and in cube form for different hit behavior.
By the way, STOBL.CZ offers further savings to all fans of the STROBL Facebook page, because there you will find regular discount promotions.
---
Here you can browse for further accessories for hunters, sport shooters and outdoor fans in the STROBL.cz online store.