For many years now, price-conscious sport shooters, hunters and outdoor fans have been counting on the wide range of products offered by the dealer and importer STROBL.cz from the Czech Republic. For a reasonable price, you can reliably get everything you need in terms of accessories for your hobby and profession – delivered on time and with good service included. Simply select, order online, and you're done. Many of the products at STROBL.cz are imported directly from the USA: reloading equipment from Lee Precision, Lyman, Nosler, Sierra, Starline and many other brands is also part of the range offered by the accessories and reloading specialist.
Why is it worth ordering from STROBL.cz in the Czech Republic? 

You save cash and take absolutely no risk with 24 months warranty and EU legislation. The shipping is also cheap: to Germany, for example, the delivery in a package up to 28 kilograms costs only inexpensive 8.90 euros.

Last time we already presented accessories for sport and leisure shooters from STROBL.cz's extensive range of magazine pouches, hearing protection and targets. This time, the focus is on two SME Bullseye target cameras, a  wind meter and a case catcher from Caldwell, as well as the 12-36x60 spotting scope and the in-chamber laser boresight aid from Odeon Optics, interesting products that will serve you well at your shooting range.
SME Bullseye Target Cameras: flexible, wireless shot placement tracking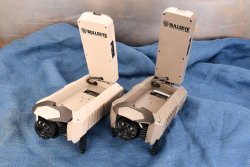 Who likes to walk long distances when the time can be used for shooting? A target camera system can make life much easier for shooters, especially at longer distances. The evaluation of bullet impacts at 100 meters is still relatively easy. At 300 meters or even long-range distances of a mile (approx. 1,600 meters), however, this is much more difficult.
But what to do if the location of choice does not have its own camera system? STROBL.cz imports the Bullseye Camera System from Texas-based SME (Shooting Made Easy), which can be used as a complete all-in-one device: the camera is powered by a rechargeable battery, and its images are transmitted to the shooter's smartphone or tablet via Wi-Fi and app.

Two versions of the SME Bullseye Camera are available: there is the "Sight in Edition" with a range of 300 yards (274 meters) and the "Sniper Edition" specifically for long-range shooters with a maximum range of one mile (1,609 meters). To send footage over this long distance, the latter features a removable Wi-Fi receiver that amplifies the target camera's WLAN signal and is set halfway down the shooting lane.

Both target camera systems are designed to make your training easier, provide flexible evaluation options to suit your location, and save a lot of time and distance. One battery charge is said to be enough for a 12-hour use of the Bullseye Camera System.

We at all4shooters.com have already been convinced by the SME Bullseye Target Cameras: the rugged system not only offers very user-friendly software, but also an extremely well thought-out design. Everything can be assembled and set up in just a few minutes, so you can fully concentrate on your shooting training.

About the prices: the Sight in Edition of the Bullseye Target Camera is available at STROBL.cz for 438.62 euros. The technically much more sophisticated Bullseye Target Camera in the Sniper Edition is available at STROBL.cz for 868,97 Euro. Both are worth a recommendation.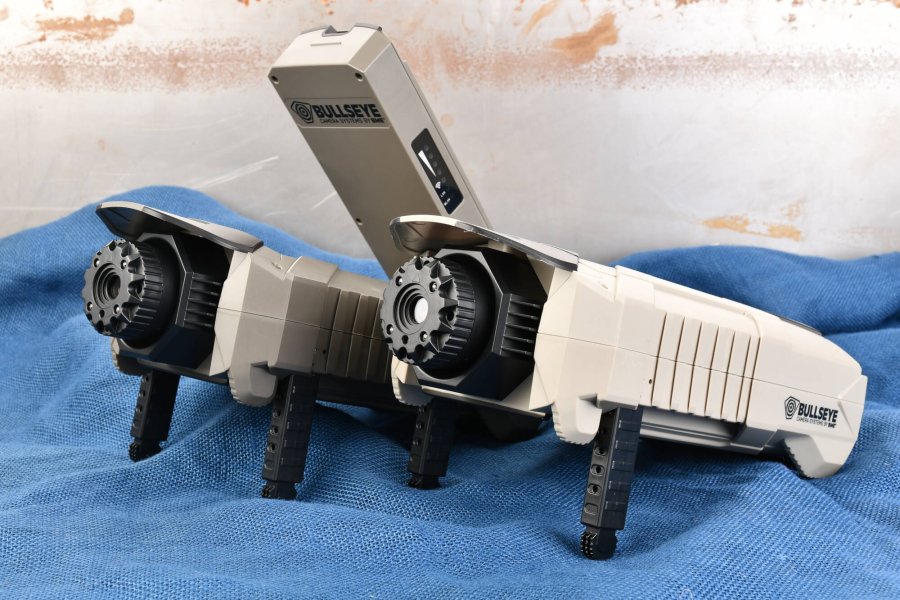 Odeon Optics: 12-36x60 spotting scope and Laser Bore Sight insertion aid in caliber .223 Rem. at STROBL.cz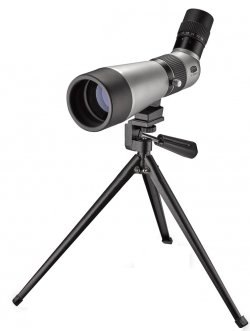 We stick to optical products that make your life at the range much easier:


Odeon Optics Spotting Scope 12-36x60
Price-conscious shooters can enjoy the 12-36x60 spotting scope from Czech manufacturer Odeon Optics. The monocular spotting scope is made of lightweight, hardened aluminum alloy and features a rubber coating for decent impact resistance. Overall, functionality trumps features here: the spotting scope is rugged, dustproof and waterproof, and will give you a good overview at the range for a small price.

The Odeon Optics 12-36x60 spotting scope including tripod and carrying bag is available at STROBL.cz for 73,04 Euro.
Chamber-in laser boresight 

Everybody who wants to sight-in a new gun-optic combo often faces a well-known problem: the first point of impact is completely unknown. Although there are a number of ways to estimate the point of impact, they often do not provide any real certainty. The laser boresight provides a remedy here: it is inserted into the chamber like a cartridge and projects a laser dot through the barrel muzzle along an exact optical axis.


The laser boresight functions in the same way as the traditional "look down the bore" system familiar to many shooters, in that the barrel axis is aligned with a previously determined point after the bolt has been removed. The optics are then also adjusted to this point. However, this procedure is much more precise when using a laser: this not only allows a rough sighting-in, but also fixes the alignment of the barrel axis to a very small point. This ultimately puts the shooter much closer to the actual point of impact than with the naked eye. Of course, the ballistic curve of the actual bullet must be factored in here.

Not only time and ammunition costs can be saved with the laser boresight from Odeon Optics. Apart from sighting in, the "laser cartridge" can also be ideally used for target practice: the shooter always has the potential impact point in view thanks to the permanently visible laser dot – a great help, for example, in swing practice.

The Laser Bore Sight from Odeon Optics is available in .223 Rem. from STROBL.cz, including batteries, at a price of 22.70 euros.
Caldwell Wind Wizard II  wind meter and Brass Trap case catcher for your shooting range – available at STROBL.cz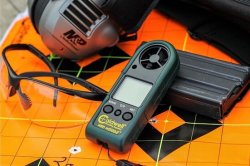 Visually, everything now looks good on the shooting range. But what about the invisible factor wind?
Its speed is reliably measured by the Caldwell Wind Wizard II: a compact and inexpensive tool for correcting the point of impact in different wind conditions. In addition to kilometers per hour and meters per second, the wind speed measurement can also be displayed in miles per hour, feet per minute or knots.

Moreover, it's possible to read temperature in Celsius and Fahrenheit, as well wind chill, the perceived temperature. In low light conditions, the LCD display can be illuminated.

The Caldwell Wind Wizard II wind meter comes with a carrying strap and CR2032 battery at STROBL.cz for 52.77 euros.

Now the fun can begin. But why tediously search for scattered brass after successful training and pick them from the ground? 

With the Caldwell Brass Trap you can save a lot of time and nerves: it is immediately ready to catch the brass ejected from your gun. It can be placed either directly next to the gun on the bench, or being completely flexible it can be adapted to the individual height using a tripod with 1/4-20 thread.

The collecting net made of heat-resistant material "traps" the brass, which can be removed immediately by opening a zipper in the rear area without having to disassemble the catcher. Quickly folded and stored in the included carrying bag, the Caldwell Brass Trap is ready to go again – so you can spend more time shooting and less time collecting casings.

The Caldwell Brass Trap case catcher is available at STROBL.cz for only $65.81.

By the way, STOBL.cz offers further savings to all fans of STROBL Facebook page, because there you will find regular discount promotions.

---
Browse here for more accessories for hunters, sport shooters and outdoor fans in the STROBL.cz online store.